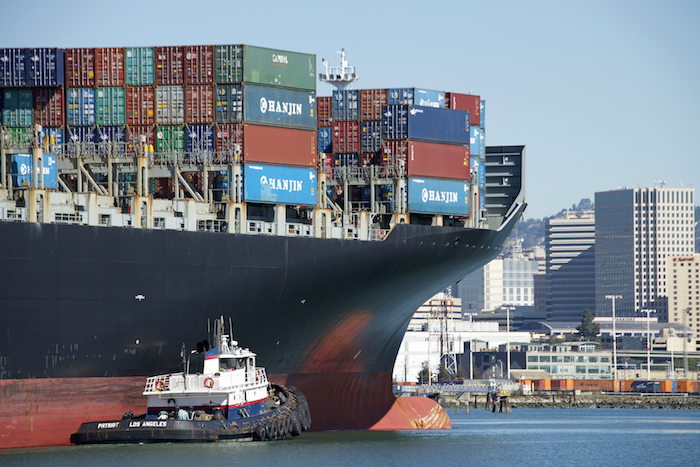 It wasn't supposed to be this way. For U.S. West Coast ports, 2015 was going to be a year to solidify market share in the competitive U.S. container trades as ports on the East Coast prepared for completion of the Panama Canal expansion project. Instead, the first quarter of 2015 has been a nightmare for West Coast ports, with crippling congestion, an unsettled labor contract and declining container volumes.
When the International Longshore and Warehouse Union and the Pacific Maritime Association began negotiations on a coastwide contract last May, the smart money was betting that although an agreement wouldn't be reached by the July 1 expiration of the previous contract, an agreement likely would be signed around Labor Day, just in time for the 2014 peak shipping season in the trans-Pacific.
West Coast ports then would have all of 2015 to demonstrate to the shipping community that their deep harbors, excellent intermodal rail services and abundance of warehouse and distribution space made them the ports of choice to efficiently serve the biggest vessels carriers chose to deploy in the North American trades.
Yes, completion of the Panama Canal expansion project in early 2016 would allow those same big ships to call directly at East Coast ports on all-water services from Asia, but the attitude of West Coast ports toward the canal was, "Bring it on," because they were ready to compete.
But things turned bad last fall. With prospects for a labor agreement fading fast, the ILWU in early November initiated work slowdowns and a refusal to dispatch sufficient skilled labor. West Coast ports quickly became congested as containers stacked up on the docks and vessels backed up at anchor. By early 2015, the ports were in gridlock. The ILWU continued to hard-time employers, and the terminals responded by cutting back on hours for longshoremen in a full-blown war of attrition.
Finally, after intervention by a federal mediator and the U.S. secretaries of labor and commerce, and a threat to move the negotiations to Washington to be overseen by President Obama, the ILWU and PMA signed a tentative contract on Feb. 20. The ILWU, however, still must vote on the contract — a process to occur in April after the ILWU holds its caucus beginning on March 30 — so the first quarter of 2015 is a wash.
West Coast ports are paying for this uncertainty, and the residual port congestion is expected to continue into May, with declining container traffic as cargo is diverted to East and Gulf Coast ports as well as to Prince Rupert and Port Metro Vancouver, British Columbia.
While East Coast ports were reporting double-digit increases in January, numbers published by the PMA showed that West Coast ports experienced a 29 percent drop in container volume, and the bleeding continued into February. Oakland, for example, reported a 37 percent decline in volume; Los Angeles, a decline of 10.2 percent; and Long Beach, a drop of 20.1 percent. East Coast ports, meanwhile, are starting to report large gains, with Charleston announcing an increase of 17.5 percent compared to February 2014.
East Coast ports will continue to cannibalize West Coast ports at least into the summer months. Research firm Alphaliner on March 10 reported that carrier alliances in the trans-Pacific beginning in late March would introduce three new all-water services from Asia to the East Coast with small (less than 5,000-TEU capacity) vessels that are able to transit the Panama Canal in its current configuration. This development demonstrates the lengths to which carriers are going to avoid the West Coast because those Panamax-size ships have a per-slot cost that is 47 to 60 percent higher than the 8,000- to 13,000-TEU ships that call at Los Angeles-Long Beach.
If the ILWU membership approves the tentative five-year contract in April, and the ports continue on their current, methodical path to relieve container and vessel backlogs, the northern ports could be back to normal by the end of April. It could take Los Angeles-Long Beach an additional month because of the huge vessel buildup in Southern California. The Marine Exchange of Southern California reported on March 24 that 19 container ships were at anchor and awaiting berths. Most of the 13 container terminals in the port complex were still heavily congested.
In some ways, the West Coast loss of market share in 2014-15 is an extension of the loss of share that began in the disastrous 2002 ILWU-PMA contract negotiations. Those negotiations began much like the current one, with the ILWU engaging in work slowdowns, but the PMA responded quickly with a 10-day lockout of the longshoremen. The ports also experienced severe congestion in the ensuing months.
National retailers learned a lesson then, and began immediately to develop large import distribution centers along the East Coast. Twelve years later, with that logistical infrastructure in place, importers were able to divert cargo from the West Coast with relative ease when the labor problems developed.
Therefore, the West Coast's loss of market share has actually been occurring slowly but surely for the past 12 years. According to statistics from PIERS, a sister brand of The Journal of Commerce under parent company IHS, the West Coast's share of total U.S. container trade has declined from 50.5 percent in 2000 to 47.2 percent in 2014. On a percentage basis, the decline appears to be small, but it translated to a loss of 1 million 20-foot laden containers in 2014.
Despite this bad news, there are developments underway that bode well for West Coast ports, at least until the labor contract is set to expire at the end of June 2019. The three largest container-leasing companies, TRAC Intermodal, Direct ChassisLink and Flexi-Van Leasing, on March 1 rolled out a neutral, or gray, chassis pool at Los Angeles-Long Beach. Port congestion in Southern California actually surfaced last spring, before the ILWU contract expired, and one of the problems was a shortage and dislocation of chassis.
Shipping lines sold most of their chassis and exited the equipment management business last year. The transition didn't go smoothly, as equipment shortages plagued some terminals while others experienced surpluses, and truckers had to make split moves, delivering containers and chassis to different locations.
Three weeks into the new operation, harbor truckers said the gray chassis pool is working rather well. Chassis are generally in good supply at marine terminals, and because the equipment is interoperable among the chassis pools, split moves are becoming a thing of the past.
The Southern California ports by the end of the decade will have invested more than $8 billion in marine terminal expansion, automation, on-dock rail expansion and other transportation infrastructure. With more than 1.5 billion square feet of industrial property in place, and additional warehouse and distribution space opening every month, Los Angeles-Long Beach is prepared for a return to normal growth.
Oakland is going a step further by developing a large transportation and distribution complex right in the harbor area on the site of a former Army base. The Northern California port also is expanding its marine terminals and, where necessary, combining smaller facilities into larger, more efficient terminals.
Seattle and Tacoma have the luxury, and the challenge, of excess marine terminal capacity. The Puget Sound ports, through a discussion agreement filed with the Federal Maritime Commission, will jointly discuss planning, infrastructure development and marketing opportunities to modernize their maritime facilities while avoiding duplication of efforts and over-development that could lead to dangerous intraregional competition in pricing.
The biggest danger facing West Coast ports over the next five years isn't a further loss of market share because of competition from the enlarged Panama Canal, but rather a failure to address the breakdown in labor relations between the ILWU and the PMA. If the two parties do nothing to address the contract negotiation process, it's possible 2019 will see a repeat of 2014-15.
Meanwhile, employers who suffered through work slowdowns and an intentional shorting of labor by the ILWU during the past four months will look at automating their operations, the way a number of container terminals in Europe have computerized their quay cranes and automated their yard stacking cranes and horizontal ground transportation. While automation is costly, it does promise greater reliability and efficiency by automating out of existence some of the key jobs that gave the ILWU so much leverage during the 2014-15 negotiations.
Contact Bill Mongelluzzo at bmongelluzzo@joc.com and follow him on Twitter: @billmongelluzzo.