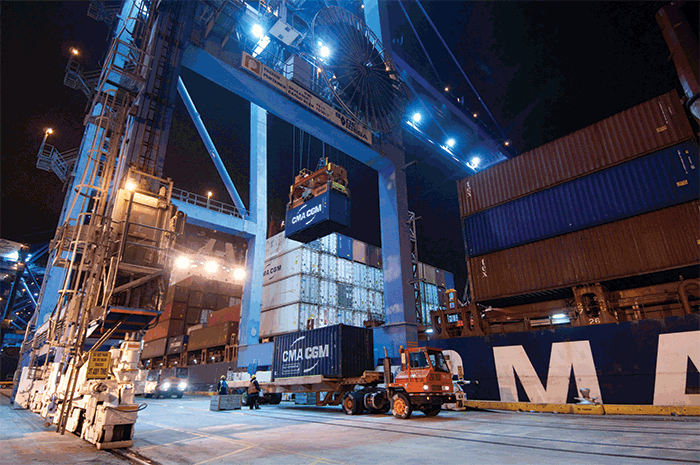 After years of planning and construction, and countless speeches and PowerPoint presentations, the Panama Canal expansion is set to be unveiled on June 26. It's an event for which U.S. Gulf ports have been preparing — and investing.
Heady early speculation that the larger canal locks would unleash a surge of new container services has yielded to more conservative forecasts. Most Gulf port officials now forecast less spectacular growth.
Still, they expect the new locks to boost container and bulk cargo volume, and to provide a return on billions of dollars of spending on deeper channels, expanded terminals, intermodal rail facilities and other infrastructure from Tampa Bay to Texas.
Complicating the outlook is the restructuring of carrier alliances, which is certain to affect vessel rotations through the canal. The 2M Alliance of Maersk Line and Mediterranean Shipping Co. is launching a Panama Canal service from Asia that will call at Houston and Mobile.
The new 2M service didn't have to wait for the new locks to open. With capacities of about 4,500 twenty-foot-equivalent units, the service's ships will fit through the canal's older locks. But Gulf ports hope it's a hint of bigger things to come.
Houston dominates the Gulf container trade, handling two-thirds of the total volume. The Texas port is poised to increase its dominance when new and expanded plants in the area start churning out what's expected to be 300,000 to 500,000 additional TEUs per year for export by 2020.
To prepare, the port plans to invest $1.6 billion through 2021 to deepen and widen its channel and expand capacity at its Barbours Cut and Bayport container terminals. It already has replaced four cranes at Barbours Cut with new super-post-Panamax cranes and has three more on order that can reach across 22 containers.
Barbours Cut, the first phase of which opened in the 1970s, is undergoing an end-to-end rebuilding to handle larger volume and bigger ships. The newer Bayport terminal continues to be built out.
Rather than wait for federal funding, the port authority put up $80 million to deepen the channels to Barbours Cut and Bayport to 45 feet from 40 feet, to match the depths of the Houston Ship Channel.
When the work is complete, the port expects to have capacity of about 5 million TEUs per year. Last year, the port for the first time handled more than 2 million TEUs of full and empty containers. Full containers totaled 842,322 TEUs of imports and 917,675 TEUs of exports.
Houston has been touting its port to container lines as a gateway for imports that will balance the increased export volume from the petrochemical industry. Houston's pitch was strengthened by its smooth performance in handling diverted volume and extra ships during the West Coast port congestion crisis of late 2014 and early 2015.
The new 2M service will bring to three the number of weekly Asian calls at Houston by carriers transiting the Panama Canal. During the last several years, Northeast Asia has become Houston's largest import market, surpassing North Europe.
Farther east, Mobile also is counting on Asia for growth in container volume. James K. Lyons, CEO of the Alabama State Port Authority, said the new 2M service should provide another growth spurt for Mobile's container terminal, and Cosco China Shipping and Hanjin Shipping have added a call on their joint China-Gulf service that previously only called Houston.
The terminal opened in 2008 and enjoyed steady growth that plateaued during the last two years at just under 300,000 full TEUs of imports and exports. Operator APM Terminals is adding two dockside gantry cranes that span up to 22 rows of containers, and will operate an intermodal container transfer facility, which is scheduled to open this summer at Mobile.
At New Orleans, Canadian National Railway, or CN, also is the primary user of a $16.7 million ICTF that opened in April next to the Napoleon Avenue Container Terminal. New Orleans is the only port with service from six Class 1 railroads. CN operates twice-daily stacktrains with transits of 12 hours to Memphis and 28 hours to Chicago.
The New Orleans intermodal facility is the latest step in incremental projects that expand volume to more than 1.5 million TEUs. The port handled 525,000 TEUs of full and empty containers last year, including 114,021 full TEUs of imports and 252,103 full TEUs of exports.
This year, the Port of New Orleans commissioned consulting and engineering firm Moffatt & Nichol to develop a new strategic plan to guide the port's growth. A key challenge is deciding how to allocate limited acreage at and near the port's main cargo facilities along the Mississippi River.
Current plans call for stretching the existing container terminal downriver to provide two additional ship berths, demolishing or upgrading dockside transit sheds and replacing an empty-container storage yard with denser stacking of full boxes. The port is applying for a federal TIGER grant to extend the ICTF by 1,000 feet.
New Orleans' current master plan was compiled in 2008, three years after Hurricane Katrina and only months before the Great Recession from 2008 to 2009 and subsequent economic recovery.
The port's riverfront cargo terminals reopened just 12 days after Katrina, a feat that port CEO Gary LaGrange regards as the greatest achievement during his 14 years at the port. LaGrange plans to retire next May and will be succeeded by Brandy Christian, the port's chief operating officer.
Since Katrina, the port has repurposed its defunct France Road Container Terminal and surrounding acreage into a site for the transfer of chemicals from barges and railcars into containers for export. Chemicals now are the port's top containerized export.
A planned container-on barge service on the Mississippi River between New Orleans and upriver points has won Maritime Administration designation as part of the agency's Marine Highways program. Dow Chemical has said it will consider using the service as an alternative to congested Interstate 10 for export shipments from one of its plants near Baton Rouge.
New Orleans has been trying to attract Asian services, but its container business remains heavily oriented toward North Europe and Latin America. The port's container traffic got a boost when Chiquita pulled out of Gulfport, Mississippi, and started using chartered space on MSC vessels calling at New Orleans. Chiquita's business was mainly responsible for New Orleans' 22.7 percent jump in full import TEUs last year.
Chiquita's future in New Orleans has been brought into question during the last month, with LaGrange citing reports the carrier was considering another change in its mid-Gulf port. As of late May, those reports had not been confirmed.
Gulfport ranked fourth in Gulf container volume with 115,133 TEUs last year, and Freeport, Texas, ranked fifth with 71,467 TEUs.
Freeport has two post-Panamax cranes that span up to 18 rows of containers, and has paved 26 acres in the first phase of development of its Velasco container terminal. Planned future expansions will add 90 acres and provide 2,200 feet of berth space. The port has authorization to deepen its channel to 55 feet from the current 45 feet.
Gulfport's channel is only 36 feet, and last year the port withdrew a request for the U.S. Army Corps of Engineers to study enlarging of the port's 36-foot-deep channel to as much as 47 feet and widen it by about 100 feet.
The Mississippi port had asked the corps to include the channel deepening and widening as part of an environmental review of Gulfport's plans to fill in 200 acres and enlarge a turning basin. Because Congress hasn't authorized a larger channel, the state-owned port would have had to pay the full cost of the channel study, the initial deepening and widening, and future maintenance dredging.
The state-owned port, which took a direct hit from Hurricane Katrina's storm surge in 2005, has been rebuilding and expanding with help from more than $500 million in federal grants. Part of those grants must be repaid if the port fails to add some 1,300 jobs, a target that has proved elusive. Port officials hope a shipyard on a shallow-draft channel several miles inland will provide several hundred jobs that will count toward the job-creation target.
At the eastern end of the Gulf, Port Tampa Bay has a 43-foot channel to support its effort to become a larger player in the container market. The port this summer will unveil two new gantry cranes that will span up to 20 rows of containers.
Nearby are an intermodal railyard served by CSX Transportation and a cold-storage warehouse that represents an early step in a plan to develop more port-related warehousing and transloading activity.
Known best for its bulk cargo, Tampa has a Caribbean and Central America feeder service from Zim Integrated Shipping Services and MSC, in addition to multipurpose roll-on, roll-off carriers Seatrade and Atlantic Ro-Ro Carriers.
Wade Elliott, the port authority's vice president of marketing and business development, notes that Florida's population exceeds 20 million, making it the third most populous U.S. state. Tampa hopes to leverage the population growth and the increased concentration of distribution centers along the Interstate 4 corridor toward Orlando into port calls by carriers using the expanded Panama Canal.
"The market demand is there for all-water service from Asia," Elliott said. "The business case is getting stronger and stronger all the time. We believe Tampa Bay is a natural complement to Houston and other Gulf ports for all-water services from Asia, and for north-south trades with Latin America."
Contact Joseph Bonney at joseph.bonney@ihs.com and follow him on Twitter: @JosephBonney.