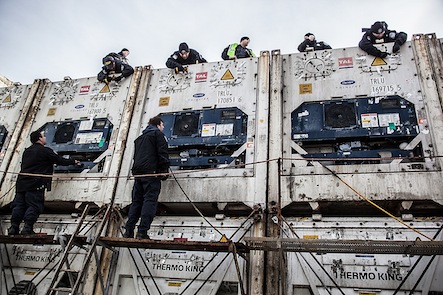 It wasn't a pretty sight — and still isn't. Three weeks after Hurricane Sandy knocked out the Port of New York and New Jersey, companies are still tallying damages and trying to get containers where they're supposed to be.
Cargo operations at the Port of New York and New Jersey returned to full speed by Nov. 7, nine days after the storm flooded terminals, left much of the region without electricity, and created a humongous mess.
Getting everything back to normal will take longer.
Start with cargo. When the storm approached, several ship lines diverted vessels to other ports and declared force majeure, which releases carriers from liability for events such as weather disasters.
The largest block of diverted cargo was rerouted to Hampton Roads, where Virginia International Terminals handled 5,800 to 6,500 loaded containers and 3,500 automobiles booked for New York-New Jersey. Most of the shipments diverted to Virginia were being moved to New York-New Jersey by rail, barge or up Interstate 95 by truck.
"We're extremely busy dealing with the backlog of cargo, and it is going to take some time to get completely back to normal," said Rodney W. Oliver, interim executive director of the Virginia Port Authority. "We are working to move the cargo to its destination by any means available: truck, rail and barge."
Shippers struggled with sketchy information and outdated data following Sandy, which interrupted power to 2.7 million customers, including terminals, customs brokers and non-vessel-operating common carriers. "We ended up with a couple of dozen boxes down in Norfolk, but we're still sorting them out," said Geoffrey Giovanetti, managing director of the Wine and Spirits Shippers Association.
He said his members already were complaining about the cost of trucking the spirit-filled containers back up to New York or Boston. "What's particularly tough is the cost to Boston importers, most of whom bring cargo in through New York. It normally costs anywhere from $800 to $1,000 to truck a container from New York to Boston, but now from Norfolk it's more than double that, so you're talking about a $2,000 bill."
Adding to the problems were equipment shortages resulting from damages to trucks and chassis. Some of those problems won't be short-lived. Port trucking companies are still scrambling to repair or replace equipment damaged by a storm surge that left terminals and surrounding areas awash in four feet of seawater.
Several hundred chassis also were damaged by the storm surge. Chassis supplies were further strained by cargo dislocations that caused equipment deficits at ports along the North Atlantic.
Carriers' declaration of force majeure left cargo interests liable for repositioning costs. APL sent a notice to customers saying it had arranged rail transportation with CSX to move containers from Norfolk to CSX's South Kearny, N.J., rail ramp, and would charge shippers $750 a box. Other carriers sent similar notices.
Some shippers also complained that terminals, citing their added costs, were refusing to extend free time for containers.
While the costs and red tape are sorted out, the Port Authority of New York and New Jersey moved quickly reopen marine terminals. APM Terminals and Maher Terminal resumed limited operation on Nov. 4, and other terminals swung back into action as power was restored the following day.
Terminals remained open on Election Day, Nov. 6, which normally is a longshore work holiday. All terminals except New York Container Terminal on Staten Island and Red Hook Terminal in Brooklyn were open for at least limited operations on Veterans Day.
The delay in reopening terminals was mainly because of electrical outages. Generators were brought in to run essential operations, and terminals were fully reopened after an initial period when truck traffic was restricted to daytime hours.
Rick Larrabee, the port authority's port commerce director, said the quick return to service was miraculous. "The port community did an incredible job … To get it back up and operating in a week is a miracle," he said.
"The storm surge covered a lot of places that had never seen water before," Larrabee said. "Stacks of containers were floated into other stacks and toppled over. It was pretty chaotic for a while." Saltwater fouled electrical systems of cranes and yard equipment. The port authority's Port Newark office was flooded with 3 ½ feet of water.
Electric motors that move the ship-to-shore cranes along the rails are located next to the wheels at the base of the cranes, which were under water during the storm surge. The terminal operators had to remove the motors, bake them, clean them and then put them back in the cranes to get them back in working order.
Some of the worst damage was to new vehicles, thousands of which were damaged at Toyota and FAPS auto processing facilities. No damage was reported to vehicles at BMW's auto import facilities. Approximately 16,000 vehicles were stored at the port, the nation's largest auto import gateway, when the storm hit, Larrabee said.
Despite efforts to move boxes out of harm's way, cargo was damaged in import and export containers, including reefers whose contents spoiled because there was no electric power to keep them cool.
As the port authority and port businesses work to return things to normal, a priority will be to find ways to minimize damage when a future storm poses a similar threat. "One of the questions we're beginning to ask ourselves is how we can be a little more smart about how we rebuild our infrastructure," Larrabee said. "We're going to be looking at that pretty hard."
Peter T. Leach contributed to this report.
Contact Joseph Bonney at jbonney@joc.com and follow him at twitter.com/JosephBonney.