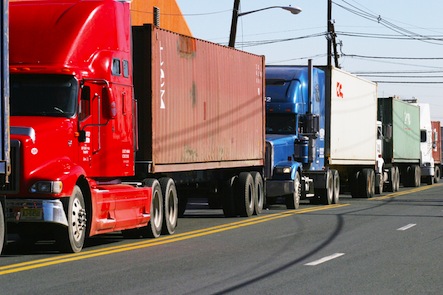 Hurricane damage to chassis has created equipment shortages that are hitting truckers with hours-long delays and demurrage costs at Port of New York and New Jersey marine terminals.
"It's an absolute disaster," said Tom Heimgartner, president of Best Transportation in Port Newark. Other port drayage operators also expressed frustration at chassis shortages, long lines at truck gates, and terminal operators' unwillingness to waive demurrage after expiration of allotted free time.
Lou Notaro of F.O.X. Intermodal in Kenilworth, N.J., said that with chassis in short supply, his company has been dispatching drivers based on the amount of free time remaining for containers waiting to be pulled from terminals. But he said it's often a losing battle.
"Yesterday I had 80 boxes that were on their last day of free time," he said. "We pulled 39, and that was a small miracle. There just aren't enough wheels … My customers are paying demurrage, and it's not fair to them."
In the days immediately after the port reopened following a shutdown of nearly a week in the wake of Hurricane Sandy, some terminal operators agreed to waive demurrage fees. Now terminals, citing their own added expenses, have resumed normal practices.
"The terminals are capitalizing on everybody else's misfortune, and trying to make it up on the backs of the truckers, as usual," Heimgartner said. "We should be charging them. It's not our fault we can't pick up the cargo. It's their fault they can't deliver it. There simply aren't enough chassis available."
Standard free-time storage at terminals is four days, after which demurrage is assessed. The trucker must pay the demurrage in order to take the container from the terminal, then try to recoup the costs from the cargo interests, some of which may balk at paying.
The problem began when Hurricane Sandy flooded New York-New Jersey marine terminals and nearby equipment yards with salt water. Lessors and other chassis operators had to pull equipment out of service to drain wheel bearings and replace lubricants — a process that takes several hours.
Then there was the cargo backlog caused by the port shutdown and subsequent bunching of vessel calls, and the delayed delivery of cargo that had been diverted to Norfolk, Baltimore and other ports. The situation was aggravated further by computer glitches at terminals.
"The whole thing has snowballed," Heimgartner said. "Our turn times, which normally are about two hours on a double move, are now four, five, or six hours. You can't get stuff picked up because of the lines and delays, and now they're charging demurrage."
Terminals have been staying open late to clear the backlog, and Global Terminal, Maher Terminals and Port Newark Container Terminal will be open Saturday as the port prepares for a short Thanksgiving holiday week.
Maher and PNCT will continue their extended hours through Wednesday. All port terminals will be closed on Thanksgiving Day before reopening next Friday.
Until more chassis become available, congestion will continue, truckers say. "I don't know what more I can possibly do," Notaro said. "We're here till 7 or 8 at night, and we're absolutely going nowhere."
The chassis squeeze at New York-New Jersey is the worst since container lines three years ago began moving from routinely providing free chassis to truckers. Motor carriers now rely heavily on chassis leased from providers such as TRAC Intermodal, whose Metro pool has been scrambling to repair storm-damaged equipment.
Heimgartner said truckers are facing problems even for cargo moved under carrier-haulage terms, in which the carrier supplies the chassis. Many chassis leased or owned by carriers also suffered storm damage, and also are in short supply.
Port truckers say their thin margins won't allow them to absorb demurrage costs. "If an importer has $100,000 worth of cargo in a box, an extra $200 is a relatively small figure," Heimgartner said. "For a steamship line charging $4,000 or $5,000 for the box, it's a bigger percentage. For a trucker being paid $200 to $300 to pick up a load, $200 is a very big figure."
Contact Joseph Bonney at jbonney@joc.com and follow him at twitter.com/JosephBonney.