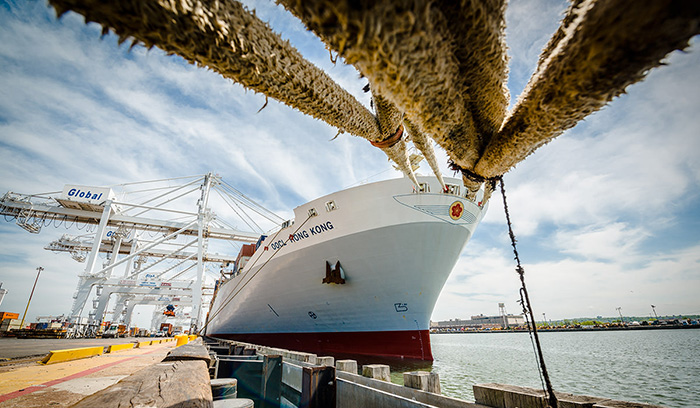 Heavy volume has been causing long delays for trucks at the only major New York-New Jersey container terminal accessible to ships that are too tall to squeeze under the Bayonne Bridge.
Truckers have complained of turn times of up to eight hours this week at the GCT Bayonne terminal, which has been dealing with volume from large ships, some of them arriving off schedule.
Delays have been aggravated by a multiyear project to rebuild the New Jersey Turnpike exit to the terminal. Trucks on the busy turnpike share traffic lanes with commuters headed to and from New York City via the Holland Tunnel.
GCT Bayonne is the option for the largest ships serving the East Coast's busiest port. The Bayonne Bridge's 151-foot vertical clearance limits the height of ships that can all other terminals in New Jersey or on Staten Island, New York.
The estimated completion of a complex $1.3 billion project to raise the bridge's clearance to 215 feet has been pushed back to late 2017.
In recent weeks, containers from a CKYHE Alliance ship that couldn't fit under the bridge have been transferred to barges at Bayonne for movement to Maher Terminal at Elizabeth, New Jersey where the alliance's ships normally call.
Cosco Container Lines' Anthea Y, which has capacity of 9,100 twenty-foot-equivalent units, is scheduled to call again at GCT Bayonne on Sunday to discharge its containers. Some will be trucked from the terminal, and eight barge loads of boxes are expected to be sent to Maher during a five-day span next week.
Most days, the Bayonne terminal handles multiple post-Panamax ships that discharge and load up to several thousand containers.
"They can't handle the volume," said Yuri Mosquera, an owner-operator drayage driver who has worked the port for 15 years. "It's taking six or seven, sometimes eight hours to do a turn. And it's not like you can just sit there and wait. You have to hit the clutch every time you move."
Mosquera said drivers should be able to make two or three turns a day but often can complete only one. Without better productivity, he said, drivers will find it impossible to pay for newer trucks that the port's current clean-air program requires them to replace by Jan. 1, 2017.
The Association of Bi-State Motor Carriers urged the terminal "to take immediate steps to rectify the unacceptable service levels being experienced, including but not limited to an immediate extension of weekday and Saturday hours through the end of December."
GCT Bayonne kept its gates open on several Saturdays this fall but eventually stopped because of low usage. The terminal plans to open its gates this Sunday, and encouraged truckers to take advantage of the lighter weekend traffic.
Mosquera said he's worked on some Saturdays and has been able to complete three turns, but that containers often must be picked up during weekdays in order to avoid demurrage fees for late pickup.
GCT Bayonne last year unveiled an expansion that added 70 acres to the terminals' previous 110-acre footprint. The expanded portion of the terminal features high-speed, rail-mounted stacking cranes that are operated by remote control and are designed to maximize per-acre productivity.
Next year, GCT Bayonne plans to launch an appointment system designed to meter the flow of trucks into the terminal and to various points within the terminal. An appointment or truck-management system was among the top recommendations of a port performance task force in 2013.
Terminal officials say that if that if they know when a truck will arrive to pick up a certain container, they can have it ready. They say regulating the flow of trucks will shorten turn times and maximize productivity by keeping all cranes busy. Many truckers are skeptical, and insist that turn times must be shortened before an appointment system will work.
Contact Joseph Bonney at joseph.bonney@ihs.com and follow him on Twitter: @JosephBonney.