Drayage companies demand changes at NY-NJ port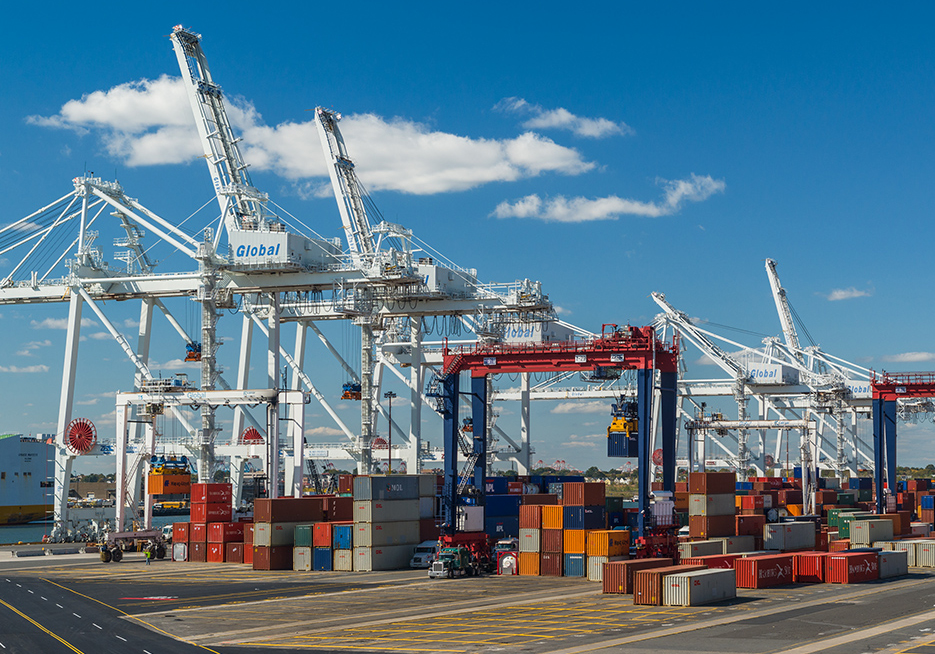 New York-New Jersey port truckers are demanding longer gate hours and more lenient demurrage rules to ease congestion that has kept drayage drivers waiting for hours in miles-long lines outside the GCT Bayonne container terminal.
"We believe the extreme traffic conditions experienced over the past several days are a clear indication that immediate action must be taken," the Association of Bi-State Motor Carriers said in a statement.
Congestion related to high volume and larger ships has dogged at least one or two New York-New Jersey terminals a day for nearly three years. Last week, it was especially severe at GCT Bayonne, formerly known as Global Terminal. Truck queues backed up for miles onto the New Jersey Turnpike extension, delaying commuters and attracting local news coverage.
Truckers hoping for an early start that would allow them to complete multiple trips in a day have been arriving as early at 10:30 p.m. the night before GCT Bayonne's gates open at 6 a.m. Police this week began enforcing a ban on parking outside the terminal before 5:30 a.m.
Early arrivals by drivers are understandable but counterproductive, John Atkins, chief executive of GCT USA, told JOC.com last week. He said drivers' rush to be first creates surges that congest the terminal and slow turn times during the rest of the day.
When gates open, traffic jams are transferred from the street to the terminal. On several days in the last two weeks, GCT Bayonne has been jammed with more than 600 trucks at a time. Productivity slows as drivers jostle for position and longshoremen lack room to maneuver lifting equipment around trucks.
Terminal officials say GCT Bayonne's remote-controlled rail-mounted gantry cranes, installed in a $325 million expansion, are operating smoothly but that terminal capacity is finite, and that lines are inevitable if too many trucks show up at once. The terminal's older section uses rubber-tire gantry cranes that serve trucks that line up between container stacks.
GCT Bayonne is working toward a mid-year start of a truck management or appointment system aimed at metering the flow of trucks through the terminal. A truck management system was among recommendations last year by an industrywide port performance task force created to address operational issues.
Truckers say they oppose an appointment system until terminals can guarantee quick turn times. They say a driver encountering an unexpected delay at one terminal would find it impossible to meet a later appointment window at another terminal.
The Bi-State Association said terminals must extend gate hours to deal with rising volumes. Terminals operate around the clock for vessel and yard work, but most truck gates in the port are open only on weekdays.
To handle rising volumes, several terminals have extended their afternoon gate hours and occasional Saturday gates. GCT Bayonne, for example, has been keeping gates open till 6 p.m. on weekdays and opened its gates on Saturday to clear backlogs.
Truckers prefer longer weekday hours. They say terminals' irregular Saturday gate openings make it difficult to comply with drivers' hours-of-service limitations and add to the problem of retaining drivers. "It is unreasonable to expect drivers to subject themselves to being pulled away from their families whenever the terminals are unable to handle increased cargo volume," the Bi-State association said.
Tom Adamski, representing the New Jersey Motor Truck Association's intermodal council, said blaming truckers for lines at terminals "is beyond the absurd." He said ticketing truckers for queueing up on roadways "is beyond stupid and will only foster dysfunction" in the port.
Adamski said the best way to extend hours would be to open gates early. He urged terminals to add an 11 p.m.-7 a.m. shift of longshoremen to operate terminal gates.He  said the port's drayage is dominated by "drop-and-pick" moves to distribution centers or off-dock depots that could accept pre-dawn deliveries when trucks don't have to share roads with commuters or other daytime traffic.
"There is an expression, 'Build it and they will come.' For truckers, it is, 'Open it and they will come,' " he said.
Delays at New York-New Jersey terminals have produced disputes over terminals' and carriers' demurrage charges for late pickups of containers after free time expires, and for carriers' per-diem charges for late return of boxes.
The Federal Maritime Commission has been looking into demurrage and free-time penalties assessed for containers that truckers and cargo interests say congestion has prevented them from picking up or delivering on time. FMC staff presented commissioners with a report at a closed session last Monday.
The Bi-State Association urged GCT Bayonne to immediately provide an additional three days of free time before demurrage penalties apply. Like others in the port, the Bayonne terminal extends free time or waives demurrage on a case-by-case basis but worries that an across-the-board extension would further clog terminals and add to delays.
The Bi-State Association also asked the Port Authority of New York and New Jersey to direct GCT Bayonne to temporarily reroute incoming ships to its sister Staten Island terminal, which has the shortest turn times in the port.
Atkins said GCT would like to have more business at the underutilized Staten Island terminal, but he noted that all of the vessel alliances calling GCT Bayonne use ships too big to fit under the Bayonne Bridge's 151-foot vertical clearance. Until the bridge's clearance is raised to 215 feet in mid-2016, the big ships can call only at GCT Bayonne, the only major port terminal outside the bridge.
Contact Joseph Bonney at jbonney@joc.com and follow him on Twitter: @JosephBonney.
User login