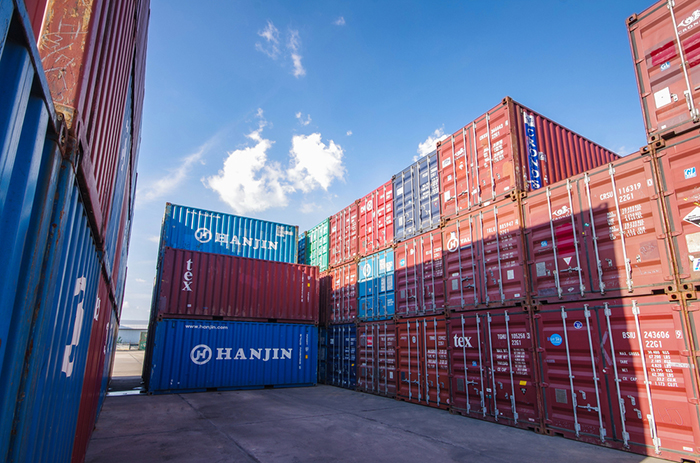 POINT CLEAR, Alabama — U.S. Gulf Coast container terminals are grappling with issues of cost, liability, infrastructure and computer systems as a July 1 deadline approaches for compliance with new international rules requiring certification of container weights.
"They put everything in a bag, shook it up, and dropped it on us," said James Parker, vice president at New Orleans Terminal, the largest container terminal operator in the Port of New Orleans.
As on other coasts, terminal operators across the Gulf are yearning for clarity on what's needed in order for shippers to provide ocean carriers with verified gross mass declarations containers under amendment to the International Convention on Safety of Life at Sea, or SOLAS.
U.S. ports and terminals have offered varying approaches. Several East Coast ports have agreed to weigh containers, but West Coast ports have resisted, citing the possibility of increased congestion. The Port of Charleston initially proposed a $25 weighing free, but backed off after competitors announced they would provide the service free.
The SOLAS changes are designed to crack down on overloaded containers blamed for jeopardizing safety of ships and crews. Parker would like to see a delay in the July 1 implementation date in order to provide more time to sort out problems, but the Coast Guard said that's not in the cards.
The Coast Guard on April 29 said VGM could be determined with any equipment currently used to comply with state or federal law, including the Intermodal Safe Container Transport Act and the container requirements set by the U.S. Occupational Health and Safety Administration.
The Port of Houston, which handles two-thirds of Gulf ports' container traffic, last week joined five other operating ports and 19 container lines in seeking Federal Maritime Commission approval to discuss how to forge common policies on SOLAS compliance.
Houston port officials have said their terminals will turn away trucks that arrive at its terminals without VGM documentation, a move aimed at preventing terminals from being clogged with trucks delivering export containers that can't be loaded on ships.
New Orleans Terminal is taking a similar approach, at least for now. The terminal, jointly owned by Ceres Gulf and Container Marine Terminals, an affiliate of Mediterranean Shipping Co., handles more than 60 percent of the volume at the port's Napoleon Avenue Terminal.
Parker said New Orleans Terminal weighs containers, using scales on its top-lifters, but that those scales are not certified and there's been no word about whether they will meet allowable tolerances under the new SOLAS rules.
He said that if the top-lifters' weight readings are declared acceptable, New Orleans Terminal will consider lifting its current no-VGM, no-load policy, but that for now it's sticking with no-VGM, no-load.
Terminals want to be cooperative but are concerned about legal liability for incidents involving containers that might be stowed aboard ship with an inaccurate VGM. "The big issue for terminals is the liability aspect," Parker said.
Other issues include the costs of certification and extra handling and storage of containers that arrive without a VGM and must be put somewhere on the terminal.
APM Terminals, which recently announced it would offer weighing services at 29 of its ports around the world, has not announced how it will deal with the new rules at the container terminal it operates at the Port of Mobile, Alabama.
However, Denson White, client services/gate manager at the terminal, noted that unlike many other terminals, the Mobile facility is equipped with a scale that weighs trucks arriving at all inbound gates. The Mobile terminal opened in 2008.
White said the terminal weighs incoming trucks and containers, and has been discussing a process for weighing the containers and subtracting the weight of the truck and chassis to provide a VGM. That would require adjusting its the terminals' computer systems to process customer-provided VGMs, White said during a panel discussion at the International Freight Forwarders and Customs Brokers of New Orleans annual trade symposium at Point Clear, Alabama.
Gene Mezick, president of Mobile-based Gulf Coast Intermodal, who also spoke at the symposium, said truckers may be asked to provide VGMs for shippers that don't have certified scales. "That's the most expensive way to do it," he said. "I can see it costing up to $200 per container."
Randy Guillot, president of Triple G Express in New Orleans, questioned whether the lag in relaying VGM documentation from shipper to forwarder to container line to motor carrier to terminal might cause trucks to arrive at terminals ahead of the documentation.
Agriculture shippers have made a similar point about containers of freshly harvested commodities dispatched to West Coast ports for quick loading aboard ships, and have noted that a delay that results in a missed vessel cut off could render the shipment worthless.
Contact Joseph Bonney at joseph.bonney@ihs.com and follow him on Twitter: @JosephBonney