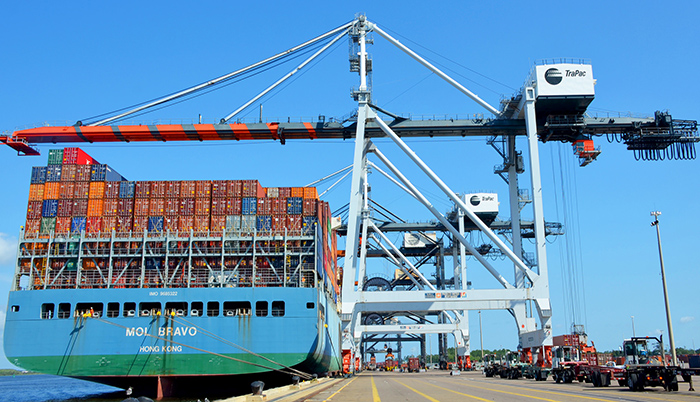 After successfully leading the campaign to gain federal authorization and funding for a critical harbor deepening project, Eric Green has been named CEO of the Jacksonville Port Authority.
After years lobbying Washington and Tallahassee, Green will now oversee the completion of the project that he helped put into motion, a project that still faces one last obstacle: moving an entire terminal two miles downriver.
Jacksonville, which has more than doubled its Asian import growth in the last five years, needs to deepen its harbor in order to regularly handle the larger ships from Asia that are able to traverse the Panama Canal's new locks.
Green has been serving as interim CEO since March, when the port's former chief executive Brian Taylor resigned. Taylor's resignation came as port officials were still debating whether the port should move its key Asian import terminal downriver in order to cut anywhere from $150 million to $200 million off the original $684 million price tag for the project.
Since then, Jaxport and terminal operator TraPac have struck a deal to move the terminal downriver in order to accommodate the harbor-deepening project. However, there is no timeline. Jaxport and TraPac, a subsidiary of MOL, are still discussing how the move could work: not only who pays, how much, and when, but what will come of the former site of TraPac at its original location at Dames Point and how rail and waterside infrastructure will be shared at its new home at Blount Island. Jaxport and Trapac said there will be no impact on shippers during the planned transition.
Other Southeast ports Savannah and Charleston are farther along on their own deepening projects, but Jacksonville has still managed to outpace the two in the rate of Asian business growth, according to an analysis of data from PIERS, a sister company of JOC.com within IHS Markit. Savannah, the Southeast's market leader, handled 26.35 percent of the East Coast Asian import market in 2016, down from 27.13 percent a year prior. The Georgia port's project to deepen its harbor from 42 feet to 47 feet is expected to wrap up in 2022. Farther north, Charleston handled 8.27 percent, up from 7.38 percent. Charleston's plans to deepen its harbor from 47 feet to 54 feet is expected to finish in in 2021. While Jaxport does not aim to complete its $484 million deepening project until 2021, and there is still months to go before shovels hit the ground, the port's share of the East Coast's Asian import market grew from just 1.66 percent the year before Taylor was hired four years ago to 3.66 percent last year.
Keeping those gains, as well as keeping that finish date on target will be key objectives for Green as CEO, though these were also targets for Green in his former capacity as the port's senior government affairs director.
The Jacksonville Port Authority went outside the agency for its last two CEO hires: Paul Anderson and Brian Taylor. Green represents a more local candidate. Not only has he worked at the port authority since 2005, but he is a Jacksonville native who has worked previously for the city government.
Jacksonville's board of directors unanimously chose Green from a pool of 70 other candidates, including some with previous experience as officials at major ports and other industries in the trade, from the Port of New York and New Jersey to CSX Transportation. It makes Green the third man in a row, including Anderson and Taylor, to take the top job at Jaxport without prior CEO experience.
Jim Citrano, chairman of the port's board of directors, praised Green's contributions to Jaxport. "Eric Green has demonstrated in his period of service to Jaxport, and his period as interim CEO, that he will be a great asset to this port as CEO." Board member Joe York added: "Eric has earned the right to be the next CEO of Jaxport."
Taylor's resignation in March was the second departure of a Jacksonville chief executive in just four years. Anderson, his predecessor, resigned in 2013, less than two years into his tenure. Anderson had many documented clashes with staff, as well as Jacksonville City Councilman Reggie Gaffney. Anderson is now CEO at the Tampa Port Authority.
Contact Reynolds Hutchins at reynolds.hutchins@ihsmarkit.com and follow him on Twitter: @Hutchins_JOC.