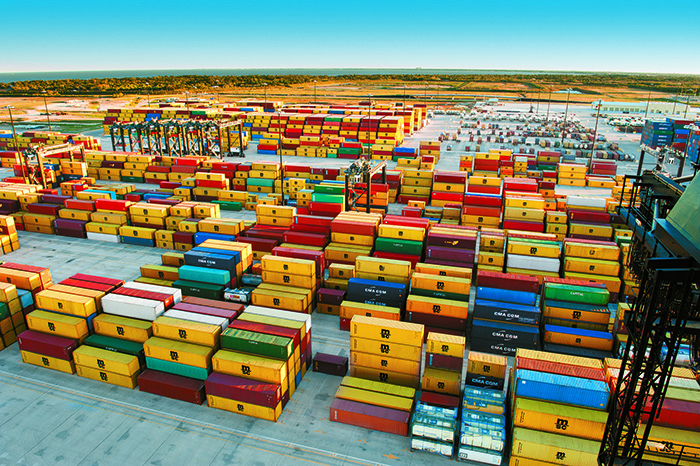 New Panama Canal services from Asia are helping to fuel steady growth in Gulf ports' single-digit share of US containerized imports.
The Gulf's share of total US container volume rose from 6.32 percent in 2005, to 6.93 percent in 2010, and to 7.83 percent in 2016, according to PIERS, a sister product of JOC.com within IHS Markit.
That share could continue to rise this year, PIERS data suggests. The addition of two Asian services late last year pushed Gulf ports' import volumes up 17.1 percent in the first quarter, compared with increases of 1.36 percent for the West Coast and 4.7 percent for the East Coast.
Last year, Gulf ports' total volume of full containers rose 3 percent, to 2.65 million TEU — 1,386,708 TEU of exports and 1,265,304 TEU of imports.
More than two-thirds of the Gulf's container volume moves through Houston. New Orleans was the no. 2 Gulf port in terms of container volume, with a 14 percent share of laden containers. Mobile followed with an 8.2 percent share.
The big news in the Gulf container sector during the last year was been the launching of all-water services by the 2M Alliance of Maersk Line and Mediterranean Shipping Co., and by Cosco Shipping, and the upgrading of CMA CGM's PEX3 eastbound round-the-world service with larger ships and a New Orleans call.
Houston's first-quarter 2016 import volume rose 20.35 percent year-over-year, to 238,843 TEU. Mobile, the second Gulf port for all three of the region's Asian services, posted a 30.95 percent increase, to 27,241 TEU. New Orleans' import volume dipped 15.1 percent, to 24,552 TEU because of Chiquita's shift of its banana imports back to Gulfport, Mississippi.

Increased import volume is needed to balance growth in exports of synthetic resins from new Gulf Coast plants that will begin producing in high volumes later this year. Estimates are that new and expanded plants will increase annual US resin exports by as much as 500,000 TEU.
Producers are exploring every possible route for resin exports. In addition to Gulf ports, they will use intermodal rail to move resins via Dallas-Fort Worth to the US West Coast and on to Asia, and to US South Atlantic ports for delivery to Europe and other regions.
The coming surge in resin exports has spurred a major expansion and rebuilding of Port Houston's Bayport and Barbours Cut container terminals. The terminals posted a 22 percent year-over-year increase in total laden container volume during a first quarter marked by major construction and unusually foggy weather.
Twenty-two days of heavy fog during January and February delayed vessel docking and caused export containers to accumulate in terminals. The "fog days" were about triple the normal number for the mid-winter months, said Jeff Davis, Port Houston's chief operations officer.
Container volumes weren't affected, however, and Davis said the terminals maintained service levels and truck turn times by extending gate hours and other operational tweaks. "We worked through it," he said.
Houston's first-quarter volumes included 243,192 TEU of import containers, a 27 percent increase from a year earlier, and 271,182 TEU of exports, an 18 percent increase. Combined imports and exports totaled 514,374 TEU, up 22 percent.
Including empties, volume rose 19 percent, to 607,462 TEU, port authority statistics show. "We'd been expecting about 9 percent," Davis said.
With exports of locally produced resins expected to pick up later this year, the first quarter puts Houston on track for double-digit gains from last year's 1.8 million full TEU and nearly 2.2 million TEU of combined full and empty containers.
Houston will be ready to handle the coming wave of resin shipments, Davis said. The port expects to extend its 7 p.m. weeknight gate closings to 11 p.m. this autumn. Davis said the port has penciled in October for a start date but is staying in contact with petrochemical producers before making a firm decision.
Meanwhile, the port authority is continuing to build out its decade-old Bayport terminal, and is about one-third of the way through a complete rebuilding of its Barbours Cut terminal, which opened 40 years ago.
At Barbours Cut, the port is completing the rebuilding of a second berth and will take delivery this summer of three super-post-Panamax cranes that will span 22 rows of containers. Another dock already has been rebuilt and has four identical cranes. Together, the berths will have 2,300 feet of rebuilt quay.
Other improvements include the conversion of 28 acres of breakbulk and container freight station facilities to part of a 42-acre container yard scheduled to open in August 2018, and a doubling of the number of truck gate lanes.
At Bayport, the port expects to complete expansion onto 75 acres by late 2018, and is scheduled this summer to complete a 700-foot berth, with three super-post-Panamax cranes. That will provide the terminal with a total of 4,000 feet of quay.
The terminal's truck gates are being updated with the addition of eight lanes to the 20 already in use, and technology upgrades linked to the port's Navis N4 terminal operating system.
Houston's average truck turn times were in the low-to-mid-40-minute range during the first quarter, Davis said. Those numbers included single moves for pickup or delivery, and double moves that combined delivery and pickup of containers.
Other Gulf ports also are expanding container terminals and intermodal yards. New Orleans last year opened a new intermodal container terminal used mainly by CN. The port also has started work on an updated master plan to replace a decade-old plan developed shortly after Hurricane Katrina.
A key question to be addressed in the new plan is how to optimize space between container operations and breakbulk cargo, which remains an important issue at New Orleans. One option under consideration is acquisition of part of the defunct Avondale Shipyard upriver from the city.
Sixty-five miles east, the Port of Gulfport, Mississippi, is nearing completion of a $570 million program to rebuild and expand the port, which was flattened by Hurricane Katrina's 24-foot storm surge in 2005. The port is trying to build a diversified portfolio of business anchored by long-term contracts with its three Central America liner carriers Chiquita, Dole, and Crowley.  
Contact Joseph Bonney at joseph.bonney@ihsmarkit.com and follow him on Twitter: @JosephBonney.