Peter Tirschwell | May 20, 2017 8:54PM EDT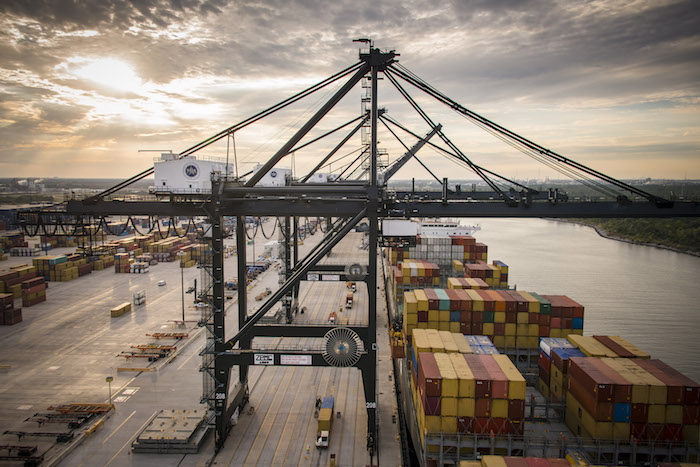 Vessel capacity remains the overriding concern about whether the Port of Houston will be able to handle the wave of plastic resins exports that will add half a million TEU annually to export volumes within a few years. 
Though two trans-Pacific services were added to the US Gulf last year, questions persisted at the JOC Gulf Shipping Conference earlier this month about whether there would be enough capacity to handle the demand. Shippers of cotton, forest products, and other commodities were told to plan for the possibility that they may need to seek alternative and more expensive export outlets in coming years.
The Port of Houston is undergoing significant upgrades to handle the volumes, "but it doesn't do any good if there isn't more ocean capacity to accept and take that freight where it needs to go, which is primarily China," said Richard McDuffie, chief operating officer of Dunavant Global Logistics Group. "Obviously, if that capacity doesn't come in, you will have to come up with other landbridge alternatives that a lot of people aren't going to want to do because they are going to be more expensive and they will require more handling, which are two things nobody wants."
Ed Zaninelli, who ran exports for 22 years at OOCL before becoming a consultant two years ago, was skeptical that THE Alliance, the only one of the three vessel-sharing alliances not offering a Gulf trans-Pacific service, would add a service any time soon. The THE Alliance, which includes NYK Line, MOL, 'K' Line, Hapag-Lloyd, and Yang Ming, declined to include a Gulf trans-Pacific string in its initial deployment that took effect on April 1. "It doesn't make business sense [for the THE Alliance] to put in a Gulf string, because you are not chock-a-block full on eastbound and ships are driven by eastbound rates," he said.
Others at the JOC conference suggested that even if the rates may not support a profitable service, the THE Alliance carriers may be loathe to see all of the resins shipments moving through Houston ride on competitors' ships. And that is a lot of cargo. Houston last year handled 42 percent of total US resins exports, and in the first quarter handled 77 percent of US polyethylene exports, by far the largest growing segment of various forms of resins exports.
As long as the capacity is there, the resins, like almost all US exports, would overwhelmingly move through Houston, with some moving through Mobile and New Orleans, because Houston is the closest port to the major manufacturing plants. All of the known additions in manufacturing capacity scheduled to come online through the end of 2019, a total of 22 manufacturing projects, are located in the Gulf region, according to IHS Markit. And volumes are beginning to ramp up, with expected major additions coming with plant openings such as the Exxon Mobile plant at Baytown later this year. 
At Houston, cumulative annual growth of resins exports from 2011 to 2015 was just 2 percent, but year-to-date resins exports grew 17 percent. 
The port, for its part, believes the capacity will be there to handle the demand. "We're really, really confident about vessel capacity. Every year, year-over-year, we've been adding vessel capacity," said John Moseley, senior director for trade development at the Port of Houston. 
Trans-Pacific services are the focus because China is expected to account for the vast majority of the growth in resins exports in coming years, according to IHS Markit analysis. 
Another dynamic that could affect port choices for resins shippers is ocean pricing. If there is too much of a differential between East Coast and Gulf Coast rates, for example, and if the Gulf becomes congested, cargo could easily start flowing eastward. The carriers "are going to put very, very large ships on the East Coast. They're not going to be full going back; in fact, they're going to be quite empty, because there is not enough freight on the East Coast," Zaninelli said. "East Coast rates are going to stay low for a long time." 
"You have to make sure you stay competitive in the Gulf," McDuffie said. "If rates bottom out on the East Coast and you can landbridge that cargo cheaply, you start getting into the scenario where if I'm paying $100 more for better service off the East Coast versus waiting or running into issues on the Gulf, then the shippers are going to say, get it out [via the East Coast]." 
Zaninelli suggested some other alternatives, including moving empties down to Houston from Dallas, a traditional surplus area, with carriers possibly diverting an East Coast mega-ship string to Houston only for a last-out call. Current export vessel capacity will be limited by additional calls the ships have to make, Zaninelli said. "If you notice, all the services that come in [to the Gulf], they all call Houston first. Some of them call eight ports after they leave here. There is freight on the ship that has to ride through to those other ports."  
Contact Peter Tirschwell at peter.tirschwell@ihsmarkit.com and follow him on Twitter: @petertirschwell.