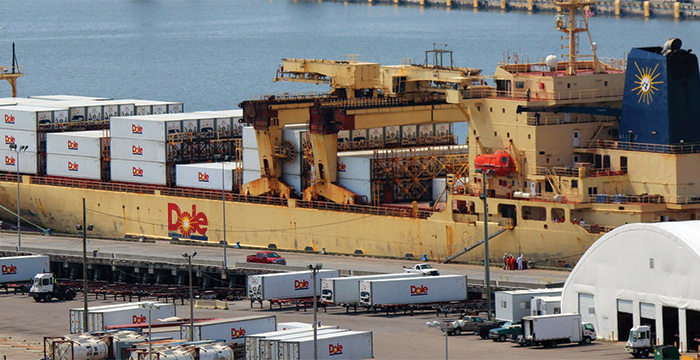 This spring's arrival of three post-Panamax cranes at the Port of Gulfport, Mississippi, has been upstaged by a shipyard contract that's expected to get the port off the hook for repayment of millions of dollars in hurricane relief funds.
Gulfport has weathered a tumultuous decade since 2005, when Hurricane Katrina hit the Mississippi Coast with a 24-foot storm surge. The storm killed 238 people in the state. Port buildings were leveled, and containers and their contents were scattered for several blocks inland.
The state-owned port in 2008 received $570 million in federal relief from the U.S. Department of Housing and Development. Gulfport officials embarked on a major expansion and rebuilding program over objections from some community leaders who said the money should have gone toward housing destroyed by the storm.
But the funding came with a catch: If the port didn't create 1,300 new jobs by 2020, HUD could demand repayment of much of the money.
Job growth has been slow. Only about 100 maritime-related jobs have been added, mostly from a newly opened McDermott wire-spooling operation linked with the offshore oil and gas business.
That's expected to change with development of a shipyard on a shallow-draft inland site the port acquired last year for $32 million from Huntington Ingalls, which had closed its shipbuilding operation on the 116-acre property.
The new shipyard will be operated by Topship, a unit of Edison Chouest Offshore, a Louisiana-based builder of service and supply vessels for the oil and gas industry. The project is expected to produce up to 1,000 jobs, which would bring the port close to the 1,300 jobs it would need in order to avoid repaying part of the federal grant.
The state will provide $11 million, plus $25 million from the federal HUD grant, in addition to long-term tax breaks. Edison Chouest will put up at least $68 million for the project.
With breathing room on the federal grant, port officials are trying to develop cargo facilities to attract new business and make up for the 2014 loss of banana importer Chiquita to nearby New Orleans.
Chiquita accounted for 30 percent of the port's containerized cargo volume. The port's other liner carriers are Dole Fresh Fruit, which signed a new 30-year lease, and Crowley Liner Services.
In a bid for business from the larger ships that will transit the expanded Panama Canal, Gulfport has ordered three post-Panamax cranes that will span up to 18 rows of containers. The new cranes are expected to arrive in March from China.
The cranes are larger than needed for any ships that now call Gulfport, which has only a 36-foot-deep channel, but Port Director Jonathan Edwards said the cranes are the right size to meet future demand. They also can be used for non-containerized cargo, he said.
Last year, Gulfport officials withdrew their request that the U.S. Army Corps of Engineers study deepening the port's channel to as much as 47 feet and widening it by about 100 feet. The port had asked the corps to include the channel deepening and widening as part of a corps environmental review of Gulfport's plans to fill in 200 acres and enlarge a turning basin.
Under a "port of the future" plan championed by former Gov. Haley Barbour, work had begun on raising the port's elevation by 15 feet to put it out of reach of future storm surges. The elevation project has been scrapped, and port officials now are concentrating on other parts of a rebuilding and expansion program expected to be completed next year.
Prospects for deepening Gulfport's channel remain iffy now that the port has dropped its request for the Corps of Engineers study. Because Congress hasn't authorized a larger channel, the state-owned port would have to pay the full cost of the channel study, the initial deepening and widening and future maintenance dredging.
The port still could secure a deeper channel by following the standard process that begins with congressional approval of a corps study. A favorable report from the corps would clear the way for Congress to provide federal funding under a cost-sharing formula with the project's local sponsor. However, authorization and funding of a project such as Gulfport's typically takes a decade or more.  
Contact Joseph Bonney at joseph.bonney@ihs.com and follow him on Twitter: @JosephBonney.