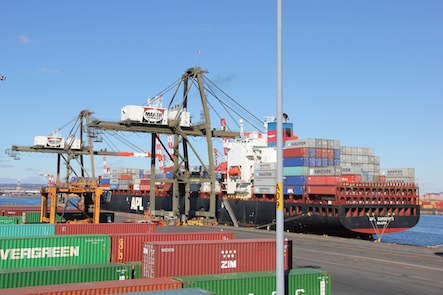 Container terminals at the Port of New York and New Jersey will be open Tuesday, Nov. 6 — normally a longshoremen's holiday for election day — as recovery efforts from Hurricane Sandy continue.
Port terminals reopened Monday morning following restoration of electricity to the terminals over the weekend. Port Newark Container Terminal said its truck gates were operating today but were slowed by difficulties with the electrical supply.
Shippers are dealing with delays resulting from the rerouting to other ports of several thousand New York-New Jersey containers.
By the weekend, the Port of Virginia had handled some 9,000 containers of various sizes, along with more than 3,000 vehicles, that normally would have been discharged at New York-New Jersey.
APL said four vessels that carry its cargo in multicarrier alliances were sent to Norfolk. They were the MOL Dynasty, APL Indonesia, MOL Destiny and Maersk Holsata. Some of the Maersk Holsata's cargo was discharged at New York before the ship left the port to avoid the hurricane, APL said.
Evergreen Line invoked force majeure, the contractual clause releasing the carrier from liability for losses in a disaster, for sailings of three vessels that had been scheduled to arrive in New York-New Jersey when the hurricane hit.
The ships are the Sun Road, part of Evergreen's NUE service linking North Asia and the U.S. East Coast, the Santa Pelagria and Ever Divine, both of which are on the carrier's AUE service between Asia and the U.S. East Coast.
Customs and Border Protection issued a notice on procedures for filing manifest data on diverted cargo.
Contact Joseph Bonney at jbonney@joc.com and follow him on twitter at @JosephBonney.