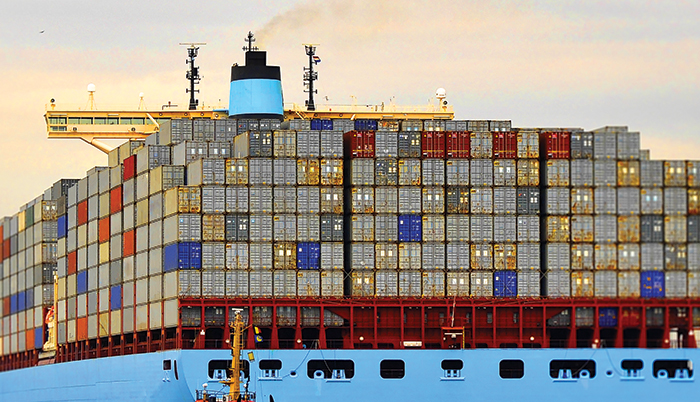 The major question facing carriers in the trans-Pacific trades this year isn't how much cargo will move, but whether U.S. West and East Coast ports will be up to the challenge of handling the big ships carrying the goods.
For beneficial cargo owners, the message is that they must be nimble in their cargo routing, and they must have close working relationships with ocean carriers, trucking companies, warehouses and railroads, to ensure BCOs have the transportation capacity they need where and when they need it.
The coming year will be marked by major changes in supply chain logistics in the trans-Pacific trades. Carrier mergers have begun, with the Feb. 18 announcement of the merger between Cosco and China Ocean Shipping Co. The previously announced acquisition of APL parent NOL by CMA CGM is moving forward and should be completed in the second half of the year. South Korean carriers Hyundai Merchant Marine and Hanjin Shipping face government pressure to merge following another year of steep losses.
As these business relationships unfold, questions surround carrier participation in the four major vessel-sharing alliances. Significant restructuring is possible, involving at least the G6, Ocean Three and CKYHE alliances. Changes are unlikely in the 2M Alliance of Maersk Line and Mediterranean Shipping Co., so those two large carriers will focus mostly on service enhancements.
The long-awaited completion of the third set of locks at the Panama Canal is scheduled for May, although it will probably take several additional months before commercial changes in all-water services from Asia to the East Coast develop. The likely scenario will be to collapse two weekly services with ships capable of carrying 4,800 20-foot-equivalent units into one weekly service of ships of about 8,000-TEU capacity.
There are currently 25 all-water weekly services to the East Coast. BCOs, then, must ask whether East Coast ports, with their current infrastructure limitations, can handle these big ships efficiently.
The West Coast since late December has had a taste of what handling super-post-Panamax vessels is like. First, the 15,000-TEU Maersk Edmonton arrived in Los Angeles, followed four days later by the 18,000-TEU CMA CGM Benjamin Franklin. The latter vessel returned on Feb. 18 to Long Beach. The big ships also were being tested on calls to Oakland and Seattle-Tacoma. Although it's not certain when regular weekly services by super-post-Panamax vessels will occur, it's fair to assume carriers are testing these ships now because regular services will materialize in the next year or two. The current average size ship in the trans-Pacific trade to the West Coast is still only 7,350 TEUs, according to Alphaliner. That is set to change as cascading results in many more larger ships in that market.
Given these watershed developments, carriers, ports and BCOs are probably fortunate that 2015's modest growth in cargo volume will continue this year. Total U.S. containerized imports increased 5.4 percent in 2015, to a record 20 million TEUs. Imports from Northeast Asia led the way, increasing 2.3 percent, with imports from Southeast Asia, the second-fastest-growing region, at 1.2 percent growth, according to Mario Moreno, senior economist for IHS Maritime & Trade, the group that also consists of JOC.com and PIERS.
The trade should anticipate much the same this year, with Moreno projecting a 5.5 percent increase in imports. As occurred last year, robust housing and automobile markets will generate much of the growth in imports, with furniture, other household goods, building materials for housing and automotive parts driving much of the growth.
Containerized exports declined about 2 percent in 2014 and again in 2015 because of the strong dollar, which makes U.S. products and commodities more costly, and weak demand among economically struggling trading partners such as China, Japan and most of the European nations.
Moreno is more optimistic this year, projecting export growth of about 4 percent as the trading partners show gradual recovery. Nevertheless, total exports aren't expected to reach the peak year of 2013.
West Coast ports anticipated strong growth in January compared to January 2015 when they were crippled by congestion associated with coastwide longshore contract negotiations. The numbers were astounding. Los Angeles, the largest U.S. port, reported a 33 percent increase in total container volume, with imports up 41.6 percent and exports 1.5 percent higher. Long Beach, the second-largest U.S. port, reported an increase of 24.8 percent in total container volume, with imports up 30.3 percent and exports up 8.4 percent. Oakland reported a 38.5 percent increase in loaded containers, with imports exploding 75.8 percent and exports up 16.8 percent. The Northwest Seaport Alliance of Seattle and Tacoma reported a 25 percent increase in total international container volume, with imports up 33 percent and exports 16 percent higher.
Similar lofty percentage increases are likely in February because they will be compared to the congestion-plagued month of February 2015. March's numbers will probably be down compared to March 2015, when the vessels that had been stuck at anchor outside of West Coast ports were finally unloaded. The port numbers should return to normal seasonal container traffic beginning in April.
Most East and Gulf Coast ports, by contrast, registered record growth in January-February 2015 because of cargo diversions from the West Coast. They are therefore expected to report modest growth in early 2016. As traffic flows return to normal this year, the Global Port Tracker published each month by the National Retail Association and Hackett Associates is projecting 4.5 percent growth in U.S. containerized imports in the first half of 2016.
BCOs, which had been enjoying some of the lowest rates ever in late 2015, could see some firming of freight rates this year. David Arsenault, president and CEO of the Americas at Hyundai Merchant Marine, told the Propeller Club of Southern California that it looks as if the relentless overcapacity that plagued the global trade lanes in recent years bottomed out last year. Carriers in 2015 took delivery of a record 214 container ships, with global capacity increasing 8.5 percent. Net capacity, after the scrapping of older ships, should increase marginally this year.
Carriers, meanwhile, have reported such large losses — an estimated $5 billion in 2015 — that they may have no choice but to decouple capacity from freight rates to stop the bleeding. "We can't continue to do one good year followed by three bad years," Arsenault said.
According to the Shanghai Containerized Freight Index, the spot rate for shipping a 40-foot container from Shanghai to the West Coast in December dropped to the ridiculous level of $766. The spot rate on the longer all-water routes to the East Coast was no better, at $1,448 per FEU.
Freight rates recovered somewhat in January and early February in anticipation of the quiet period during the Chinese New Year celebrations in Asia. The most recent spot rates were $1,388 per FEU to the West Coast and $2,466 to the East Coast.
West and East Coast ports in the months ahead must concentrate on expanding their physical infrastructure and improving cargo-handling processes in order to handle the cargo surges generated by mega-ships. On the West Coast, ports and terminal operators will be raising the height of their cranes to about 165 feet, or ordering new super-post-Panamax cranes to handle the biggest ships such as the Benjamin Franklin where containers are stacked 10 high on deck.
Some East Coast ports are deepening their harbors, while New York-New Jersey is raising the height of the Bayonne Bridge to allow passage underneath by the bigger ships. All major gateways must pay greater attention to their gate processes to avoid the long truck queues that ports on both coasts struggled with last year.
Contact Bill Mongelluzzo at bill.mongelluzzo@ihs.com and follow him on Twitter: @billmongelluzzo.