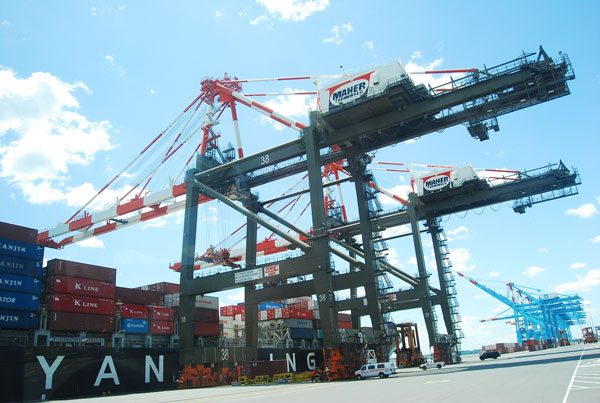 Deutsche Bank AG is seeking potential buyers for all or part of Maher Terminals after writing down a large percentage of the $2.3 billion the German bank paid to buy the container terminal operator in 2007.
The Wall Street Journal reported that Deutsche Bank is considering selling Maher's terminals in the ports of New York and New Jersey and in Prince Rupert, British Columbia, as a package or separately, or that the bank may opt not to sell now.
If sold in its entirety, the company could fetch between $800 million and $1 billion, the newspaper quoted one source as saying.
That would be far below the approximately $2.3 billion, including debt, that Deutsche Bank's asset-management arm spent to acquire Maher during the height of the pre-recession boom in investor interest in container terminal assets.
The Maher deal was one of several in which buyers paid what were considered high multiples for U.S. terminals. Recent months have brought a series of acquisitions with more modest pricing.
During the last seven years, Deutsche Bank reportedly has written down the $1.1 billion in equity that backed its acquisition of Maher, which had been under family ownership since its founding in the 1940s.
In a recent regulatory filing, Deutsche Bank said it had recognized an additional 314 million euro ($427 million) loss after a restructuring of Maher's debt, bringing the bank's total loss on the investment to more than $1.5 billion, the Wall Street Journal report said.
Maher's ship-to-rail terminal at Prince Rupert reportedly has been more profitable than the company's New York-New Jersey terminal. Maher also has proposed construction of a container terminal at Melford, Nova Scotia.
Although the company's financial results are not public, the company is understood to have been losing money. The possibility that Deutsche Bank might eventually seek a sale has been the subject of speculation for some time.
The 2008-2009 recession cut into many terminals' volumes shortly after Deutsche Bank acquired the company from the Maher family.
Last summer, the company endured weeks of problems following integration of a new terminal operating system at the company's New York-New Jersey terminal, which handles one-third of the port's cargo.
Diversion of ships to other New York-New Jersey terminals strained the capacity of other terminals and caused shortages of longshore labor and dislocations in chassis supply. The result was summer-long gridlock at the East Coast's busiest port.
Like other New York-New Jersey terminals, Maher was hit hard last winter when a series of blizzards disrupted operations and caused long truck lines. In recent weeks, operations have returned to equilibrium, and truckers now rate Maher among the easiest in the port to work with.
In 2012, Maher filed a Federal Maritime Commission complaint alleging that Port Authority of New York and New Jersey gave preferential treatment to the competing APM Terminals in 2000, when Maher was under its previous ownership. A, FMC administrative law judge rejected the complaint earlier this year.
APM Terminals recently formed a 50-50 joint venture with infrastructure investor Brookfield Asset Management for ownership of APMT's New York-New Jersey terminal, which is adjacent to Maher's operation.
Contact Joseph Bonney at jbonney@joc.com and follow him on Twitter: @JosephBonney.