Rob Ward, Brazil Special Correspondent | Apr 13, 2017 2:56PM EDT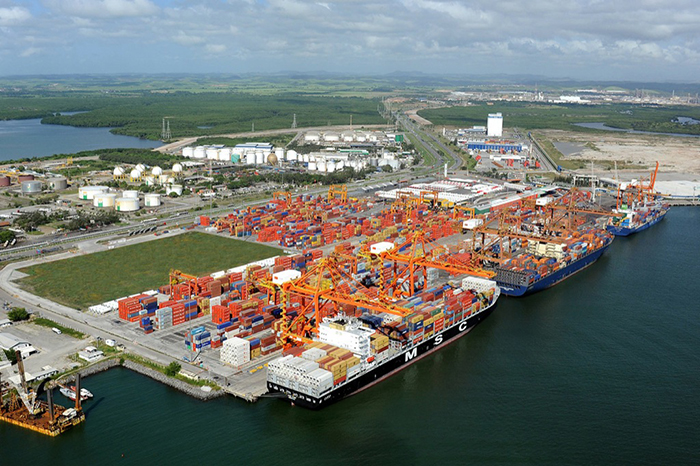 The northeast Brazilian port of Suape is seeking developers of what could become the country's most valued container terminal due to its potential as a transshipment hub, and accelerate the government's 10 billion reais ($3.1 billion) concession plan.
Complexo Industrial e Portuaria de Suape (Suape Port Industrial Complex: CIPS), has issued a tender for a technical feasibility study for more than 1 billion reais ($318.8 million) terminal with an annual capacity between 1 million and 2 million teus. Among the companies CIPS said had shown a keen interest during a failed concession process three years ago were APM Terminals, part of Maersk Group; Terminal Link, which is controlled by Mediterranean Shipping Co.; Porto Itapoa, in which Hamburg Sud has a share; and Brazilian terminal operator Wilson, Sons, which has facilities in Rio Grande and Salvador. DP World and PSA International, keen to get a foothold in Brazil, are also said to be interested.
With the opening of the Panama Canal's new wider locks allowing ships with capacities of up to 14,000 teus, Suape is working to capitalize on its natural draft of 16 meters to become a hub for larger vessels connecting to Asia, Europe, and the United States, and feeder ships serving ports that can't handle the larger ships.
Tecon 1 Suape, operated by International Container Terminal of the Philippines, is the only container terminal within the CIPS. The port complex serves the Pernambuco state capital of Recife's population of more than 4.5 million people. Tecon 1's volume has slumped, with the terminal handling just under 400,000 teus last year compared with 398,000 teus in 2015. The facility has an annual capacity of roughly 600,000 teus.
When the tender period expires May 5, the interested parties will have 90 days to work with the Empresa de Planejamento e Logística (state-run Planning and Logistics Company: EPL) and officials from the Programa de Parcerias e Investimentos (which is a kind of Private-Public Finance initiative: PPI) to come up with their tender proposals. The tender process itself will proceed in early 2018.
Marcos Baptista, president of CIPS, is keen to advance the process under the auspices of the Ministry of Transport, Ports, and Civil Aviation even though there are ongoing plans from Transport Minister Mauricio Quintella to cede control over the concession process back to the port authorities in Brazil.
"We are optimistic that we will conduct the whole installation process of the new Tecon 2 and other major projects after the return of autonomy to the port of Suape," Baptista said.
"We also want to hear all the stakeholders involved in identifying the possibility of creating new regular lines that can pass through Suape, further increasing our container handling."
A port consultant based in Sao Paulo, who has been involved since 2013 in several aborted port terminal bids for new concessions under former president Dilma Rousseff and current President Michel Temer, said he is "quietly optimistic" that this time the Tecon 2 bid will succeed.
"Tecon 2 itself was close to the top of the agenda two and three years ago, but then all the Lava Jato stuff [police investigations into kickbacks for dozens of politicians] went into overdrive, and nearly all port concessions were put on the back burner," said the consultant, who requested anonymity, "But this time, I really do think it is different, especially now the Panama Canal expansion is up and running. Also, Temer seems secure until the presidential elections in 2018, and the country is broke and must produce some money from somewhere, and new concessions are a good way to do this."
Tecon 2 will have two berths covering a quay of 900 meters and an initial backyard area of 250,000 square meters and another 100,000 square meters for future expansion. Overall movement in Suape last year was 22.7 million metric tons, up 15 percent year-over-year, making it Brazil's largest port.
Contact Rob Ward at rcward788@btinternet.com.