Rob Ward, Brazil Special Correspondent | Sep 22, 2017 12:20PM EDT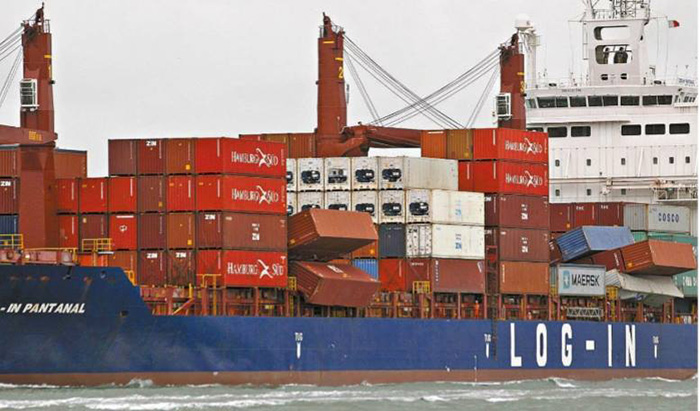 The search and recovery of 38 of the 46 containers that slid into the sea near Brazil's Santos entrance channel last month is continuing, but is moving slower than the local and national authorities wish, and the port may have to close for lengthy periods to lift some of the boxes from the seabed.
Brazil's last remaining container carrier, Log-in Logistica, has recovered only eight of the 46 containers that slid off its vessel, the Log-In Pantanal, at Barra de Santos on Aug. 11. While the local P&I Club representatives organize the cleanup, the Rio de Janeiro-headquartered carrier faces fines from several quarters.
The slow rate of recovery means Log-In will almost certainly fail to comply with an order by Ibama, the federal environmental agency, to recover all containers by Sept. 30 — it was originally given leeway of one month plus two weeks — and that means Log-In will face fines.
Log-In received its first fine of 160,000 reais ($51,012) this week from the municipality of Guaruja (home of the Santos, Brazil, container terminal), where thousands of items and debris from the sunken containers were washed up on tourist beaches. Other politicians — including those in Sao Vicente, Cubatao, and Santos city — are drawing up bills to be imposed on Log-In.
Sidnei Aranha, environment secretary for Guaruja, said that despite what Log-In has circulated, there are still concerns that some of the items washed ashore, such as print toner, are pollutants. He also criticized Log-In for not answering questions shortly after the accident. However, lawyers for Log-In said that various letters from the Guaruja city council and Antaq, the regulatory body for ports and waterways, were sent to an old, outdated address in Rio de Janeiro.
Santos also suffered a number of oil spills in recent weeks, and city hall officials and Santos residents want a much better flow of information and more accountability on all these issues.
The delays in the cleanup, recovery, and inquiry process create headaches for carriers and shippers filing insurance claims, via the P&I Club, for the return of their boxes and compensation for lost goods, according to a source close to an affected carrier.
Representacoes Proinde Ltda, the P&I representative in Santos, has arranged for a salvage vessel to lift and recover the sunken boxes located at 12 different sites. Ricardo Martins, a Proinde manager, told local media that what appears to be 37 containers have been located, but there may be "other objects lost in the Barra de Santos area."
He added that some containers might be buried in sediment covering all but one meter of the box's height, and that the salvage barge is en route from Rio de Janeiro, causing further delays. Martins added that the entrance channel might be closed for some time once the salvage begins in earnest.
One Santos-based shipping agent, who has worked closely with Log-In Logistica in the past, said town halls located in or close to the port of Santos were furious at the lack of information flowing from the Brazilian carrier and Codesp. The port authority rubbed its hands of responsibility referring to the fact that the accident was outside the official port area and thus "not its responsibility."
"Obviously, as the largest port in all South America, the port of Santos is a massive employer of Santistas [denizens of Santos and surrounding cities], and so they will, at times, bend over backward to keep shipping lines happy," he told JOC.com on condition of anonymity. "However, the various municipalities do not like to be ignored by Codesp and other authorities when there are accidents, as seems to be the case here, and with recent oil spills. They are indignant, and they want better lines of communication."
Log-In Logistica put out a statement just after the accident claiming that "severely bad weather, with waves of 3.5 to 4.5 meters high" had caused the accident, but a Santos maritime lawyer, Paulo Henrique Cremoneze, told local media he believes it was an "operational problem" as waves of that magnitude rarely cause such an accident as the one that hit Log-In Pantanal, unless the boxes were "badly stowed."
The Sao Paulo and Santos Port Captaincy department, which closed the entrance to the port for four hours after the accident because of the danger to shipping, is carrying out a thorough investigation and will deliver its findings in early November.
Contact Rob Ward at rcward788@btinternet.com.