Alan M. Field | Oct 19, 2012 8:55AM EDT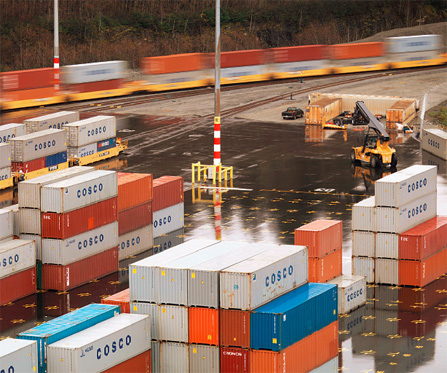 When the 1,200-foot Cosco Guangzhou arrived to load and unload cargo at the Port of Prince Rupert's Fairview Terminal in mid-September, officials rejoiced at the sight of the largest vessel in the Chinese carrier's Pacific Northwest fleet.
It was the largest vessel ever to visit Prince Rupert, and a sure sign, officials said, that the port has become a cost-efficient component of western Canada's transportation infrastructure.
Fairview was designed for maximum capacity of 500,000 20-foot-equivalent units, but its actual capacity is now 750,000 TEUs, because of unanticipated "operational efficiencies," a port authority spokesman said.
Don Krusel, president and CEO of the Prince Rupert Port Authority, said the port has become a "true North American gateway" by noting 70 percent of its inbound containers go beyond other destinations in Canada "to places like Chicago, Memphis and the Ohio Valley."
Outbound from Canada, Prince Rupert's emergence provides Canadian forest products shippers with a cost-effective alternative to Port Metro Vancouver, the largest port in Canada's resource-rich western provinces. The Cosco Guangzhou, for example, took on containers loaded with lumber bound for the Chinese housing market.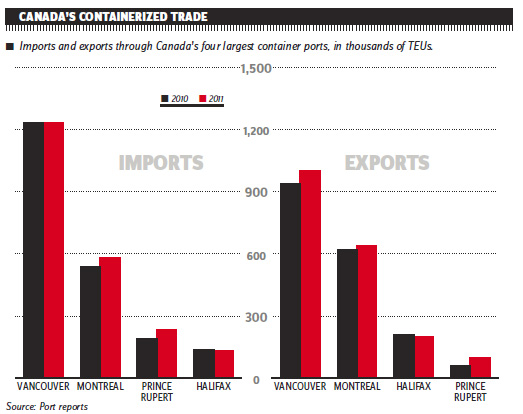 Overall, Prince Rupert's container traffic in July rose 5.5 percent year-over-year, to a monthly record 48,977 TEUs. "Prince Rupert is two or three days faster to China than sailing from Vancouver," a port spokesman said. "That makes it faster than Vancouver, but not necessarily cheaper."
Compared to Los Angeles-Long Beach, the trip is 68 hours shorter, he added.
North America's closest port to key Asian markets, Prince Rupert is expected to play an increasingly important role in Canada's strategy of boosting trade volumes to and from China. But short term, the recent slowdown in housing growth in China is weakening demand for Canadian lumber — and may make further expansion of Prince Rupert look like a riskier proposition than it was last year.
Nevertheless, authorities are doubling down their bets. On Ridley Island, a 20-minute ride away, $90 million worth of new roads and rail infrastructure already have been funded, and their construction could begin by year-end. A proposal by Maher Terminals, which owns Fairview, would increase container capacity at the terminal to 1.2 million TEUs.
Prince Rupert isn't the only Canadian port undergoing expansion. Port Metro Vancouver's container-handling capacity of 3.3 million TEUs will increase to 4.1 million TEUs this year. In the East, Montreal is considering long-term plans to develop a container terminal at Contrecoeur, on the south side of the St. Lawrence Seaway in Quebec. The site already consists of a bulk terminal and has direct access to Canadian National Railway's mainline.
Halifax also has made major upgrades. During the past five years, the private sector has invested more than $250 million in port-related infrastructure, and the Halifax Port Authority has invested more than $100 million. Two major projects are under way to enhance breakbulk and containerized cargo terminals. 
Despite such expansion efforts, Perrin Beatty, president and CEO of the Canadian Chamber of Commerce, said Canadian ports cannot afford to stand pat. "One of the keys to our success will be our ability to arm ourselves with modern and competitive infrastructure," Beatty told the Association of Canadian Port Authorities conference in August. "How will we be able to handle the projected increases in trade if our ports and transportation networks are unable to keep up with demand?"
Massive port infrastructure developments outside North America — especially in Asia — "put our own efforts to shame," he said. "We need to do much more if we want to keep pace with the rest of the world and if we want Canada to be North America's gateway to the world."
Contact Alan M. Field at alanmf0@gmail.com.