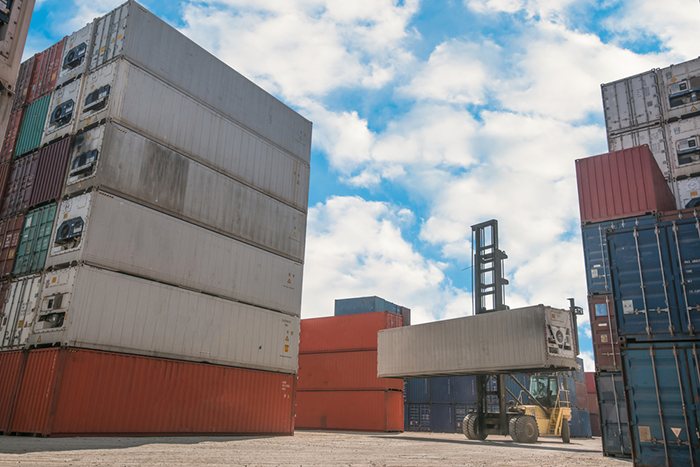 The fluid state of affairs involving ocean carrier alliances is making the intermodal exchange of containers at marine terminals more complex, challenging the logistics skills of terminal operators at their on-dock rail yards and at inland rail hubs.
Recent developments involving the creation of a powerful new alliance of ocean carriers, and the likelihood of other alliances forming in response, will challenge the operational side of the business even more, although terminal operators should be up to the task, said Ed Zaninelli, a veteran shipping industry executive and president of Griffin Creek Consulting. "It's a logistical challenge, not a nightmare," he said.
The changes that terminal operators are experiencing begin waterside, with terminals forced to raise the height of their ship-to-shore cranes so they can work mega-ships with containers stacked 10-high on deck. The randomness of intermodal hand-offs increases as alliances discharge containers owned by a half-dozen lines, or more, from the same vessel onto a terminal. Additional complexity, and cost, occur at inland destinations because rail ramps and receivers' warehouses are spread across a wider radius, Zaninelli said.
Terminal operators, especially those on the West Coast, are an integral link in the supply chain from Asia to inland U.S. destinations. By constructing rail transfer facilities dockside, the terminal operators expedite the positioning of containers from Asia directly onto intermodal trains for rapid transit to population centers in the eastern half of the country. Serving those destinations via intermodal rail from West Coast ports can save shippers 10 days to more than two weeks in transit time compared with shipping the containers on all-water services to East Coast ports.
Before the emergence of vessel-sharing agreements, the intermodal supply chain was a homogeneous link from the vessel to the inland destination. A vessel operated by a shipping line carried only containers controlled by that line. In Los Angeles-Long Beach, the largest U.S. port complex, each line often had a financial interest in one of the 13 container terminals.
Therefore, a critical mass was created, with each vessel discharging enough containers to fill one or more unit trains to major inland destinations such as Chicago, Dallas, Atlanta and the Ohio River Valley. Containers moving to secondary destinations such as Memphis and Kansas City were trucked to off-dock yards where containers were aggregated and the unit trains were built.
Over the past several years carriers have concentrated their vessels in alliance arrangements, primarily to reduce costs. In the G6 Alliance, for example, six lines share space on each other's vessels, with each line contributing vessels to the alliance. Therefore, each line is able to serve as many as, or more, port pairs than it served as an individual operator, while contributing a reduced number of costly vessels to the alliance.
This arrangement is good for the carriers, but makes terminal operations more complex because the containers of each line must be placed on the terminal in a separate pile. Handling containerized imports is already the most complex operation at a marine terminal, said Ed DeNike, chief operating officer at SSA Marine. Having to segregate containers in piles according to shipping-line ownership makes the difficulty of handling import loads even greater, he said.
Also, shipping lines sign individual intermodal contracts with the western Class I railroads, and with containers from multiple lines now being handled at a single terminal, the shipments are moving under a variety of contracts, and that complicates the business arrangement, DeNike said.
Furthermore, since some lines still have a financial interest in marine terminals, the alliance members may work out arrangements where vessels operated by those lines will call at their sister terminals, but vessels contributed by other lines in the same service string call at terminals affiliated with those alliance partners. This results in intermodal containers being discharged at different terminals each week, sometimes in Long Beach and other weeks in Los Angeles.
The situation can also be confusing on the receiving end, depending upon where the inland rail ramps are located. Zaninelli said Dallas-Fort Worth is a complex intermodal destination to serve because the Union Pacific Railroad and BNSF Railway ramps are located about 65 miles from each other. Since shippers often locate their distribution centers close to the rail ramp operated by the railroad that the shipping line has specified in the service contract, the alliance arrangements have resulted in longer drayage hauls to and from the rail ramps, he said.
Contact Bill Mongelluzzo at bill.mongelluzzo@ihs.com and follow him on Twitter: @billmongelluzzo.