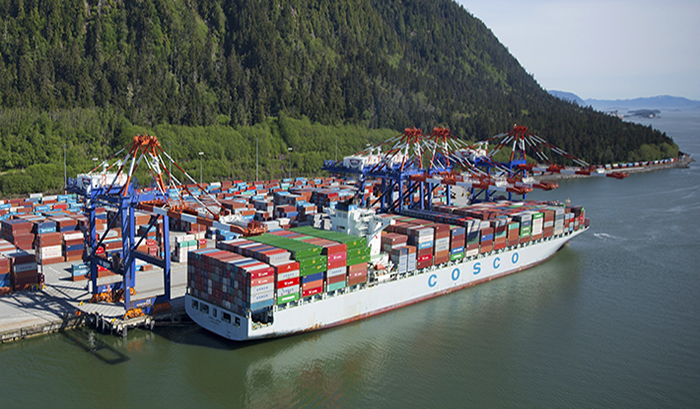 Terminal congestion is clearing at Canada's Port of Prince Rupert, after a combination of record-high container traffic, the Labor Day holiday, ongoing construction, and a freak incident involving hazardous materials roiled the gateway's productivity.
The port's primary ocean carriers — Cosco Shipping Holdings and Maersk Line — will continue to divert cargo to Vancouver's Centerm terminal and away from Prince Rupert's Fairview Container Terminal for the next three weeks in order to keep cargo flowing and avoid reigniting congestion.
Port officials at Prince Rupert said terminal operator DP World, which owns and operates Fairview and Centerm, is on schedule to restore dwell times and clearing terminal congestion by the end of October.
"We've seen the number of containers on dock over the past two weeks decrease by about 60 percent, in terms of feet of train on terminal," Kris Schumacher, a Prince Rupert spokesman, told JOC.com on Tuesday. "And we hit about a four-day dwell time this week too."
During the height of the congestion over the past month, dwell times surged to seven days, nearly triple their typical 2.5-day norm. Original reports pinned the congestion largely on ongoing construction to landside rail infrastructure at the Fairview terminal. DP World is nearing completion on a $200 million upgrade modernizing operations and doubling capacity and, while construction has finished on marine-side projects, there is still weeks' worth of work left on connections to Canadian National Railway track.
Schumacher told JOC.com on Tuesday, however, congestion over the past month was the result of much more than just hiccups moving cargo around construction.
"August was a record for us. Over 87,000 TEUs in the month of August, which is by far a record for us. Its 37 percent growth year over year," Schumacher said. "We do have additional capacity created through the recent expansion, but that's still a substantial increase in volume from a year ago."
The sudden influx of cargo was followed by a freak incident on Sept. 3 during which multiple workers at the Fairview terminal fell ill. Few specific details have been released about the incident, but Schumacher said it was related to "hazardous materials" at the terminal. DP World said in a statement that the employees in a certain area of the terminal's container yard had developed respiratory and eye irritation. Workers received medical treatment and were discharged within hours.
"But, the terminal was closed for 24 hours and the next day was Labor Day, which is one of the only days the terminal actually has a full work stoppage," Schumacher recounted.
In the following weeks, Cosco and Maersk announced they would be temporarily diverting cargo on services between Prince Rupert and Asia for four weeks. Vessels still call at Prince Rupert, but discharge less cargo.
DP World has promised customers that it is working with the port authority, ocean carriers, and railway partners like CN to find a solution for cargo now en route to Canada, while also working on a long-term solution to improve conditions at Prince Rupert. According to the current timeline, normal operations should be restored by November.
Contact Reynolds Hutchins at reynolds.hutchins@ihsmarkit.com and follow him on Twitter: @Hutchins_JOC.