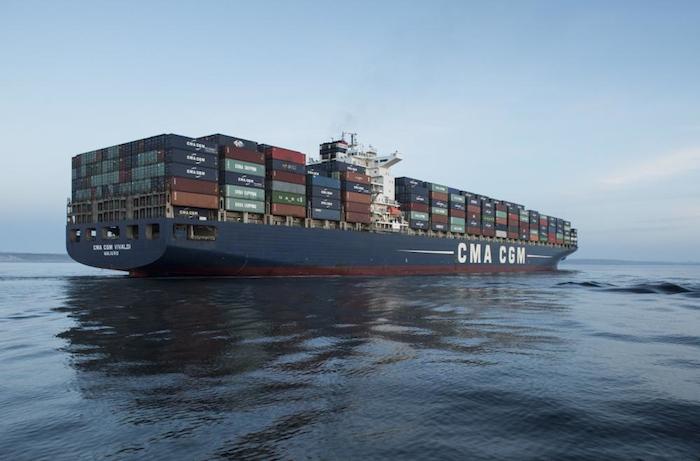 The Port of Halifax, Nova Scotia, may be getting a new lease on life. On Monday, the CMA CGM Vivaldi docked at the Halterm Terminal in Halifax, Nova Scotia, with a cargo of containers from China, Vietnam and Malaysia for import into Canada and outbound containers for the ship's next ports of call — New York, Norfolk and Savannah. The ship then would return to Port Klang via the Suez Canal.
The Vivaldi, with a capacity of 8,450 20-foot-equivalent units, is the largest container ship ever to call at Halifax. And it's the first of two new services from Asia via the Suez Canal that begin service to the port this month. The next vessel to call at the port from Asia via Suez within the next few days will be the Hapag-Lloyd Budapest Express, which is even bigger, with a capacity of 8,750 TEUs. Part of a service by the G6 Alliance, the ship will call at the port's Ceres Terminal.
"It's a very positive sign. I think we are seeing the turn of the corner," said Karen Oldfield," president and CEO of the Halifax Port Authority. "The day of the big ship is here."
The new calls, on top of the port's other two G6 services from Asia, could signal a validation of Halifax's long-term strategy of positioning itself as the port with the deepest harbor on the east coast of North America, with a draft of 52.5 feet, and the closest to the Suez Canal. "We've always known that our strength is our water depth and the fact that we can take super post-Panamax vessels," Oldfield said in an interview with JOC.com.
Asian cargo, primarily imports, now accounts for about half of the port's overall volume. "We expect to see more of the 8,000-TEU ships call here, and it won't be too long before we see 10,000-TEU ships because of the cascading effect," she said.
The port registered good volume growth from 2010 to 2013 following the global financial crisis of 2009, but suffered a 9.5 percent drop in container volumes to 400,063 TEUs last year and another 4.5 percent decline in the first half of this year when severe winter weather plagued operations. "It was only 2014 that hit us for a bit of a loop and the first quarter this year," she said.
Halifax had such a terrible winter in 2014 that it failed to benefit from the severe congestion at U.S. West Coast ports that caused the diversion of so much Asia cargo to the East Coast. But the port may benefit from the opening of a second lane in the Suez Canal on Aug. 6. "That's going to be really helpful, because it will reduce wait time and improve transit time," Oldfield said. "I would see that rather than the opening of the new locks in the Panama Canal next year as having a more immediate impact for us."
The two new Asia calls don't necessarily mean Halifax will load and unload more container volumes because Montreal is closer to the main import markets in Ontario and the U.S. Midwest. In addition, eastern Canada's main exports of paper and pulp have been curtailed by declining overseas demand from newspaper and magazine publishers. "The outbound side has been pretty sluggish," Oldfield said.
The port's outbound volumes may be strengthened by the Bank of Canada's July move to cut interest rates again and stimulate manufactured exports, which lowers the cost of Canada's manufactured exports.
Oldfield is realistic about the port's import and export volume challenges. "The larger vessels should mean more slots allocated to Halifax in and out, but that means there is a whole lot more scouring that needs to happen in Atlantic Canada and in our hinterland to make sure to take up the capacity on those vessels."
Halifax has traditionally had a balance between imports and exports, but imports have started to increase, while exports have shrunk in the last year. "We have a pretty healthy share of imports into Ontario and Chicago," Oldfield said.
Atlantic Canada is not a big market for Halifax imports because its population is only 2.3 million. "Compare that to New England, which has 14.5 million," she said. That's why she considers another new service that started in February so important — the trans-Atlantic calls by Icelandic shipping line Eimskip. The Eimskip service gives the port direct calls with New England at the Port of Portland, Maine. The service originates in Rotterdam and calls at Immingham in the U.K. and Argentia in Newfoundland and Labrador before calling at Halifax and Portland.
"That's a very important service for us because it hits those 14.5 million people in New England," Oldfield said. "That's priceless because those are our natural, historic trading partners on the north-south axis as opposed to east-west." The Eimskip service has added a third ship to the rotation and is increasing its calls at Halifax to as many as 31 this year. Halifax has not had a direct maritime connection with New England for several years and has struggled to get one going again.
The three new regular services at Halifax should turn Halifax's volume numbers positive this year, despite their first-half decline.
"I don't have a crystal ball, but based on what we're seeing and what we're projecting for the balance of the year, we do anticipate seeing positive numbers," Oldfield said. "I would not be surprised to see growth in the vicinity of 3 to 5 percent."
Contact Peter Leach at peter.leach@ihs.com and follow him on Twitter: @petertleach.