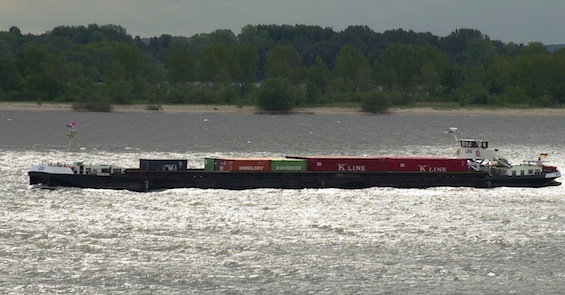 Ports everywhere are trying to squeeze more productivity from container terminals. Ships are getting bigger, waterfront land is scarce and expensive. Asaf Ashar says it points to a new phase in the industry's development.
Ashar, research professor at the National Ports & Waterways Initiative, suggests attacking the problem with a network of pure transshipment ports served by nonstop shuttles using big ships that would connect with feeder services.
In a recent paper and a subsequent interview, he floated the prospect of developing transshipment-only ports that would use barges to transfer blocks of containers between linehaul and feeder ships, without the boxes ever touching land.
Dockside gantry cranes would lift containers from ship to barges. Each barge would hold scores of containers that would be transferred to a single feeder port. "The whole idea is that instead of having a regular container yard, you have a floating yard," he said.
Operating large ships between transshipment hubs where the vessel would be emptied and reloaded is a logical step in container shipping's evolution, Ashar said.
A nonstop shuttle "would be the most efficient service pattern available, but only if the cost of transshipment at hub ports can be reduced," he said.
Most transshipment ports also serve as gateways for import-export shipments, and handle both kinds of shipments the same way. A container is lifted off ship, taken to the yard for storage, and later retrieved and transported back to ship side for loading. By contrast, using barges would require only two lifts: from ship to barge, and barge to ship.
The ship-to-barge-to-ship transfer Ashar envisions would be a refinement of the mid-harbor container transfers that have been common for years in Hong Kong. He said it would improve efficiency by allowing containers to be transferred in blocks instead of individually.
"It opens up productivity probably never foreseen," he said.
Discharging directly to and from barges in a pure transshipment terminal also would free up scarce land, Ashar said. Typical terminals designed for gateway traffic devote about 40 percent of their acreage to the "land interface," which includes roads, rail access, and truck gates and parking.
This acreage is necessary for a terminal handling large volumes of imports and exports. Ashar, however, said it's not needed for a pure transshipment terminal, especially one using barges to transfer containers between the mother ship and feeder vessels, and for temporary storage of boxes during the transfer.
Ashar said his preliminary calculation shows that the cost of barges would be lower than the cost of a land-based storage yard and its equipment, especially if the terminal required reclamation of deep water. Because of geography, ports with natural deep water tend to have limited land for development, he noted.
The biggest advantage of a pure transshipment terminal using barges would be in productivity, Ashar said. Using nine ship-to-shore cranes with tandem lifts and 50 percent dual cycling throughout the discharge and loading would allow the movement of 1,650 20-foot-equivalent container units an hour. With triple lifts, productivity would average 2,430 TEUs an hour.
At a conventional terminal, seven or eight cranes averaging 40 lifts an hour would take three or four days to turn around an 18,000-TEU ship on a nonstop shuttle, he said.
As ships get larger and carriers organize bigger alliances, dedicated regional shuttles already have emerged in the Asia-Europe trade. Carriers are moving to replace multitrade pendulum services with shuttles that serve a single trade but call multiple ports.
As ships get bigger, productivity fails to keep pace, and port land becomes scarcer, a hub-and-spoke system based on ship-to-barge-to-ship transfer may become attractive, at least for a few routes such as Asia-Europe, Ashar said.
But he concedes it won't happen anytime soon, and he said he understands why. "The major issue is its novelty," he said. "It's out-of-the-box."  
(Asaf Ashar's paper can be read at www.asafashar.com.)
Contact Joseph Bonney at jbonney@joc.com and follow him at twitter.com/josephbonney.