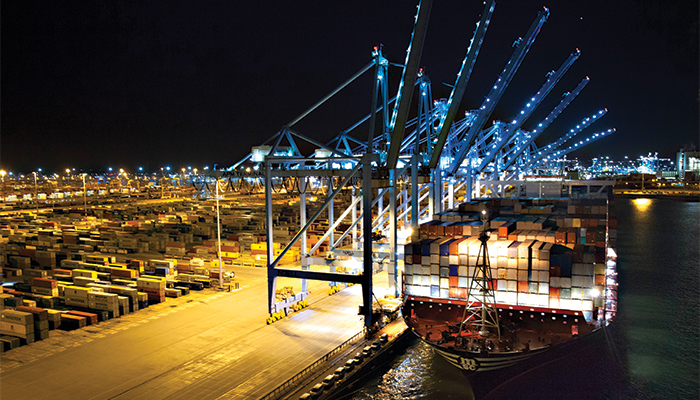 The European waterfront faces fresh challenges that could result in significant changes in the years ahead. 
The port of Rotterdam has consolidated its position as the continent's leading container port after several years of sluggish growth that saw its close rivals, particularly second-ranked Antwerp, steadily narrow the gap. 
Rotterdam's container traffic surged 9.3 percent in the first half of 2017 to just short of 6.7 million TEU. The recent global shipping alliance shakeup helped to usher the port's revival. The three alliances — 2M, THE Alliance, and Ocean Alliance — decided to focus their transshipment operations in Rotterdam.
"Rotterdam has been frequently included in the [alliance] schedules as the first or last port of call because vessels can arrive or leave here fully laden, which is not always the case in other ports," the port authority said.
"Given its location on the coastline and excellent infrastructure, Rotterdam is more easily accessible for the largest vessels than other ports," an increasingly bullish authority claims.
This is reflected in a near 23 percent surge in transshipment traffic in the first six months of 2017 as an increasing volume of deep-sea containers are being shipped between Rotterdam and smaller European ports.
The growth in first-half traffic, a sharp contrast to the miserly 1.2 percent increase in 2016, has boosted Rotterdam's share of the fiercely competitive Le Havre-Hamburg container market by almost 2 percent to a 15-year high of 30.9 percent from 29 percent a year ago.
Antwerp, by contrast, has suddenly slowed down, with traffic edging up 1.9 percent in the first half to almost 5.2 million TEU, ending a long run of strong growth that peaked with last year's 4 percent increase, which pushed the Belgian port above 10 million TEU for the first time.   
Antwerp's pursuit of Rotterdam — highlighted by a 7.5 percent increase traffic in 2015 compared with a 0.5 percent decline at its Dutch rival — may have slowed, but its port authority remains optimistic.
"In 2016, Antwerp was one of the few ports in the Le Havre-Hamburg range to achieve growth figures. If after that we can once more produce a positive report, then we have every reason for satisfaction," Port Authority CEO Jacques Vandermeiren said on the publication of the first-half figures. 
Vandermeiren is not worried about failing to grow traffic, but keeping pace with it. "We have to look ahead ... these volumes also demonstrate the needs for additional container capacity ... we will do everything necessary to give the port companies the oxygen that they need in order to prosper."  
While Antwerp has slipped further behind Rotterdam, it has widened the lead over Hamburg, which it ousted as Europe's second-largest container hub a few years ago after the German port's growth slowed and then declined.
Hamburg is still struggling to keep up with its rivals, but a 0.7 percent decline in the first quarter of 2017 to 2.2 million TEU, following a modest 1 percent rise in 2016 volume to 8.9 million TEU, consolidates its "rebound" from a 9.3 percent slump in 2015.
Germany's top container hub still has some way to go to overtake its record traffic of 9.7 million TEU in 2014, but there is growing confidence that it can return to growth in the medium term and win back "local" traffic lost to its top competitors.
The big boost came in February when a German federal court gave Hamburg conditional approval to deepen the rival Elbe, its 38-mile navigation channel to the North Sea, which will enable 24/7 passage of the largest fully laden container ships that it can currently only handle at high tides.
While the court ruled that Hamburg must address several environmental issues before it can start dredging, it was a major breakthrough for the port, which first sought planning permission around 15 years ago and has lost several court challenges by green activists.  
Hamburg will get an earlier boost from the German government's recent decision to halve payments for the use of the country's rail network. The port's rail traffic hit a record 2.4 million TEU in 2016, accounting for a record 42.3 percent of its hinterland shipments, and is sure to grow further in the coming months, evidenced by Rotterdam's gripe over the Berlin's government's "financial" support to Hamburg. 
"In comparison with ports in Europe, the highest number of connections and the great frequency of train departures to and from Hamburg are very advantageous in offering shippers in industry and commerce rapid handling of their export and import cargoes," said Ingo Egloff, joint CEO of Port of Hamburg Marketing.
There are concerns among the UK ports. The country will leave the European Union, and most likely its single market and customs union, in March 2019 after 46 years as a member. UK ports, roll-on, roll-off carriers, feeder container carriers, and truckers are worried about the impact.
The biggest potential Brexit "victim" is the port of Dover, one of the world's top ro-ro hubs, which handled more than 2.6 million trucks transporting goods worth around £117 billion ($154 billion), or 17 percent of the UK's trade, in 2016. An additional 1.4 million trucks traveled on trains through the neighboring Eurotunnel cross-channel link last year, boosting the southern port's share of UK trade to 30 percent.
There is a "real risk" of overwhelming congestion if the United Kingdom quits the EU's customs union and returns to the pre-single market era, according to Tim Waggot, CEO of the port of Dover.
"The nightmare scenario is actually having physical customs borders ... it would be absolutely a catastrophe for the ports and for our (shipping) sectors," warned Guy Platten, chief executive of the UK Chamber of Shipping.
There are fears Dover could face gridlock of up to 30-mile-long truck queues if the United Kingdom has to reintroduce customs checks when it leaves the European Union.
Other UK ports are less worried about Brexit, including leading container hub Felixstowe, which gets more than 70 percent of its business from beyond the European Union, and Liverpool, which has just launched the second phase of its new £400 million container terminal and is targeting more trans-Atlantic trade. 
China is seemingly hungry for a bigger presence on the European waterfront. Cosco Shipping Ports' recently paid $228 million for a majority stake in Spanish terminal operator Noatum Ports, less than a year after it bought a controlling stake in the Greek port of Piraeus, where it already handles around 3 million TEU a year.
Mainland Chinese companies have stakes in terminals in Rotterdam and Antwerp and have now moved into Hamburg, where China Communications Construction Co., parent of container gantry cranes manufacturer ZPMC, is developing a new terminal to handle ultra-large container ships. 
The European waterfront has hit the headlines in recent weeks with APM Terminals' two Rotterdam terminals closed by a global cyber attack, worsening barge congestion at Antwerp, Spanish dockers ending their wave of strikes after cutting a deal with employers, and the APM Gothenburg Terminal deciding to sack 160 workers following a year-long dispute that has slashed its traffic.  
However, the main industry news is that capacity exceeds demand and the gap is set to widen just as the recent consolidation of the container shipping industry, and the control over traffic by three powerful alliances mean carriers will increasingly call the shots.
Exciting times lie ahead.  
Contact Bruce Barnard at brucebarnard47@hotmail.com.