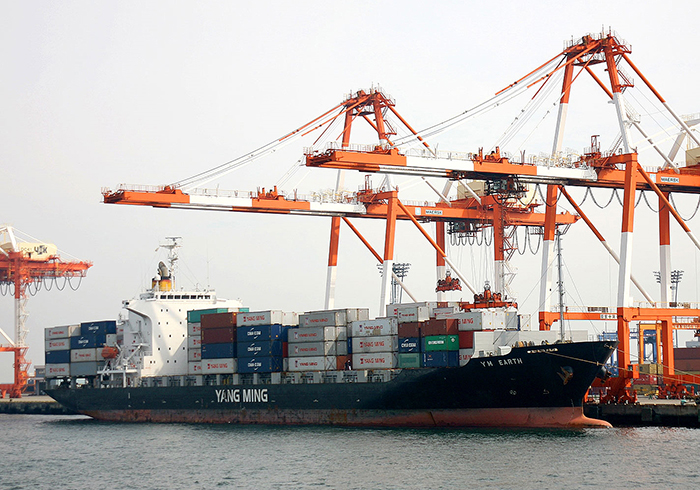 The municipal government of Yokohama in Japan's Kanagawa Prefecture has set up a new company to operate the prefecture's ports in Yokohama and Kawasaki in an integrated manner.
The new company will seek to make the operations of the two ports' container terminals more efficient and boost their international competitiveness, the Yokohama government said
The English name of the new company was not released, but it translates as Yokohama-Kawasaki International Port Corp. and the company wholly owned by the Yokohama government was established on Tuesday with with a total of 450 million yen ($3.8 million) in capital and capital reserves.
The national government, the municipal government of Kawasaki and private companies are also expected to invest in the new company by the end of March, more than doubling the amount of capital and capital reserves to around 1 billion yen.
Masamichi Morooka, a former senior executive of NYK Line, Japan's largest shipping firm, became Yokohama-Kawasaki International Port Corp.'s first president.
Yokohama Port Corp. and Kawasaki Rinko Soko Futo Co., which have so far operated the two ports, will remain intact but remove themselves from the container terminals' operations. 
The Tokyo metropolitan government will not invest in Yokohama-Kawasaki International Port Corp., but it is a possibility down the road.
The new port operator's establishment comes as more than two years of trilateral talks involving Tokyo Port Terminal Corp., which operates the Port of Tokyo, Japan's biggest container port, failed to reach an agreement on establishing a joint-venture port operator covering all three ports.
The talks seem to have failed because of the Tokyo city government's unease over the role of the national government in daily port operations. An amendment to the country's Ports and Harbors Act in 2014 allowed the national government to acquire equity stakes in the operators of "strategic international container ports," a designation given to the ports of Tokyo, Yokohama, and Kawasaki in 2010.
Contact Hisane Masaki at yiu45535@nifty.com.