Turloch Mooney, Senior Editor, Global Ports | May 27, 2016 9:34AM EDT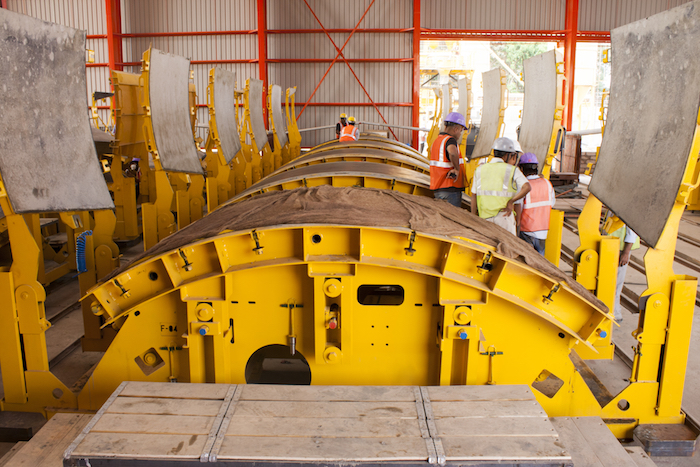 The Indian president appealed to China's private business sector to invest in the development of India's infrastructure and manufacturing industry, including planned industrial corridors and manufacturing trade zones. The request for aid comes amid Chinese consternation over India's role in developing the Iranian port of Chabahar.
On a four-day visit to China, President Pranab Mukherjee said India wanted Chinese companies to be a partner in the country's growth story and that Chinese firms would find an environment conducive to successful project investment.
"Chinese companies with inherent strengths in infrastructure and manufacturing can look towards India as an important destination in their 'Going Global' strategy," Mukherjee told business and industry leaders in the southern city of Guangzhou ahead of meetings with the Chinese leadership in Beijing. 
The visit is a high-profile one in China in the wake of media coverage of the recent signing of a trilateral trade deal between India, Iran and Afghanistan facilitated by Indian investment in the southeastern Iranian port of Chabahar. Chabahar is a commercial and geopolitically strategic rival to the port of Gwadar in Pakistan, which is at the center of a $45 billion investment by China to develop a trade and transport corridor in central Asia known as the China-Pakistan Economic Corridor.
Ahead of the visit by Mukherjee, Chinese state-media railed against attempts "to drive a wedge into China-India relations by hyping up competition between the two Asian giants." The editorial commentary published by the Xinhua news agency cited reports that implied India's recent deal with Iran to develop Chabahar was in part aimed at bypassing Pakistan as a trade route to central Asia and as such undermine China's project to develop the port of Gwadar and other CPEC projects.
"Lifting of the international sanctions against Iran has opened up immense opportunities for both the countries, especially in the economic sphere. Afghanistan will get an assured, effective and a more-friendly route to trade with the rest of the world," Indian Prime Minister Narendra Modi said during a visit to Tehran earlier this week at which he signed the trade deal between India, Afghanistan and Iran.
Chabahar is easily accessed by ports on India's western coast and gives direct trade access to Iran and other parts of central Asia without the need to pass through Pakistan. India is investing in the modernization of infrastructure at two existing cargo berths at Chabahar on a 10-year lease, with a provision to renew the contract with mutual consent.
In a move seen by many as a direct response to the deal, extensive, long-term tax concessions were introduced for companies operating at the port of Gwadar and its free trade zone earlier this week by the government of Pakistan. 
The developer of the port, China Overseas Ports Holding Company Limited and its subsidiaries and contractors are included in the exemptions, as well as companies that invest in the Gwadar Free Zone. Chinese banks are exempted from tax on profit related to debt generated in construction and development of the port and zone.
China is developing the port and zone as a commercial and strategic hub central to its CPEC project in which it has committed to invest $45 billion to 2027, Pakistan's largest ever package of foreign direct investment.
COPHCL is working on enlarging the port's capacity to handle 1 million metric tons of cargo per year, a project expected to be completed next year. Pakistan's two other major ports at Karachi and Qasim are being developed as part of the CPEC, as well as numerous road and rail links in the sub-region.
Contact Turloch Mooney at turloch.mooney@ihs.com and follow him on Twitter: @TurlochMooney.