The hundreds of thousands of refrigerators rolling off Electrolux's four plants each year in Ciudad Juarez, Mexico, and trucked less than an hour to the U.S. market are a testament to the country's growing sourcing potential. The Swedish appliance maker's Juarez plants, totaling 2.5 million square feet, are among the roughly 5,650 maquiladoras in Mexico, the vast majority just across the border from the U.S.
Maquiladoras — a derivative of the Spanish word to mill wheat into flour — focus on assembly of exports and can generally import materials and goods free of value-added and duty taxes.
Like fresh-baked bread cooling, the fortunes of maquiladoras are rising as Chinese labor and transportation costs increase. To spur even more manufacturers to shift production from Asia to south of the U.S. border, the recipe for maquiladoras' success needs some spicing up and additional ingredients. Mexico needs to improve its security amid drug-related violence, build up its freight infrastructure, expand its manufacturing capacity, reform its energy sector and sell its advantages more effectively, analysts and industry insiders say.
"U.S. and Mexico are natural partners through the assembly industry, but we believe we must move from the simple relationship to a strategic partnership with a new vision of industrialization," Luis Aguirre, president of the National Council of Maquiladora and Export Manufacturing Industry, said at a MexicoNow conference in El Paso, Texas, this month.
Speeding up cargo clearance on both sides of the U.S.-Mexico border, particularly in the U.S., is also key to weaving the neighbors' manufacturing engines closer together for maximum efficiency. Approximately 40 percent of the content within the average finished product imported to the U.S. from Mexico is of American origin, according to a National Bureau of Economic Research report.
Closer proximity to North American and Latin markets allows shippers located in Mexico to better manage their inventory and get goods to consumers faster. Dell computers built at Foxconn's plant in San Jeronimo, Mexico, for example, can be in the hands of American online buyers within a week, said Francisco Uranga, Foxconn's corporate vice president for Latin America.
It's cheaper for the electronics giant to build for the U.S. market in Mexico than in China, he said at Mexico's Manufacturing Supply Chain Summit last month. Shipping from Asia to the U.S. tends to take a month or more, and the longer supply chains are more susceptible to disruptions, whether natural or man-made.
Mexico also has positioned itself for export growth by leading the world in the number of signed free trade pacts, with 44. The country also is participating in Trans-Pacific Partnership talks and is part of the Pacific Alliance, which includes Chile, Colombia and Peru.
That about 20 percent of Mexican exports head to developing countries has helped the country weather the global recession and positions it for further growth, said Roberto Coronado, a regional economist and vice president in charge at the Federal Reserve Bank of Dallas. Aside from tapping other Latin American markets, Mexico's growing middle class provides potential for manufacturers looking to enter a new market.
Gauging how much production has shifted to Mexico is difficult. Although near-sourcing in Mexico isn't yet a paradigm shift for global supply chains, the following anecdotal evidence suggests it's a major trend:
— The Mexican automotive sector produced a record 2.9 million light vehicles in 2012, an annual gain of 100,000 units, and factories will hit the 4 million-unit mark by 2017, said Eduardo Solis, president of the Mexican Automotive Industry Association. Mexico supplanted Canada as the second-largest foreign automobile supplier to the U.S. last year, and he expects the country eventually to overtake Japan for the top spot.
— As a result of growing auto production and other manufacturing in Mexico, rail and truck trade by value with the U.S. in 2012 jumped 10 percent year-over-year to
$387.8 billion, according to the Bureau of Transportation Statistics. Total trade has expanded an average of 24 percent annually between 2008 and 2012.
— Thirty-three percent of manufacturers surveyed by consulting firm AlixPartners this year say they have near-sourced production in the last three years or are looking to shift production closer to the U.S. market. Thirty percent of the roughly 140 manufacturers surveyed already have reduced or expect to reduce landed costs by 5 to 10 percent, while 28 percent of surveyed shippers are enjoying or are anticipating savings of 10 to 20 percent.
— The gap between Mexican and Chinese labor costs is narrowing, if it hasn't already closed. In fact, a recent Bank of America report suggests Mexican labor costs are 19.6 percent less than those in China. The cost comparisons, however, vary by industry and skill sets.
"This is a multiyear trend," said Foster Finley, managing director of AlixPartners' Performance Improvement practice. "We are seeing the first several innings of a long-term trend."
Expanding the Manufacturing Base
Manufacturers of products with "time sensitivity and high labor content" are generally best suited to move production to Mexico, Finley said. That could include makers of heavy equipment and machinery, along with food and beverage producers. Finley also sees potential in growing electronics, aerospace and white goods manufacturing.
But the country still lacks the electronics manufacturing sophistication of China and Singapore, he said, and apparel production growth in Mexico is unlikely because labor costs and raw materials are better suited for manufacturing in India, the Caribbean, Vietnam or elsewhere in Latin America and Asia.
To further boost Mexican automobile production, the country needs increased capacity in machining, plastics injection, die-casting, stamping and forging, Solis said. Those increased capabilities also could help the country strengthen its capacity to build heavy equipment and machinery. Mexico's focus on engineering training in high schools and colleges already is delivering dividends.
"China is the country where engineering and education levels are both low in cost and quality. The U.S. is on top in both," said Harold Amador, an international finance originator at GE. "Mexico is right in the middle, and that is the best combination of both so we get the best deal for our buck."
A shortage of skilled Chinese labor and at steady cost, along with the ability to own Mexican industrial real estate, unlike in China, helped spur Flextronics to set up shop in Juarez, said Guillermo Del Rio, the electronics component maker's business development manager. The Mexican plant also allows Flextronics to better handle customizations and protect intellectual property, but he admitted China has a stronger supplier base.
Mexico also could become more attractive to manufacturers if newly elected President Enrique Pena Nieto can deliver lower electricity costs to shippers through the reform of the state monopoly, Pemex. Allowing foreign companies to tap the nation's natural gas and oil supply would create an economic force in itself and further reduce electricity costs. Cheaper natural gas hasn't created a surge of American manufacturing jobs as some pundits hoped, but lower electricity costs have helped U.S. companies become more competitive globally.
Providing a more certain tax landscape for maquiladoras also would make Mexican factories more competitive globally, wrote Jose Alberto Mejia, a partner at KPMG's legal tax and legal practice in Mexico. Through incentives related to the income tax and flat tax, maquiladoras pay an annual maximum tax rate of 17.5 percent, compared with the 30 percent rate facing non-maquiladora businesses.
The incentives were extended in December through the end of 2013 and will likely be extended at least through 2014, said Edgar Lopezlena, director of RSM McGladrey's Mexican tax practice. But it's unlikely the Nieto administration will make the incentives permanent because they act "as a safety valve in case the government needs more cash," he said.
Still, "It's pretty safe to assume the incentives will stay in place," Lopezlena said. "The government understands the importance of Mexican manufacturing."
Wanted: Faster, Smoother Supply Chains
Allowing maquiladoras to import and export goods and materials from the U.S. faster is also key to boosting production. Shippers complain that truck waits, particularly for shipments heading into the U.S., take far too long. The Department of Commerce estimates every minute of delay at the five busiest U.S.-Mexico border crossings costs the U.S. economy about $116 million. Because of fiscal tightening, however, Customs and Border Protection's ability to modernize aging border entry crossings is limited.  
The first and only public-private partnership aimed at speeding cargo clearance at the border demonstrates how local and state governments don't have to wait for Washington to allow the private sector to help with infrastructure needs, said Nelson Balido, president of the Border Trade Alliance. Through GPS used in the pilot project, trusted truck drivers hauling goods from Juarez are monitored from the Mexican plants over the Zaragoza Bridge and to warehouses and distribution centers in El Paso.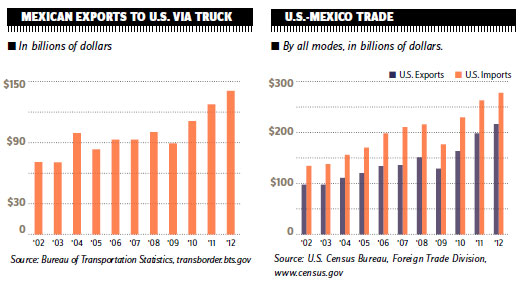 The project — implemented by technology and consulting firm SecureOrigins, the city of El Paso and CBP — has reduced average truck waits from more than 70 minutes to 20 to 25, SecureOrigins President Toby Spoon said. The program expedites border crossings for 275 to 300 trucks daily that are in the Customs-Trade Partnership Against Terrorism program, a trusted trader initiative.
While Washington considers whether to allow grander public-private partnership, Customs this year will launch three pilot projects aimed at speeding cargo clearance at the border. The first will pre-inspect air cargo out of Laredo; the second will deal with agricultural goods shipped by truck from Otay Mesa, Calif.; and the third will pre-inspect goods out of Foxconn's plant west of Juarez.
Customs also is working with its Mexican counterpart, the Tax Administrative Service, to gain mutual recognition of their respective trusted trader programs, aimed at allowing faster cargo clearance.
The border isn't the only place where infrastructure needs an upgrade. Fortunately, the Nieto administration has created a logistics strategy that will target the best investments for improving maquiladoras' supply chains, said Erik Markeset, principal and founder of logistics consulting firm Tsol in Mexico City. The country's highway and road network "is pretty good but inconsistent," he said, noting there are still segments that need extra lanes or major resurfacing.
Through hundreds of millions of dollars of investment in recent years, the two major freight railroads, Ferromex and Kansas City Southern Railway, have greatly improved the country's rail network. The latter's intermodal cross-border network provides intermodal shippers faster customs clearance and provides them access to major markets, including Chicago and New York, through connections to the other Class I railroads in North America.
Polishing Mexico's Image
Labor, supply chains, manufacturing capacity and taxes all factor into manufacturers' decision to source in Mexico, but none has the emotional weight as the country's drug-related violence. Drug war clashes have captured less international headlines than they did last year, in part because Nieto's push to reform Mexico's telecommunications and education sectors, along with the country's economic growth, have attracted more attention.
But cartel-related mayhem continues even if manufacturing leader Ciudad Juarez, once dubbed the world's most dangerous city, has become safer. A drug cartel last month reportedly threatened transportation companies in the southwestern state of Michoacan with violence if they delivered to areas where the organized crime syndicate is fighting with the police and military, according to a FreightWatch briefing.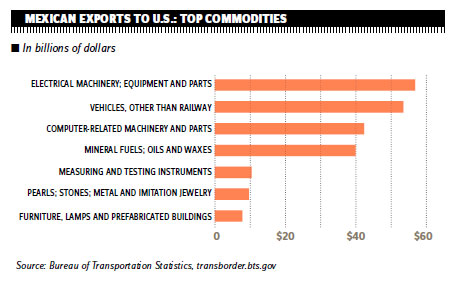 Nieto is taking a less confrontational approach with the cartels than his predecessor, Felipe Calderon. Killings linked to organized crime fell 14 percent in the first four months of his term, suggesting the approach is working.
Manufacturers operating in Mexico and those looking to shift production there appear to be taking note of the changes. Forty-six percent of manufacturers surveyed by AlixPartners said they expect modest improvement in Mexican security this year, compared with 43 percent feeling the same way in 2012.
To attract more manufacturers, Mexico needs to improve its transparency and better explain to shippers why it makes sense to build products there, said Pete Mento, director of global customs and trade policy at Eden Prairie, Minn.-based transportation and logistics provider C.H. Robinson. Shippers he speaks to "feel there is a stigma around Mexico — real or imagined — of corruption," and many feel more comfortable sourcing in Asia.
The threat of millions of dollars in fines for violating the U.S. Foreign Corrupt Practices Act only adds to some shippers' reluctance to enter the Mexican market. "Mexico needs to take on a (public relations) campaign targeting American importers," Mento said.
Despite Mexico's advantages, the fight for a larger share of the U.S. market is far from over. A flare-up in Mexican drug-related violence could make many interested shippers reconsider. China isn't going to roll over, either. Beijing is exercising an aggressive monetary policy to control the strength of its currency and is working to keep domestic material costs down, Finley said.
The battle over sourcing between China and Mexico is one fight many shippers serving the U.S. market can't afford to ignore.
Contact Mark Szakonyi at mszakonyi@joc.com and follow him at twitter.com/szakonyi_joc.