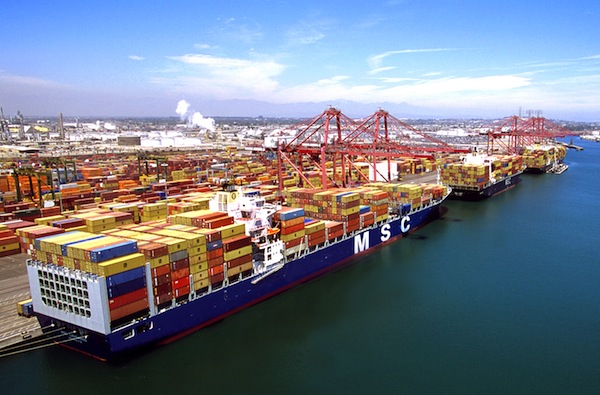 U.S. shippers must prepare for further disruption and delays in ship arrivals at congested U.S. West Coast ports "well into 2015", according to Drewry Shipping Consultants.
Carriers operating on the trans-Pacific route are speeding up ships on the return leg to Asia in order to maintain some semblance of the weekly service pattern, but schedules are not expected to get back to normality any time soon, the London-based analyst said.
"Entering the slack season, lower volumes will at least give some respite, but fundamental issues need to be addressed by the industry's stakeholder if this is not to be a recurring theme," Drewry warned in its latest weekly Container Insight.
Trans-Pacific ships arrived on average 2.4 days later than scheduled in November, more than twice the normal deviation, according to Drewry's new online Carrier Performance Insight.
Only 46 percent of vessels arrived on time in Los Angeles-Long Beach in November, an improvement on the 41 percent on-time arrivals in October, but down from around 90 percent in July.
Schedule integrity on the main East-West trades decreased by 1.9 percentage points in November, with the aggregate on-time performance for the Asia-Europe, trans-Pacific and trans-Atlantic routes falling to 62.4 percent for the month, down from 64.3 percent in October.
The deteriorating performance was mainly due to a plunge in reliability on the trans-Atlantic to 58.9 percent in November from 74.2 percent in the previous month.
On-time performance on the trans-Pacific declined to 50.7 percent from 56.6 percent, while it improved by one percentage point on the Asia-Europe trade to 68.8 percent.
There is a wide gap in performance between carriers in November with Maersk Line scoring 79.2 percent against 83.5 percent in October, followed by Cosco at 71.1 percent, Hamburg-Sud 70.6 percent, and K-Line 68.6 percent.
Maersk was also the most reliable carrier in the September-November period, with 81.5 percent of its ships arriving on time, followed by Hamburg-Sud at 78.4 percent and Cosco, 72 percent.
Contact Bruce Barnard at brucebarnard47@hotmail.com.