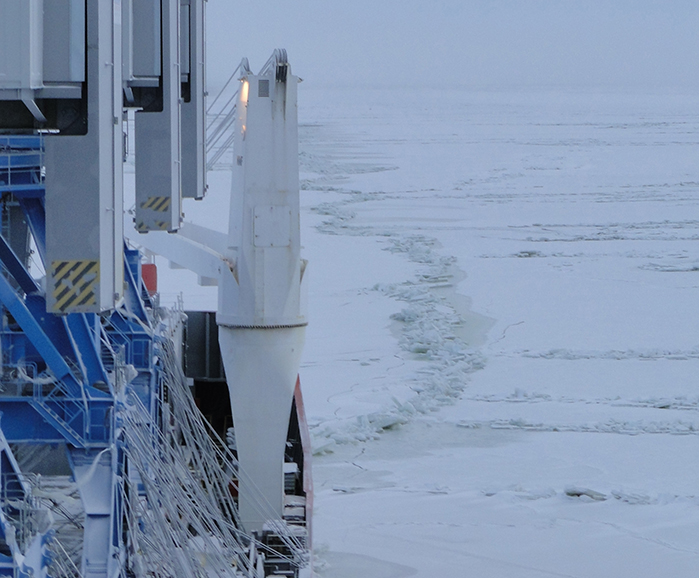 Heavy-lift and project carriers are developing a new market that a few years ago would have been unthinkable — the Northern Sea Route to Russia's frigid Arctic region.
As sea temperatures warm and the polar ice cap recedes, the Arctic route has attracted heavy-lift shipments to Russian energy projects. The route is ice-free for only four months a year and remains challenging operationally, but a small band of heavy-lift carriers have been willing to accept the risks.
The Arctic market has seen "unbelievably high traffic" in the past two to three years, said Gleb Faldin, commercial manager at Hansa Heavy Lift, one of the major players in a region that opened up to the heavy-lift and project cargo shipping business only a decade ago.
The bulk of the route's heavy-lift traffic has been linked to Russia's $27 billion Yamal liquefied natural gas (LNG) plant, some 600 km (373 miles) north of the Arctic Circle, and a few other projects including the Tobolsk petrochemical plant.
With the Yamal project nearing completion and scheduled to deliver its first LNG later this year, heavy-lift traffic to the Russian Arctic market is set for a temporary slowdown. However, Russia hopes to develop the Northern Sea Route across its Arctic coast as a transit route that shaves 4,500 nautical miles from the voyage between East Asia and North Europe.
Several carriers have ordered vessels to operate in the region. In March, Amsterdam-based Spliethoff Group announced an order for six ice-class, multipurpose vessels with capacities of 18,000 dwt tons. The ships are scheduled for delivery from China's Ouhua shipyard in two-month intervals beginning in January 2019. 
The vessels are designed with high fuel efficiency that will permit them to operate in extremely remote places, including the Northern Sea Route, said Sander Schuman, Spliethoff marketing manager.
The Russian Arctic niche reflects a trend toward specialization in cargo vessels. "There is a definite trend in owners looking at vessels with more specific capabilities — whether this is ice-class or heavier lift or dynamic positioning systems," said Susan Oatway, lead analyst for multipurpose shipping at Drewry Maritime Research. "It is more a need for owners to focus on something that other owners don't have to give them a competitive edge."
Spliethoff would not have contracted the ice-class vessels without market potential, but there are also other regions where the ships can — and will — be used, including the Baltic and St. Lawrence, Oatway said.
Spliethoff's sibling company BigLift Shipping has completed almost 50 sailings on the Northern Sea Route since the summer of 2015, mostly to transport pre-assembled pipe racks and heavy reactors.
Novatek, a privately owned Russian company that has a controlling 50.1 percent stake in the Yamal project, opted for off-site construction of prefabricated modules weighing 500 to 7,200 tons. Most have been shipped from the Far East and Southeast Asia to the Russia's Port of Sabetta.
In October 2014, Netherlands-based BigRoll Shipping signed a two-year contract, with options for extension, to use two of its four ice-class ships to transport modules to Sabetta. The ships are custom-built for extreme and challenging operations, with slender hulls and high ballast capacities. BigRoll's fourth MC-class vessel was delivered last March and immediately began a short-term contract shipping modules to Sabetta.
Yamal has resulted in some record-breaking heavy-lift moves at sea and on site. Netherlands-based Mammoet shifted a 5,400-ton, 103-meter module — the longest for the Yamal project. Mammoet used 400 axle lines of self-propelled modular transporters to move the piece from a heavy-lift vessel at Sabetta to the LNG plant.
The company contracted to move a total of 150 modules and more than 1,200 smaller items from ships to the plant. Mammoet said it used more than 1,700 axle lines, the most it has ever deployed on a single project.
Shanghai Zhenhua Heavy Industries Co., operator of two 28,500-dwt ice-class module carrier vessels, made the first mid-winter delivery from China to Sabetta via the Northern Sea Route, delivering the cargo in temperatures of minus 25 Centigrade. The company's two 50,000-dwt semi-submersible vessels in 2015 were also the first ships to transport pre-fabricated structures for the Yamal project.
The Northern Sea Route market has matured since 2008, when Beluga Shipping, Hansa Heavy Lift's bankrupt predecessor, signed its first contract at a time when there was no legal framework for foreign-flag ships operating in Russia's frontier Arctic waters.
"It was pioneering five to six years ago … nobody had a clue how to do it," Faldin said. "Now it's much easier ... it's not rocket science. It's an ordinary market for us."   
Yamal dominates the Northern Sea Route's heavy-lift market but is not the only large project in the region. Hansa Heavy Lift has delivered more than 60,000 cubic m of equipment from China and Korea for construction of Sibur's ZapSibNeftekhim polyolefin complex in Tobolsk.
"This was a major project that involved six of our ships being used at their full capacity, which required in-depth engineering knowledge and experience," Faldin said.
The cargoes, representing more than half the equipment for the Tobolsk plant, were shipped from the ports of Dalian in China, and Ulsan and Masan in South Korea, to Belgium for onward transport to Sabetta and transfer to barges to their destination.
Additional heavy-lift contracts to the region are likely. A bullish Russian government claims it will one day displace Qatar as the world's top LNG producer. That is a tall order, given that Qatar's 32 percent of the world market will continue to dwarf Russia's 4.5 percent even though Russia's share is likely to double when Yamal reaches full flow in 2021.
"I'm counting on the successful launch of new, promising projects with our French, Chinese, and other foreign partners," Russian president Vladimir Putin said in early June at the naming ceremony of the $300 million 80,000-ton icebreaking LNG tanker Christophe de Margerie. The ship, owned by Sovcomflot, is first of 15 designed for the year-round transport of 16.5 million metric tons of LNG annually.
Yamal's first LNG shipment later this year is expected to go to China and Japan. The voyage is expected to take 14 to 16 days during the summer months via the Northern Sea Route. In the winter, when the ice thickens, the vessel will sail to Zeebrugge, Belgium, where the LNG will be transferred to conventional LNG tankers to complete the journey to Asia via the Suez Canal.
Novatek already is sounding out potential investors for a second terminal, Arctic LNG-2, just across the Gulf of Ob from Yamal. Saudi Arabia has expressed interest in participating.
Novatek CEO Leonid Mikhelson, whose net worth of $18.4 billion makes him Russia's richest man, according to Fortune magazine, said a final decision on a new plant will be made in about 18 months. If the project is approved, construction could begin in 2019, and the first stage could be finished by 2023.
Arctic LNG-2, however, could be less lucrative for specialized heavy-lift carriers than Yamal. Novatek has signed a deal with the regional government of Murmansk to build large-scale offshore structures at the Kola yard in Belokamenka, which would shorten the project supply chain and reduce the need for long-distance moves.
"To develop our vast resources based in the Far North, decrease construction costs, and increase the competitiveness of our future LNG project, it is very important to create a center to construct large-scale offshore structures in Russia," Mikhelson said. "We plan to maximize the localization of production of LNG plants, based on gravity-based structures, ready-made for producing LNG."
Russia's northern region remains a promising market for heavy-lift shipping, as the country presses ahead with energy projects despite the plunge in crude oil prices that has stalled capital investments in other regions of the world. Carriers are eager for the business.
Germany's Combi Lift has just ordered 19 shallow-draft vessels from Damen Shipyard in the Netherlands to transport oversize and heavy-lift cargoes — totaling 176,000 metric tons — from production plants along the Amur and Zeya rivers to Gazprom's Amur gas processing plant in Russia's Far East. 
Whatever the short-term outlook for giant LNG projects, Russia hopes the Northern Sea Route will become an increasingly routine east-west transit, particularly for heavy-lift and project cargo operators.
Hansa Heavy Lift operated the first vessel to sail open-hatch through the route as it delivered two ship-to-shore cranes, each weighing 820 metric tons, from St. Petersburg to Vostochny. The HHL Valparaiso sailed via the Northern Sea Route from Qingdao, China, to St. Petersburg to load the cranes, then returned through the route to deliver them. "The [Northern Sea Route] was the only viable option to complete this voyage in the required time frame," Faldin said.
Meanwhile, the Yamal project has created winners along the heavy-lift supply chain from Asia to Sabetta. The project was partly responsible for Zeebrugge's 27.5 percent surge in breakbulk traffic last year, to 1.5 million tons. Some 80 modules, weighing 250,000 tons, are being shipped from South Korea and China and temporarily stored at the port for onward shipment to Sabetta. 
The Belgian port's relationship with Russia's LNG market deepened in June when Fluxys, which operates the LNG terminal at Zeebrugge, signed a memorandum of understanding with Novatek to work on small-scale projects in Europe to optimize logistics and market Russian LNG in Europe and Latin America.
In a separate deal, ALE Heavylift, steel construction company Iemants, and roll-on, roll-off terminal operator ICO formed a joint venture in Zeebrugge to load-in modules from Asian fabrication yards, jack-down, and store them before onward shipment to Sabetta. "We believe this is an innovative model for future major projects to emulate," said Toby Allin, global project division director at UK-based ALE.
Russia has been investing in icebreakers and search-and-rescue stations in an effort to encourage development of the Northern Sea Route. Moscow's ambitious forecast that traffic on the Northern Sea Route will grow 10-fold to 65 million tons by 2020 is greeted with skepticism in the industry, as are Russian claims that the route will someday compete with the Suez Canal. 
Russia's optimism, however, is bolstered by China's growing involvement in the route. Beijing officially added the route to China's Belt and Road strategy in June; Chinese banks lent $12 billion last year to the Yamal project when it was facing financial problems because of Western sanctions against Russia for its annexation of Crimea. 
Chinese firms also own 30 percent of the Yamal project alongside French energy company Total's 20 percent stake.
The jury is still out on how active the Northern Sea Route will become, but it is definitely provided a bonus for the heavy-lift and project cargo market. It is the cheapest and easiest way to reach Russia's rapidly expanding oil and gas producing regions, which are mainly in the Arctic. It also offers the shortest east-west transit times, and is free from height and width restrictions encountered in the Suez and Panama canals.
And the slowly but surely melting ice cap will make business easier by the year.   
Contact Bruce Barnard at brucebarnard47@hotmail.com.