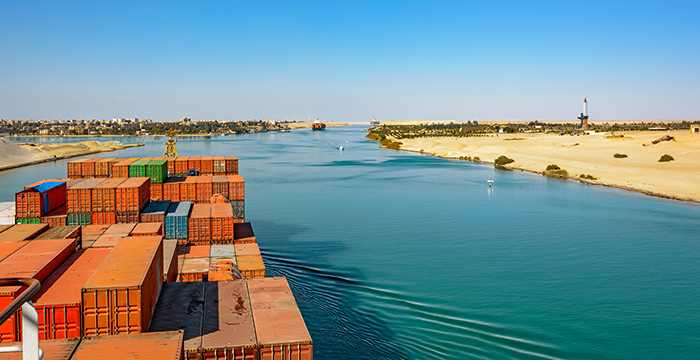 LONDON — The Panama Canal has overtaken the Suez Canal as the favored transit route for carriers operating services between Asia and the US East Coast following the widening of the Central American waterway.
The recently published network details of the Ocean Alliance and THE Alliance that will launch in April reveal that more carriers are pledging allegiance to the Panama Canal with 12 weekly services compared with only four confirmed loops via the Egyptian waterway, according to Drewry Shipping Consultants.
The Suez Canal could notch up a fifth customer if Israeli carrier Zim Integrated Shipping Services revives its recently suspended Z7S service, the London-based analyst said.
The traditional benefit of transiting the Panama Canal was to reduce voyage time between Asia and the US East Coast when compared with sailing via the Suez Canal or around the Cape of Good Hope.
However, in recent years, the Suez option became more popular as production moved from South China to lower labor cost countries such as Vietnam and Bangladesh — the Egyptian route is shorter for the Middle East, the Indian subcontinent, and Southeast Asia — and because, prior to the widening of the Panama Canal, Suez allowed carriers to deploy significantly larger ships and achieve lower slot costs.
However, the opening of the enlarged Panama Canal at the end of June "has been a game changer" with the average size of ship transiting the waterway rising by almost 45 percent to 6,600 twenty-foot-equivalent units as several Asia-East Coast North America services are deploying vessels of 8,000 TEUs.
The average size of ships transiting the Panama Canal likely will surpass the 8,000-TEU Suez average as soon as April, according to Drewry.
There are currently seven Panama Canal services operated by vessels of 8,000 TEUs or more with the G6 Alliance's NYX service deploying 10 10,000-TEU ships.
With fewer Suez services from the second quarter of 2017, carriers "will be able to go bigger on the new Panama loops, without risking lower ship utilization."
Despite the increasing popularity of the Panama Canal, shippers are not prepared to turn their backs on the West Coast option, Drewry notes.
Traffic on the Asia-US West Coast route has risen marginally faster at 1.4 percent in the first 10 months of the year, compared with 1.1 percent on the East Coast route.
Volumes to the US Gulf Coast have surged 20 percent but remain only a small fraction of the total Asia-US trade.
"Effectively, the limited demand growth to the US East Coast means that carriers have had to sacrifice Suez services in order to introduce bigger Panama services," Drewry said.
Contact Bruce Barnard at brucebarnard47@hotmail.com.