JOC Staff | Jun 04, 2015 8:11AM EDT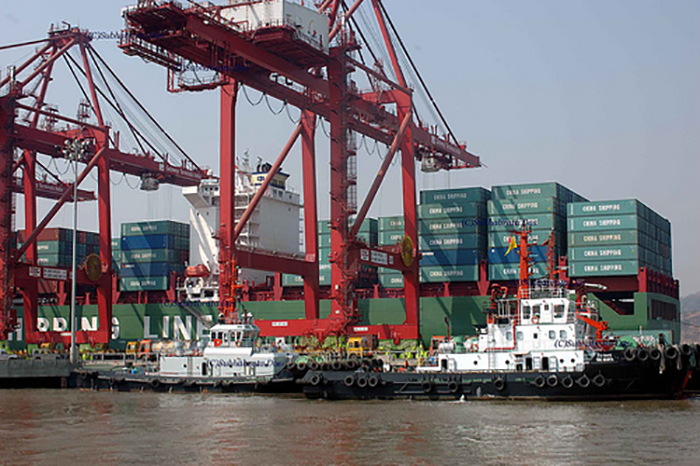 China United Lines, part of Unitrans Group, has become the latest ocean carrier to try to tap growing demand on the intra-Asia trade lane by introducing a direct service between India and China.
The weekly service, branded the China and India Subcontinent, kicked off with the May 17 sailing of the Seaspan Lebu on voyage 019E from Tianjin, China. The Seaspan Lebu is one of six vessels operating on the route. The first call at Nhava Sheva, India's biggest container gateway, is currently scheduled for June 8, according to a company trade advisory.
The port rotation is as follows: Tianjin and Qingdao, China; Singapore; Port Kelang, Malaysia; Nhava Sheva, India; Colombo, Sri Lanka; Port Klang and Tanjung Pelepas, Malaysia; Singapore; and returning to Tianjin. Many of these ports are among the busiest in the world.
"The CISC will enable CU Lines to directly provide a fast link between the Indian subcontinent and Chinese ports, as well as extending service networks to Southeast Asia regions," the Shanghai-based company said.
"The estimated transit time from Nhava Sheva to Tianjin is 16 days. The trade would benefit from direct connections to Qingdao and Tianjin, two key ports in China, in addition to Singapore and Port Kelang," the advisory said.
Over the past few months, several rival carriers have consolidated their intra-Asia networks by adding new services and deploying bigger ships on their existing routes to capitalize on trade growth.
In mid-2014, Taiwanese carrier Yang Ming Marine Transport added significant new capacity on the lane via a string of vessel-sharing and slot exchange deals with other operators. Evergreen Line and Wan Hai Lines followed suit with similar arrangements.
Last month, Singapore-based container carrier APL revamped its Singapore West Asia Express, or SWX, service deployment to provide additional port coverage and faster transit times. The weekly service, renamed the Asia Sub-continent , has the following rotation: Qingdao, Shanghai, Ningbo and Chiwan, China; Singapore; Port Kelang, Malaysia; Karachi, Pakistan; Colombo, Sri Lanka; Singapore; and back to Qingdao. The AS1 began with the May 23 sailing of the APL Indonesia from Qingdao, according to a trade notice from APL India.
Available statistics show trade between India and China in 2014 reached $70.59 billion, with India's China-bound shipments valued at $16.4 billion and its imports from China amounting to $54.2 billion. As a result, India suffered a huge trade deficit of $37.8 billion in that period, according to the data.
During Chinese President Xi Jinping's visit to New Delhi in September last year, the two sides agreed on a five-year trade and economic cooperation plan to address the growing trade imbalance issue. Two-way trade volumes between these countries are projected to reach $100 billion in fiscal year 2015-16, which runs from April 2015 to March 2016.