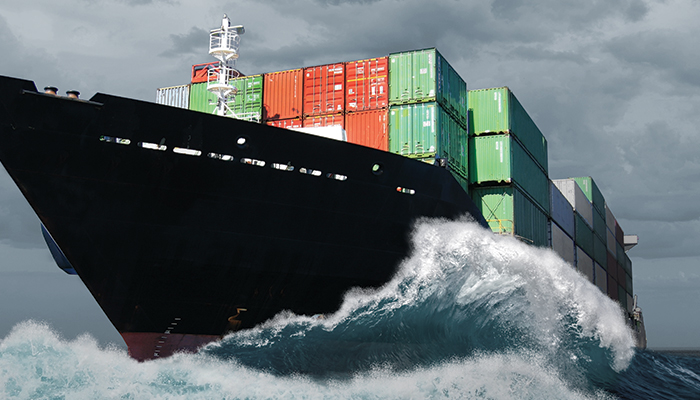 Shippers and forwarders, some already bruised following the rollout of new global container shipping alliances and subsequent delays in the trade between China and Europe, are preparing for more pain and disruption in the form of canceled sailings and even scrubbed services, as carriers scramble to mitigate a massive injection of capacity on the Asia-Europe trade over the next two years. 
The 23 percent jump in capacity forecast by industry analyst SeaIntel jeopardizes carriers' improving fortunes; after six straight years of financial losses totaling billions of dollars, they are set to end the year with a collective profit of $5 billion, according to London-based Drewry Shipping Consultants. 
Other than tightening capacity from in the eastbound Europe-to-China trade during the run-up to the launch of the new alliances in April and a peak-season surge in volumes that led to congestion at Chinese and European terminals, the trade has been relatively calm. 
The tightening balance between supply and demand has kept spot rates generally steady, although they have fallen from their early 2017 highs of $1,100 per TEU from Shanghai to Rotterdam, according to the Shanghai Containerized Freight Index. Westbound spot rates are up by about one-third compared with a year earlier. But the deployment of 78 vessels capable of carrying more than 14,000 TEU between now and the end of 2019 will challenge that stability. The discipline will hold for some time, but new capacity hitting the water over the next two years will pressure service integrity, said Felix Heger, vice president and head of ocean freight and China Rail Europe at DHL Global Forwarding. 
"Carriers will not want to let rates slide again [so] this available capacity has to be managed with potential for canceled sailings or services and corresponding effect of short notice fluctuations in the available weekly space," Heger said. "This can be very disturbing and [make planning difficult] for supply chain managers of shippers and consignees concerned with steady flow of cargo. We are striving to provide this stability through a broad basis of partner carriers."
Rotterdam-based SeaIntel gave a demand forecast based on Container Trades Statistics data in which it considered 2 percent growth as pessimistic, 5 percent as more realistic, and 8 percent growth as optimistic. "Only the optimistic scenario of annual sustained 8 percent demand growth over the full period, including 2017, will be sufficient to absorb the new deliveries," it noted.
The alliances are not equal in their capacity and reach, SeaIntel's Lars Jensen said. The Ocean Alliance — CMA CGM, Cosco Shipping, Evergreen Line, and Orient Overseas Container Line (OOCL) — will bring massive capacity to the market, potentially sparking a battle for market share. 
"The Asia-Europe trade in 2017 has avoided a pricing battle, and has been the best it's been in that sense in six years, and that's helping to drive improved earnings," Jensen said. 
Container Trades Statistics CEO Rod Riseborough said overall volume growth on Asia-Europe headhaul and backhaul trades was well above average. He expects growth to continue through the rest of this year and perhaps into 2018. 
"At the moment, there appears to be nothing on the horizon, other than seasonal factors such as the peak season and the following reduction in flows, that will affect the import trade for the balance of 2017, although the high value of the euro may go some way to maintaining the 5 percent growth rate we have seen so far," he said. "This comes after five years of anemic growth since 2012, when the first-half trade registered an average growth rate of 1.72 percent."
Asia-Europe eastbound trade grew 5.23 percent in the first half of 2017, compared with 3.7 percent growth in the same period of 2016, Riseborough said. The growth was particularly high in the Mediterranean, which accounted for 37 percent of the total trade volumes, with Russia, Spain, and Poland posting the highest growth in import volume for the first six months.
Based on current delivery schedules, deployed capacity in the Asia-Europe trade will rise just 3.2 percent in the second half of 2019 versus the second half of this year, according to SeaIntel. Deployed capacity for the THE and Ocean alliances, however, will spike 11.9 and 24.6 percent over the same period, it said. "Looking at the carrier action in recent years, it is our assessment that they will reintroduce blank sailings in an attempt to stave off a reduction in rate levels," SeaIntel noted. "If they proceed down this path, shippers should prepare themselves for a reduction in service integrity to a level on par with the beginning of 2016."
This kind of capacity management will earn the carriers no friends among their customers. The Asia-based supply chain director for a European retailer said the most honest answer on how his company felt about the huge injection of new capacity was "nervous. I can't see how this can be a good thing given the rollercoaster ride we have been through in recent years, and, certainly, strings and options will no doubt be cut, which is not a good thing for us."
The logistics head of a European wholesaler said carriers were "bullish and becoming arrogant" as their profitability increased, and that the capacity influx would cause problems. "I am afraid we will have many disruptions in sailings," he said. "Currently, the reliability is already down, and we are feeling it, especially to the outer ports in Europe, and we can't plan properly. I prefer a stable market with a decent schedule reliability. That is my most important criteria."
Even with reasonably strong demand, schedule reliability of carriers in the Asia-Europe trade in July was 64.1 percent, slightly better than the 62.2 percent recorded in June, according to software solutions provider CargoSmart.
Still, the first half of the year brought significant financial turnarounds for many of the world's global container lines as trade on east-west and north-south corridors strengthened. Data compiled by IHS Markit show that the eurozone got off to a solid start to the third quarter and is regarded as one of the bright spots of the year. Analysts expect eurozone growth to continue to improve, although UK growth is expected to slow through 2018 as Brexit-related uncertainty delays investment. 
For now, the economic growth is translating into good business for the container shipping lines. Maersk Line, the world's largest carrier, reported a $339 million net profit for the first six months of the year as demand grew 4 percent and capacity inched up 1.4 percent. This drove up the carrier's average freight rates by 22 percent compared with the first half of 2016, when a brutal rate war erased profitability.
 The improving market fundamentals enabled Hong Kong-based OOCL to reverse recent losses, with the container transport division of listed parent Orient Overseas (International) Limited posting a first-half profit of $53.6 million. Container volume carried by OOCL vessels in the first half jumped nearly 7 percent, and that generated a 15.2 percent increase in revenue. Average revenue per container was up 8 percent year over year.
The three Japanese carriers, soon to be known as the Ocean Network Express, or ONE, have managed to capitalize on rising rates and volume. NYK Line and 'K' Line swung back into the black in the first quarter of their fiscal 2017 after incurring net losses a year earlier, and MOL's net profit nearly quadrupled in the April-June period on a year-over-year basis. Revenue also surged by double digits at all three carriers.
It is the best the carriers have looked financially since the 2010 recovery from the global financial crisis, and although ocean carrier executives expect a good year, Maersk CEO Soren Skou recently called on the industry to resist new orders. "The orderbook is currently 13 percent of the fleet, and the runoff is fast. If no more orders are made, it will be 7 percent by the end of 2018 and 1 percent in 2019, which is quite a positive outlook for supply for the industry."
He acknowledged, however, that with the low prices being offered by shipbuilders, it is inevitable that new orders will come, despite the lack of a legitimate business case. "From where I am sitting, it is important to consider that there is no incentive to order ships from a cost perspective. Maybe three to five years ago large ships were ordered because of fuel economics, but given the current prices, that has now minimized," he said.  
The charter market is also depressed, so buying ships rather than chartering them is a difficult case to make, Skou said. "I do think that additions to the orderbook will be driven by the need to grow capacity to meet market demand and nothing else. No large ships have been ordered since the third quarter of 2015, and we don't have any ambitions to order new large ships this year or next year." 
That focus on capacity is why speculation that CMA CGM will order nine 22,000-TEU vessels has sparked so much attention. Two Chinese state-owned shipbuilders Hudong-Zhonghua Shipbuilding and Shanghai Waigaoqiao Shipbuilding confirmed that they had signed letters of intent to build the ultra-large container ships for the French carrier. "We do not comment on market rumors," the French carrier said when asked to confirm the orders. 
According to IHS Markit data, the bulk of ship deliveries in all trades are due before 2019 and are heavily skewed at the top end of the range with 18,000-plus-TEU ships that have limited deployment options accounting for approximately 40 percent of the orders. Seventeen vessels amounting to 350,000 TEU are set to be delivered this year, and another 22 mega-ships are scheduled for delivery in 2018.
But the problem is not that new ships are being ordered. It is all those still to be delivered after an earlier ordering spree that is threatening to upset the delicate supply-demand balance just as carriers are beginning to see the financial benefits of an improving market.
Contact Greg Knowler at greg.knowler@ihsmarkit.com and follow him on Twitter: @greg_knowler.