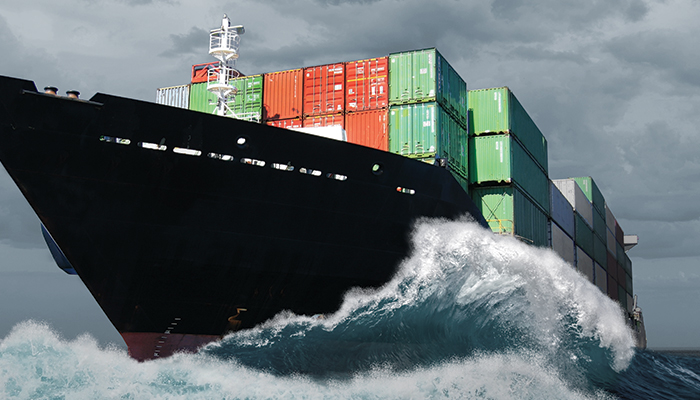 Shippers and forwarders, some already bruised following the rollout of new global container shipping alliances and subsequent delays in the trade between China and Europe, are preparing for more pain and disruption in the form of canceled sailings and even scrubbed services, as carriers scramble to mitigate a massive injection of capacity on the Asia-Europe trade over the next two years. 
The 23 percent jump in capacity forecast by industry analyst SeaIntel jeopardizes carriers' improving fortunes; after six straight years of financial losses totaling billions of dollars, they are set to end the year with a collective profit of $5 billion, according to London-based Drewry Shipping Consultants. 
Other than tightening capacity from in the eastbound Europe-to-China trade during the run-up to the launch of the new alliances in April and a peak-season surge in volumes that led to congestion at Chinese and European terminals, the trade has been relatively calm. 
The tightening balance between supply and demand has kept spot rates generally steady, although they have fallen from their early 2017 highs of $1,100 per TEU from Shanghai to Rotterdam, according to the Shanghai Containerized Freight Index. Westbound spot rates are up by about one-third compared with a year earlier. But the deployment of 78 vessels capable of carrying more than 14,000 TEU between now and the end of 2019 will challenge that stability. The discipline will hold for some time, but new capacity hitting the water over the next two years will pressure service integrity, said Felix Heger, vice president and head of ocean freight and China Rail Europe at DHL Global Forwarding. 
"Carriers will not want to let rates slide again [so] this available capacity has to be managed with potential for canceled sailings or services and corresponding effect of short notice fluctuations in the available weekly space," Heger said. "This can be very disturbing and [make planning difficult] for supply chain managers of shippers and consignees concerned with steady flow of cargo. We are striving to provide this stability through a broad basis of partner carriers."
Rotterdam-based SeaIntel gave a demand forecast based on Container Trades Statistics data in which it considered 2 percent growth as pessimistic, 5 percent as more realistic, and 8 percent growth as optimistic. "Only the optimistic scenario of annual sustained 8 percent demand growth over the full period, including 2017, will be sufficient to absorb the new deliveries," it noted.
The alliances are not equal in their capacity and reach, SeaIntel's Lars Jensen said. The Ocean Alliance — CMA CGM, Cosco Shipping, Evergreen Line, and Orient Overseas Container Line (OOCL) — will bring massive capacity to the market, potentially sparking a battle for market share. 
"The Asia-Europe trade in 2017 has avoided a pricing battle, and has been the best it's been in that sense in six years, and that's helping to drive improved earnings," Jensen said. 
Container Trades Statistics CEO Rod Riseborough said overall volume growth on Asia-Europe headhaul and backhaul trades was well above average. He expects growth to continue through the rest of this year and perhaps into 2018. 
"At the moment, there appears to be nothing on the horizon, other than seasonal factors such as the peak season and the following reduction in flows, that will affect the import trade for the balance of 2017, although the high value of the euro may go some way to maintaining the 5 percent growth rate we have seen so far," he said. "This comes after five years of anemic growth since 2012, when the first-half trade registered an average growth rate of 1.72 percent."