JOC Staff | Jan 09, 2017 1:13PM EST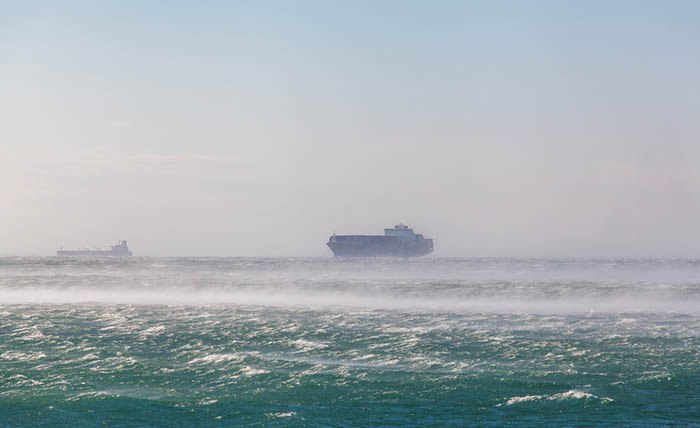 2016 was one of the wildest years in container shipping history. Within one year, the industry witnessed the largest bankruptcy in liner history with Hanjin Shipping, historically low spot rates, the narrowing of the Top 20 global container lines to 14, and the dramatic reorganization of global shipping lines into new, larger vessel-sharing agreements. With the industry in such a dynamic state, 2017 will likely hold its own surprises. Here are some key issues to watch.
Pricing gets shakier
One of the biggest questions of 2017 is: how will pricing and capacity develop? Since 2008, the global container trade has slowed significantly, but growth of the global fleet did not slow in line with that reduced demand. Global container ship capacity since 2008 has grown 8 percent on average while traffic has increased 3 percent on average, according to IHS Markit data. This created the enormous supply-demand imbalance that has stoked industry consolidation over the last two years and forced Hanjin Shipping into bankruptcy. The global container ship fleet grew 1.1 percent in 2016, shipowner association Bimco estimates, which would be the first time fleet growth was lower than demand growth since 2010. If container lines are to bring rates to sustainable levels in the coming year, they will have to repeat that feat, but initial projections and the aspirations of smaller liners suggest this may not happen.
As the industry consolidated, spot rates strengthened, but some doubt those signs of strength will persist through 2017. The Asia-Europe spot rates ended 2016 at a high for the year, and the trans-Pacific rate to the East Coast also reached a high, while that to the West Coast was the second-highest of 2016.
Contract rates on both trades are also expected to be higher in 2017, although those increases come from punishingly low levels. A majority of nearly 150 shippers surveyed by JOC.com in December expect their trans-Pacific contract rates to increase this year, with most, 46 percent, preparing for increases of 1 percent to 10 percent. More than 20 percent of respondents expect rate increases of 10 percent to 20 percent.
On Asia-Europe, shippers have said they anticipate paying between 10 percent and 20 percent more for their contracts this year. One shipper said the contract rates he had been offered were up roughly $500 per 20-foot-equivalent unit compared with last year. After the brutally low trans-Pacific contract rates of 2016, container lines are seeking eastbound rates of at least $1,500 per 40-foot-equivalent unit to the West Coast and $2,800 per forty-foot-equivalent unit to the East Coast.
More consolidation?
Container line losses for 2016 are estimated to range from $5 billion to $10 billion when the year's accounting is wrapped up. That means additional mergers, acquisitions, or bankruptcies could lie ahead. In the JOC.com survey, 77 percent said they expect more consolidation. Just 14 global carriers will be operating by 2018, with the top seven lines controlling 65 percent of global capacity, according to industry analyst Alphaliner. If even more consolidation occurs, shippers can expect less competition and fewer service choices, and more pressure on ports as larger ships concentrate more cargo at certain destinations.
Alliance adjustments
This new year brings new vessel-sharing agreements into effect in April. Shippers are anxiously awaiting word on port pairings and transit times of the Ocean Alliance, Transport High Efficiency (THE) Alliance, and 2M Alliance + HMM. The revised alliances will produce changes in vessel rotations and terminals served. Shippers worry that the adjustment could be rough as new alliance partners learn to work together and sort out operational issues — for example, how carriers that now use different terminals in a port handle chassis and drayage when they share capacity on a single ship. The JOC.com survey found that 47 percent of shippers expect service disruptions, while only 31 percent expect service will remain the same. Another 14 percent expect service levels to improve.
Labor and employers squaring off
2017 will be a pivotal year for longshore labor relations in US ports. Negotiations are expected to begin on new contracts for the International Longshore and Warehouse Union on the West Coast and the International Longshoremen's Association on the East and Gulf coasts. Shippers have reason to be apprehensive after enduring months of slowdowns and gridlock at West Coast ports before the current ILWU contract was approved in 2015. Shippers and other port users are concerned about the impact of labor disruptions on their supply chains. They have urged labor and management to attempt to reach agreements on contract extensions.
The ILWU and the Pacific Maritime Association say they plan to open negotiations on an extension of their current contract that expires July 1, 2019 for a period of time yet to be determined. Meanwhile, several issues, including healthcare and chassis maintenance and repair jurisdiction could complicate negotiations between the ILA and United States Maritime Alliance on a new agreement to replace the one that expires Sept. 30, 2018. ILA President Harold Daggett expects automation to dominate the talks and has said the ILA opposes fully automated container terminals. Adding to the uncertainty, the ILA came to the brink of a strike during its last contract negotiations in 2012-13.
Big ships to test US ports
As the new alliances deploy larger ships, US ports must invest in infrastructure and take new approaches to terminal operations so they can effectively handle the cargo surges that necessarily result from the calling of ships with capacities of up to 20,000 TEUs. Ships of 10,000 TEUs are common sights on the US West Coast, with 14,000-TEU vessels well on the way, and 10,000-TEU ships will call regularly on the East Coast following the raising of the Bayonne Bridge, which will grant such ships access to all the terminals of the Port of New York and New Jersey. In addition to raising cranes and adding rail capacity, ports on both US coasts are experimenting with truck appointments to better regulate the flow of traffic through their terminal gates. Extending gate hours past the traditional 5 p.m. close of business is another approach to increasing productivity that is gaining traction.
Terminals and ports band together
Noting the operational and cost efficiencies container lines generated by teaming up with rivals, ports and terminals around the world have started to do likewise. The ports of Seattle and Tacoma joined forces in 2015 to improve productivity and eliminate excess capacity, and the end of 2016 saw a flurry of activity among ports and container terminals seeking to form cooperation agreements. The US Federal Maritime Commission in the last week of 2016 granted approval to two container terminals in Miami to jointly negotiate, set, and approve terminal rates with container lines. FMC Chairman Mario Cordero has said there will be more agreements like these in the future, and the FMC is currently reviewing proposals for various levels of cooperation between PSA International, Hutchison Port Holdings, APM Terminals, DP World, Shanghai International Port Group, and the Port of Rotterdam, and the South Carolina Ports Authority and an unknown port operator. On the other side of the globe, a number of terminals in Hong Kong are uniting in a bid to stop the steady decline of transshipment volumes at the port.