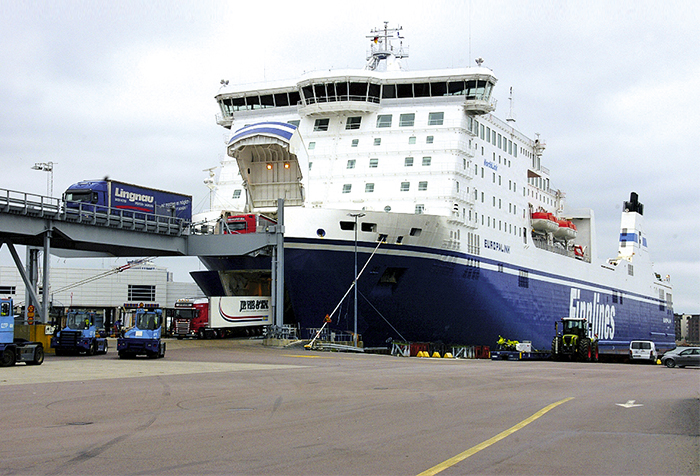 LONDON — Finnlines scraped a small profit in the first quarter as it spent heavily on technology to comply with tougher environmental regulations for ships sailing in North European waters.
The largest roll-on, roll-off freight carrier in the Baltic Sea increased net income to 600,000 euros ($684,000) from 300,000 euros in the first three months of 2014, but earnings before interest and tax slumped to 3.9 million euros from 5.4 million euros.
The Finnish carrier's first-quarter revenue declined almost 8 percent to 116.8 million euros, compared with 126.8 million euros last year, mainly because of a reduction in bunker surcharges as oil prices slumped.
Finnlines fitted 12 vessels with "scrubbers" that remove sulfur from exhaust gases and installed new propulsion systems to a further six to comply with International Maritime Organization rules that came into effect on January requiring all vessels sailing in the Baltic Sea, North Sea and the English Channel to limit the sulfur content of fuel to 0.1 percent.
The Helsinki-listed company, which is majority owned by Italy's Grimaldi group, one of Europe's top ro-ro operators, had to charter extra tonnage while its ships were being fitted with scrubbers, which interrupted some services.
Finnlines spent 65 million euros on refitting its vessels during the quarter and plans to invest a further 35 million euros on new environmental technology.
"The first quarter was burdened with several vessels being docked for scrubber installations, but for the remainder of the year, we will have the full fleet in operation," said Emanuele Grimaldi, president and CEO of Finnnlines.
Finnlines' 23 ships transported 150,000 trucks on routes between Finland, Germany and Sweden in the first quarter, down from 158,000 in the same period in 2014.
Contact Bruce Barnard at brucebarnard47@hotmail.com.