The undercard is complete, the verbal jousting is done, and it's time to get on with the main event: the container shipping industry's contract negotiating season.
For now, shippers and carriers will have to agree to disagree about how supply and demand in the trans-Pacific will play out on the rate front. Soon enough, however, they'll have to answer a critical question that will determine the course of freight pricing over the next 12 months: Will growth in demand be enough to absorb the glut of capacity that both sides agree will enter the market this year?
Carriers say yes, the U.S. economy is growing enough to spur demand and that they can sop up leftover capacity by reorganizing their global networks enough to sustain the general rate increases they are scheduling.
"Trans-Pacific eastbound rates have been stable since 2005, and carriers have absorbed rising costs," Maersk Line CEO Soren Skou said in his keynote address to The Journal of Commerce's 13th annual TPM Conference in Long Beach, Calif., on March 4. "I'm happy to say it, you may not be happy to hear it, but rates will be higher this year."
Skou didn't downplay the predicament carriers face in limiting capacity growth. "This year the challenge is bigger than last year," he said. "We have to be able to live in a world of overcapacity." He estimated the new ship orders due for delivery this year would add 10 to 11 percent to the global container fleet, "but we cannot know for sure because various carriers may have negotiated deals with the yards that push the delivery further out."
Skou thinks carriers will be able to manage that influx. "We are expecting more growth in demand this year, somewhere between 4 and 5 percent, so we are again looking at a gap of 6 percentage points that we need to handle, and we have those same three levers: more scrapping, more slow-steaming, more idling," he said in a wide-ranging, pre-TPM interview.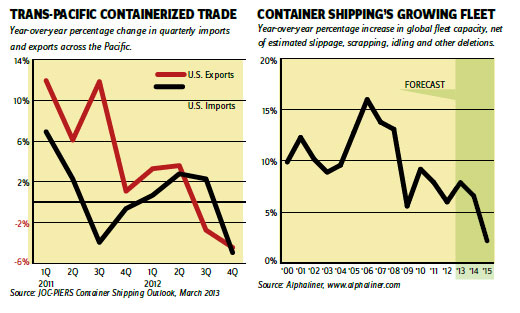 That demand forecast is higher than the 3 percent range most analysts, including JOC Economist Mario Moreno, see for the trans-Pacific. Skou sees slight growth in the Asia-Europe trade, with the north-south trades to the emerging markets of Africa and Latin America driving much of the gains.
Skou, 48, was named CEO of Maersk Line in January 2012, replacing Eivind Kolding, who resigned to become head of Danske Bank, Denmark's biggest bank. Skou had been CEO of Maersk Tankers for the previous decade and a member of A.P. Moller-Maersk's executive board since 2006.
Another trans-Pacific carrier executive at TPM agreed that the strengthening U.S. housing market and recovering consumer demand is likely to boost trans-Pacific volumes enough to sustain rate increases this year, but a large global shipper said his company expects contract rate increases will probably fall in the range of $100 per 20-foot-equivalent unit or $200 per 40-foot.
Limiting capacity growth enough to support rate increases will be difficult. "Nineteen of the top 21 carriers are taking delivery of new vessels this year, so the increase in capacity will be spread throughout the industry," said Tan Hua Joo, executive consultant for research analyst Alphaliner, which tracks new vessel orders, deliveries and scrapping.
"Though scrapping is expected to rise to a new record, new deliveries will still exceed scrapping by a 4-to-1 ratio," he told some 2,000 TPM attendees. "Redelivery of charter vessels, slow-steaming and void sailings will be insufficient to address the supply-demand imbalance."
Tan expects demand for vessel capacity on the trans-Pacific to increase 2.1 percent this year, while capacity on that route will increase 6 percent because of the cascading of tonnage from the Asia-Europe trade, where massive new vessels, including the first five of Maersk's 18,000-TEU Triple E ships, will be deployed.
New services and vessel upsizing already have increased trans-Pacific capacity by 9 percent this year. The capacity overhang would continue to dictate the freight rate cycle through 2013, Tan said. There will be more GRI announcements through the year, he said, but the "GRI success rate will be lower than 2012."
In an effort to curb capacity growth, carriers canceled nearly 150 sailings on the trans-Pacific and Asia-Europe routes between October and February, boosting average ship utilization and spot market freight rates in the two trade lanes by as much as 7 percentage points, according to London-based research analyst Drewry. This reduced available capacity in the head-haul trans-Pacific by some 100,000 TEUs, meaning the trade was operating at only 90 percent strength during the period leading up to and through Chinese New Year. The capacity reduction increased average eastbound ship utilization to 79 percent from the 72 percent it would have reached at full strength, according to Drewry.
After the Chinese New Year, which began Feb. 10, carriers canceled a total of 31 sailings, taking 33 percent of capacity out of the market since then. "It's a big number," Skou said. "We saved significantly on the fuel bill by accommodating cargo on other strings."
Carriers also are returning to non-operating shipowners' vessels that have reached the end of their charter period. "Half of the ships in the fleet are owned by non-operating owners," Skou said. "What happens is that when ships are returned to the tonnage providers, they have very limited opportunities for actually chartering them out to another liner company, so that's why we have about 6 percent of global capacity laid up."
Carriers are moving to head off the cascading of tonnage onto the trans-Pacific by shifting post-Panamax tonnage from Asia-Europe onto the trade from Asia to the U.S. East Coast via the Suez Canal instead of the Panama Canal. "Back in 2008, 90 percent of service from Asia to the U.S. East Coast went through the Panama Canal," Skou said. "This year we think it's going to be 60-40."
The motivation behind this shift is the doubling of bunker fuel costs since 2006, and the bunker consumption per TEU moved is three times as much on the East Coast compared to the West Coast. Carriers have been able to mitigate the increases in costs to the West Coast by increasing the size of the ships, to about 6,200 TEUs today from 4,700 in 2008.
But until the Panama Canal completes its new locks in 2015, carriers won't be able to use the more fuel-efficient post-Panamax ships on that route. In addition, Panama Canal tolls have increased from $250,000 to $450,000 per passage for a Panamax container ship. "That's a lot of money," Skou said.
At the same time, the freight rate differential between services to the East and West coasts has remained constant at around $1,300 per FEU. "That means it's impossible to be profitable on service from Asia to the East Coast via the Panama Canal," Skou said. "Simply impossible."
The route from China to the U.S. East Coast via Suez is about 5 percent longer than via Panama, adding to the transit time. "What you can do is collapse two Panamax strings into one 9,000-TEU post-Panamax string, so you get all the scale benefits, which are substantial," he said. "It will have significant impact in that we are not cascading tonnage from Asia-Europe onto the trans-Pacific."
As Maersk cuts back on its Panama loops, it's likely to lay up more of its Panamax ships. "We expect to accelerate the scrapping of smaller ships this year," Skou said. "We have about 2.4 million TEUs of vessels in our fleet, and it is not set to grow this year."
Carriers deploy approximately 140 ships on the route from Asia to the U.S. East Coast via Panama, which make up 14 strings. "If they all went by Suez, we'd need about 70 9,000-TEU ships to deliver the same capacity," he said. "They are not all going to go via the Panama Canal, because the North Asia part cannot. But 30 to 40 ships will be cascaded onto the Suez route, so the cascading problem off of Asia-Europe is definitely manageable."
Click Image to Enlarge

Maersk plans to deploy a new service in April from Ningbo in North China to the U.S. East Coast via the Suez Canal that will replace the existing TP-7 Asia-East Coast service via Panama that currently employs 10 Panamax vessels of 4,500 to 5,100 TEUs. The TP-7 service will be merged with the suspended AE9 Asia-Europe service and deploy 11 post-Panamax vessels on a pendulum service running from China, South Korea and Japan to the U.S. East Coast ports of Savannah, Charleston and Miami.
But shippers are somewhat leery of the advent of big ships. "As we start moving larger vessels into the U.S., will it delay transits due to more port calls at the points of origin and destination?" Richard Smith, vice president of global transportation for Sears Holdings, asked during a panel discussion on mega-ships.
The increasing combination of services among carriers means individual lines are losing control of the cargo they book. "Cargo moves on vessels belonging to a carrier we did not contract with, and it came into a different terminal," Smith said. "How reliable is that transit?"
Skou said he expects the combination of services to continue. "It's one of the ways the industry has been able to fight inflation and the growth of capacity by deploying larger ships without compromising too much on frequency," he said. Maersk is moving to increase schedule reliability and booking accuracy through eight customer service initiatives that Skou announced in his keynote address.
Maersk will get a significant increase in its own capacity this year, when the first five of its 10 Triple E ships arrive in the second half. But Skou said the delivery of 90,000 TEUs of new capacity would have little or no impact on its total fleet capacity in 2013.  "They will hardly make it onto the market this year and won't add any meaningful capacity this year," he said. "Our capacity growth will mirror the growth in the market. So that means we will have to take other tonnage out."
Skou acknowledged that the glut of capacity could spark another rate war. "That's the nature of competition," he said. The industry's problem, of course, is that it can't attract more business from other modes of transportation like trucks or railroads by cutting rates. "When we as an industry lower prices, we are just making the cake smaller. It's just a matter of moving market share."
He said he thinks the industry has started to act wiser in the last six months by taking capacity out in the slack periods rather than lowering prices. "It saves us costs by not having to sail ships half empty," Skou said. "It also means that the temptation to lower rates becomes a lot less."  
Contact Peter T. Leach at pleach@joc.com and follow him at twitter.com/petertleach.