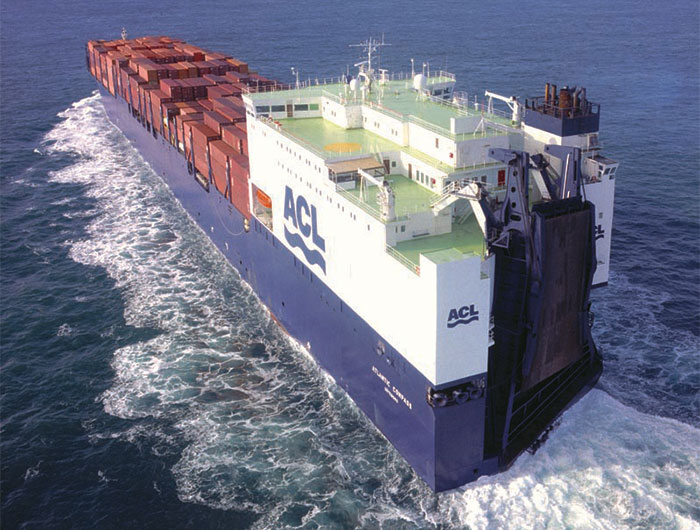 When Atlantic Container Line in the next couple months introduces the first of five of the world's largest multipurpose ro-ro/container ships, the symbolism will be stark. The vessels, after all, will carry cargo moving across the Atlantic for shipping sectors heading in opposite directions — the roll-on, roll-off market being a rising star and the containerized trade staring at a sudden, unexpected downturn.
ACL's deployment of the mega-vessels is just part of a significant increase in ro-ro-capacity this year as carriers order ships to keep pace with rising trans-Atlantic demand driven by a surge in European exports.
The container shipping sector, by contrast, is under pressure to respond to a huge injection of capacity introduced "in almost the blink of an eye" since May, according to consulting firm and research analyst Drewry Maritime Research. Because of that capacity influx, available space now is running ahead of demand, which is reducing vessel utilization and depressing freight rates on the head-haul westbound leg, Drewry noted in August.
It's also a harsh reversal from the London-based company's message just three months earlier, when it hailed the North Atlantic container market as a "sleeping dog" that was "finally waking up" on the back of surging European exports that made it one of the few routes enjoying rising freight rates.
Shipments of vehicle parts drove much of the growth on the westbound leg as new car sales in the U.S. hit an annualized rate of nearly 17.8 million in May, a number not seen since mid-2005.
Although container lines are considering capacity reductions to prop up sagging rates — French carrier CMA CGM already has decided to suspend its stand-alone Liberty Bridge service — their smaller ro-ro and car-carrier peers are confident they can fill the extra cargo space on the way.
Italy's Grimaldi Group, Europe's largest ro-ro carrier, highlighted the market resurgence at the beginning of the year when it launched a service for cars and other rolling cargo connecting Civitavecchia, a port some 30 miles north of Rome, with Baltimore and Halifax.
The service, deploying four vessels with a combined capacity of 25,000 vehicles, is the first direct and regular ro-ro/car carrier operation between the Mediterranean and North America. The service, which has a 13-day transit, also calls at Gemlik, Turkey; Bar, Montenegro; and Antwerp, Belgium.
As ACL's owner, Grimaldi, a $2.6 billion-a-year company with a 100-strong fleet, also has a stake in the growing trans-Atlantic capacity. The ACL ships will replace five aging vessels that have carved a successful niche market between northern Europe and North America over the past three 30 years. Built in China, the vessels will increase container capacity over the departing vessels by 105 percent to 3,800 20-foot-equivalent units, ro-ro space by 45 per-
cent to 28,900 square meters or 764 units, and car capacity by 31 percent to 1,307 units. They also will be 10 percent faster, but will consume 50 percent less fuel.
In terms of earning power and economies of scale, the new vessels will be the equivalent of 6,500-TEU container ships, but with far lower costs, according to Westfield, New Jersey-based ACL. The carrier is expected to fill its extra slots by moving into the southern U.S. market with a direct service to northern Europe to exploit connections with Grimaldi's extensive European ro-ro network from the Baltic Sea to the Aegean Sea.
Grimaldi, for its part, made news on the Atlantic in July when it ordered three new car carriers, with an option for a fourth, just three weeks after signing a contract for five vessels and an option for seven more, for a total investment of some $470 million. All eight ships, with capacities ranging between 6,700 and 7,000 cars and light vehicles, will be deployed on Grimaldi's Mediterranean-North America service transporting Fiat-Chrysler vehicles in both directions.
Meanwhile, the industry is monitoring negotiations between the U.S. and the European Union for a free trade agreement known as the Transatlantic Trade and Investment Partnership, alongside talks aimed at creating a 12-nation Trans-Pacific Partnership that "would encompass some of the most important trades for ro-ro cargo," according to Ari Marjamaa, global market analyst at Oslo, Norway-based Wallenius Wilhelmsen Logistics.           
The car industry will be one of the biggest winners if Washington and Brussels strike a deal. Harmonizing U.S. and EU auto regulations will boost trans-Atlantic auto trade by at least 20 percent, according to a report by Caroline Freund of the U.S.-based Petersen Institute for International Economics forecasting.
With approximately 40 percent of all cars produced in the world sold in Europe and the U.S., removing import tariffs would yield savings of about 1 billion euros ($1.1 billion) a year for the German auto industry alone, according to BMW CEO Norbert Reithofer.
A free trade agreement between the EU and Canada, which is creeping toward ratification, already is impacting the nation's auto sector and promises a lucrative payoff for the ro-ro and car carrier market.
Honda Canada is upgrading its manufacturing plant in Alliston, Ontario, to provide the next generation CR-V model destined for its European showrooms, the Japanese company's first shipments across the Atlantic. Under the trade deal, Canadian automakers will be able to export cars to the 28-nation EU on a preferential basis under a flexible rule of origin and no longer will have to pay the current 10 percent import tariff.
Also benefiting the ro-ro and car carrier sector is that an estimated one-third of the total trade across the Atlantic consists of intra-company transfers. Grimaldi's Civitavecchia-Halifax-Baltimore service, for example, is transporting exports of new Fiat Chrysler models manufactured in Melfi, in southern Italy — the Fiat 500X and the Jeep Renegade, the latter being the first Jeep to be manufactured outside the U.S.
A resilient Atlantic trade is good news for car carriers facing downturns in other markets, including China and Russia, where Western sanctions, lower oil prices and the tumbling ruble are taking their toll on domestic auto sales. It's particularly good news for Grimaldi, a major player on international ro-ro routes out of Europe, notably Brazil, which is sliding deeper into recession, and oil-dependent West African nations, where plummeting crude prices are squeezing purchasing power.
By contrast, the U.S. market is attracting investments by ro-ro lines and car carriers. Norway's Hoegh Autoliners recently inaugurated a multi-user vehicle Pure Car Truck Carrier gateway facility in Port Freeport, Texas. The Horizon Terminal has annual throughput capacity of 135,000 vehicles, which can be expanded to 500,000 depending on demand.
"We have been calling in the U.S. Gulf now for a number of years, mainly carrying project and heavy cargoes in the area. Given the supply chain challenges facing the North American market, we saw an opportunity to build a first-of-a-kind multi-user vehicle facility which will greatly increase efficiency to the automotive industry for exports and particularly for inbound flows," Per Folkesson, president of Hoegh and director of Horizon Terminals, said in a press release when the terminal was inaugurated in late July.
WWL also is expanding in the U.S. Gulf, starting construction in February of a 20-acre car-processing center at the Port of Galveston with the capacity to provide technical services and body shop work, storage and inspections for up to 36,000 automobiles a year. The new facility is located adjacent to WWL's 4-year-old equipment processing center.
The industry also is looking forward to next spring's opening of an enlarged Panama Canal that will be able to handle larger ships such as the 8,500-unit vessels WWL and Hoegh have on order, allowing the companies to operate more flexible pan-global services to keep pace with rapidly evolving auto export patterns. 
Contact Bruce Barnard at brucebarnard47@hotmail.com.