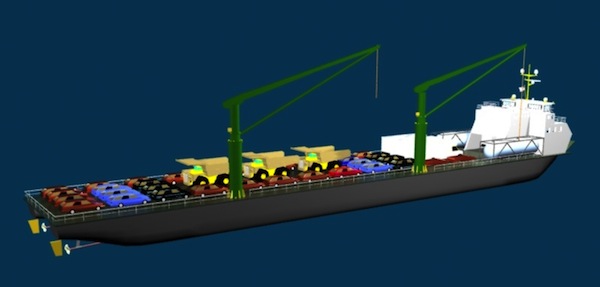 Former Horizon Lines CEO Chuck Raymond and his partners say they expect to sign contracts and start work this year on aluminum-hull catamarans using a new "cookie-cutter" design for coastwise, short-sea and inland transport.
"We call it the marine pickup truck," Raymond said. "It's a standardized, simple design with good flexibility that can be built quickly, at a cost much less than for a monohull steel ship with equivalent capacity."
Raymond said the new vessel design by Work-Cat Engineering could revolutionize coastal and short-sea shipping, which for years has been stymied by a lack of low-cost vessels that can be built in the U.S. and operated efficiently.
The new vessels, designed by Tampa-based Work-Cat Engineering, will combine fast construction, low capital costs, operating flexibility, low emissions and speeds of 13 to 15 knots.
They are designed for shipments moving up to 500 miles, a market now dominated by truckers struggling with fuel costs, congested roads, and limitations on weight and truckers' hours-of-service.
Raymond has formed CAT Leasing LLC to sell or lease the vessels and offer marketing and operations management.
The vessels were designed by Work-Cat Engineering, a Florida company in which Raymond is a partner with naval architect Rob Norton and David Smith, a former Air Force test pilot and partner in Wall Street investment firms.
Raymond and Smith estimated the aluminum catamarans could be built for 30 to 40 percent less than a conventional steel vessel with similar capacity. They said the aluminum hull would be cheaper to maintain, and that crewing costs would be on par with tug-barge operations that require about half of a conventional ship's 18-to-20-member crew.
Potential customers include cargo shippers and government entities that could use the vessels for oil-spill cleanup, search and rescue, municipal garbage movement and other purposes.
Raymond said the Work-Cat could be used in markets such as between New England and New York-New Jersey, in and around the Chesapeake Bay, between Oakland and Los Angeles-Long Beach, between the San Francisco Bay and Stockton, Calif., and in the Hawaiian islands, as well as in places such as South America.
Smith said the vessels, designed to use drop-in fuel tanks, would provide environmental benefits. He said the shallower catamarans would have less resistance to drag and require only half as much shaft horsepower as monohull vessel of similar size and capacity. "It's like two kayaks with a deck, as opposed to one large monohull or a big, blunt barge," he said.
The Work-Cats will share a simple design that invites series construction but can be customized to meet customer needs. Raymond said the concept is a throwback to mass production during World War II and afterward.
"If you go back in history and look at the Liberty and Victory ships in World War II and the Mariner class later on, they had a standardized design that allowed them to push those ships out almost as a cookie-cutter," Raymond said.
Although the vessels can be built in several sizes, Work-Cat is starting with two basic designs — a 400-foot vessel with capacity of up to 315 40-foot-equivalent units at 18-foot draft, and a 295-foot vessel with capacity of 107 FEUs at 12-foot draft.
Raymond said he's long been interested in developing a vessel that would allow development of U.S. "marine highways." He recalled a 2004 speech in which he said short-sea shipping's future required new technology and environmental benefits.
"We see these vessels, which we think are very cheap to build in the United States, as being applicable in a number of services, and we have a number of active customers we're talking with," Raymond said. "We see this developing into real assets and real services in one year or less."
Contact Joseph Bonney at jbonney@joc.com and follow him on Twitter at @JosephBonney.