Greg Knowler, Europe Editor | Sep 21, 2017 12:32PM EDT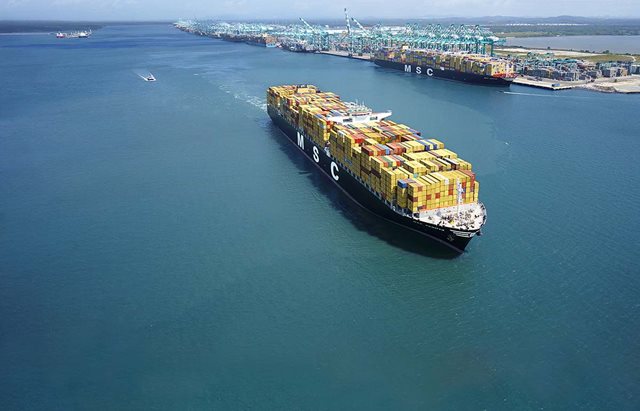 The reasons may vary, but the orders for the world's largest vessels are rolling in — Mediterranean Shipping Company placed an order for 11 ships of 22,000 TEU, less than a week after CMA CGM confirmed its own order for nine of the giant vessels.

CMA CGM said its order for nine ships of 22,000 TEU was based on reducing unit costs, while MSC said the mega-ships would be deployed to replace vessels going off-hire in its chartered fleet.

"MSC confirmed on Sept. 20 an order for 11 new vessels, each with a capacity of 22,000 TEU, to be built by Daewoo Shipbuilding & Marine Engineering in South Korea. Deal terms are not disclosed," MSC said in a statement after news of the order had already leaked out.

MSC said a "significant" number of 13,000-TEU and 14,000-TEU vessels would come off-hire in the coming years. "The new order is expected to effectively replace this fleet, rather than substantially increasing MSC's overall capacity," a spokesman for the Marseille-based carrier said.

Just five days earlier, on Friday, Sept. 15, CMA CGM finally confirmed reports that it had placed an order for nine ships of 22,000 TEU with Chinese yards. It was news that IHS Markit Fairplay, JOC's sister publication, first reported in August.

The reason CMA CGM gave for ordering the mega-ships was that the vessels would "further reduce unit transport costs, particularly on the Asia-Europe routes."

There have been few ship orders placed by container lines in the past two years, and the sudden push to build these giant vessels took the market by surprise. It also raised fears that carriers were beginning a new round of ship ordering that would result in surplus tonnage down the road when the deliveries began in 2019.

Not so, said Hapag-Lloyd CEO Rolf Habben Jansen. He told the JOC's Container Trade Europe Conference in Hamburg that the recent high profile order of nine 22,000-TEU vessels was not a sign of an incoming flood of new orders from carriers, and insisted the size of the orderbook was moving to a "fairly reasonable" level.

"We may see the orderbook drop to 10 percent of global fleet capacity by the end of the year," Habben Jansen said. There was a drastic decrease in orderbook-to-fleet ratio that had fallen from 61 percent [6.5 million TEU] in 2007 to 14 percent [2.9 million TEU] in 2017.

"Several large carriers say they have no plans to order, and there are fewer companies to put in orders [due to industry consolidation]," Habben Jansen said.

Not all CEOs share the Hapag-Lloyd chief executive's view, or the CMA CGM decision to build the mega-ships because of the unit cost savings. During Maersk's second-quarter earnings call, CEO Soren Skou acknowledged that with the low prices being offered by the yards there was little doubt that new ships would be ordered. However, he said the business case for newbuildings was absent.

"It is important to consider that there is no incentive to order ships from a cost perspective. Maybe three or four years ago large ships were ordered because of fuel economics, but given the current prices, that has now minimized."

CMA CGM currently has a capacity of 2 million TEU, and vessels totaling an additional 424,300 TEU on order. The carrier's latest nine-vessel purchase brings the order book of the Ocean Alliance to 6.3 million TEU, compared with 6.8 million TEU for the 2M Alliance and HMM, and 5.2 million TEU for the THE Alliance.

Alphaliner said the project would allow CMA CGM to keep pace with its partners in the Ocean Alliance, as well as Maersk and MSC, all of which have substantial fleets of mega-ships in the 18,000- to 22,000-TEU range in service or on order. So far, CMA CGM's pipeline for large mainline tonnage had been limited to three ships of 20,656 TEU, ordered in March 2015 at the Hanjin-Philippines shipyard for delivery in 2018, the analyst noted.

IHS Markit data show the orderbook is currently between 13 percent and 14 percent of total global fleet capacity. Cosco Shipping Holdings, Maersk Line, Evergreen Line, and Mediterranean Shipping Co. are the top four carriers in terms of tonnage on order, and more than 80 percent of the vessels on order are more than 10,000-TEU capacity.
Contact Greg Knowler at greg.knowler@ihsmarkit.com and follow him on Twitter: @greg_knowler.