Dustin Braden, Assistant Web Editor | Jun 12, 2015 3:31PM EDT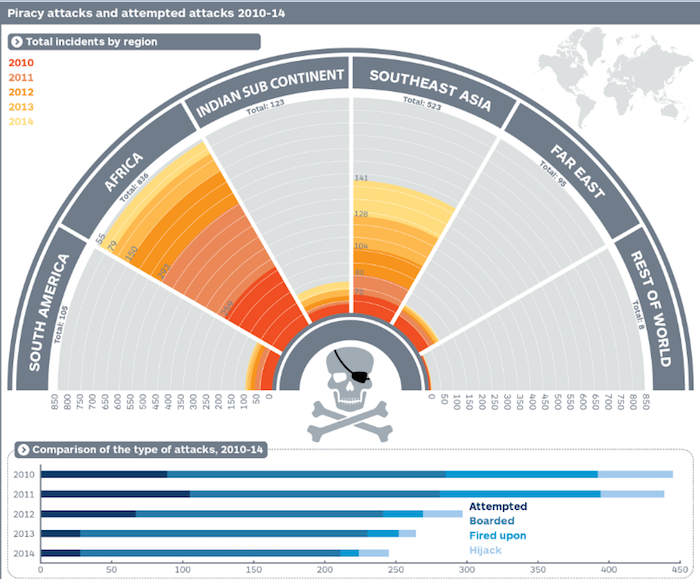 Shippers have plenty to worry about — including volatile pricing and cargo delays — but piracy should be less of a concern, as the number of incidents has been falling since 2010.
The general decline can be attributed to renewed international efforts to combat piracy. Pirate attacks targeting container vessels fell from 74 in 2010 to 20 in 2014, according to ICC Commercial Crime Services.  Among these efforts were the Maritime Security Centre Horn of Africa, U.K. Maritime Trade Operations, NATO Shipping Centre, and the Combined Maritime Forces to the Somalia, Gulf of Aden and Red Sea regions.
In general, more serious incidents such as hijacks are occurring less often. Violence against crews during such incidents is less intense and fewer incidents of hostage taking, injury and kidnapping for ransom are being reported.
The areas typically associated with piracy in the popular imagination such as Somalia, the Gulf of Aden, and the Red Sea, have seen marked declines in the activity.
In 2014, there were no replays of once familiar scenes of vessels being fired on and hijacked at least 200 nautical miles off the Somali Coast by pirates armed with guns and even rocket-propelled grenades. No container ships were attacked in the western Indian Ocean, according to Oceans Beyond Piracy.
The region of Africa that recorded large increases in piracy was on the opposite coast, in the Gulf of Guinea. Pirates are arming themselves with automatic weapons, firing on ships during attacks, kidnapping crews for ransom, hijacking vessels as motherships and siphoning off oil.
The reach of attacks in the Gulf of Guinea has extended from coastal waters to beyond 200 nautical miles. Pirates here seem to get more from ransoming crew than from onboard looting or siphoning off lower-purity oil cargoes. In 2014, three container ships were attacked in the Gulf of Guinea, according to Oceans Beyond Piracy.
The downward trend was bucked in Southeast Asia, particularly around Indonesia.
Southeast Asia reported attacks more frequently and of a higher intensity than in other parts of the world. The region saw petty thefts at anchorages or berths, and the hijacking of underway tugs, barges and vessels in the open seas, such as the Ai Maru in 2014.
From June 2014 to May 2015, there were 17 incidents of piracy targeting container ships in Southeast Asia, according to the Regional Cooperation Agreement on Combating Piracy and Armed Robbery against Ships in Asia.
In Southeast Asia, new hotspots are emerging alongside familiar hotspots such as the anchorages off Belawan, Chittagong, Dumai or Vung Tau. These new hotspots include the lower South China Sea between the islands of Anambas, Natuna, and Tioman.
This article originally appeared in the July 2015 IHS Maritime's Safety at Sea magazine, a sister title to JOC.com within IHS Maritime and Trade.
Contact Dustin Braden at dustin.braden@ihs.com.