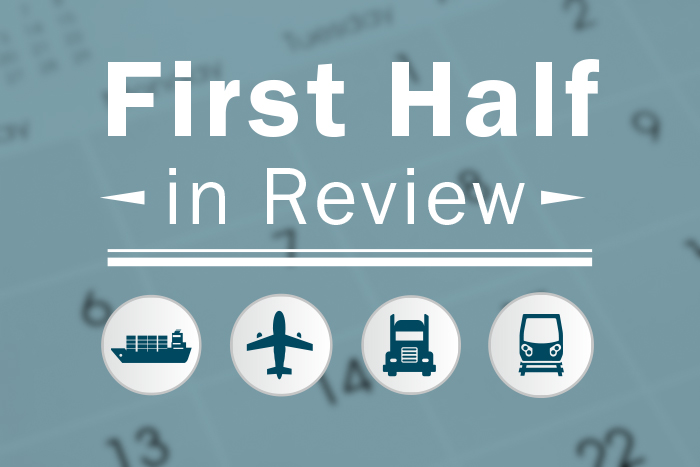 The first half of 2014 saw the start of several stories that JOC.com will most likely be covering for the next year and perhaps beyond. These industry-changing events hit all transportation modes, and are setting the stage for an interesting second half.
While trucking faces a major capacity issue and driver shortage, the winter weather exacerbated the issue, pushing rates to historic heights. The storms also slowed down railroads, which are still struggling to recover from the winter.
With the coming of spring, new construction projects were announced to make sure ports could keep up with incoming mega-ships, which are being introduced into the market on a regular basis. And while ports across the world are undergoing a makeover, ports in the United States are looking to solve a localized problem: availability and efficient use of intermodal chassis.
Here are several stories that helped define the first half.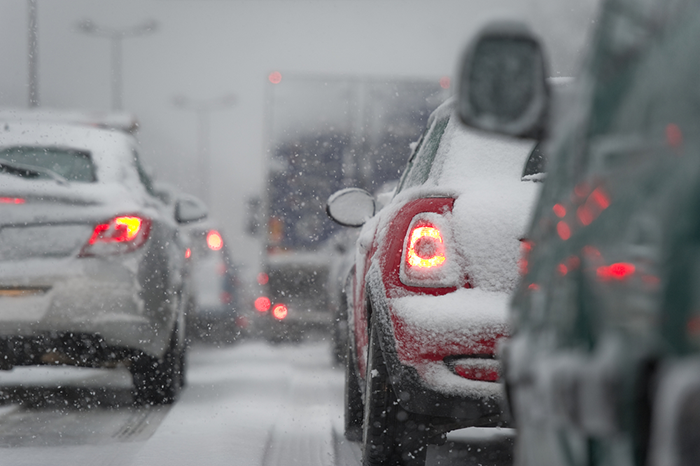 January 2014: Winter woes
Winter storm after winter storm pounds the U.S. East Coast and Midwest, creating massive cargo delays. Flight cancellations slow down air cargo. Nearly all major railroads feel the pain of repairing weather-damaged infrastructure to keep cargo moving. Truckers battle horrendous road conditions that lengthen transit times. Port workers battle ice and snow when unloading ships. The delays and other issues caused by the weather continued to have an impact on all modes of transportation for months. Trucking capacity remained tight, and rates higher, as both came into focus in late February when shippers were attempting to move cargo, and railroads struggled to rebound. The second quarter just started to see transit speeds improve.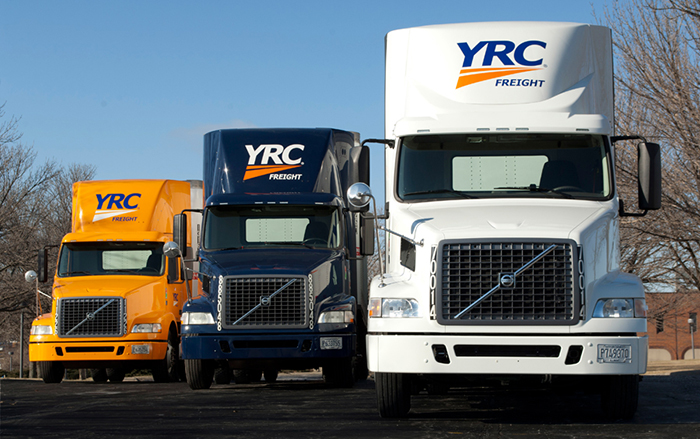 February 2014: YRC gets a lifeline
YRC Worldwide inks a new five-year labor contract and names a new president, Darren Hawkins, formerly senior vice president of sales and marketing. The company also will get new dimensional scanning equipment to help price freight more accurately and much-needed new trucks this year. The company in addition sealed a $1.1 billion refinancing deal, which gives it five years until long-term debt comes due. The moves breath new life into YRC Worldwide, which reported a net loss of $136.5 million in 2012 and lost an additional $83.6 million in 2013.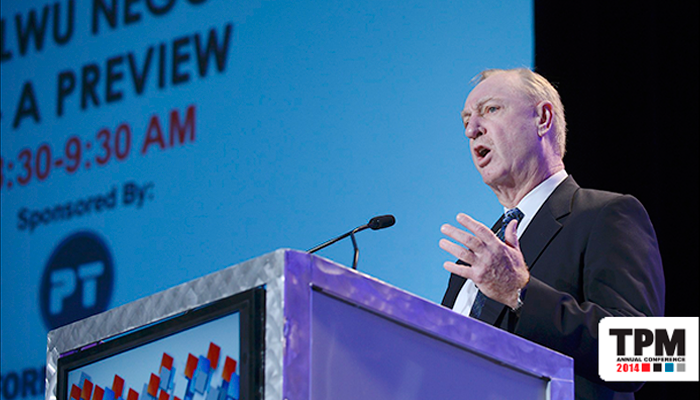 March 2014: McKenna previews PMA-ILWU negotiations
During a speech at JOC's TPM Conference, Pacific Maritime Association President James McKenna promises less contentious negotiations between the PMA and the International Longshore and Warehouse Union workers. He also predicts the two sides will come to an agreement by mid to late July, and discusses the scope of the negotiations.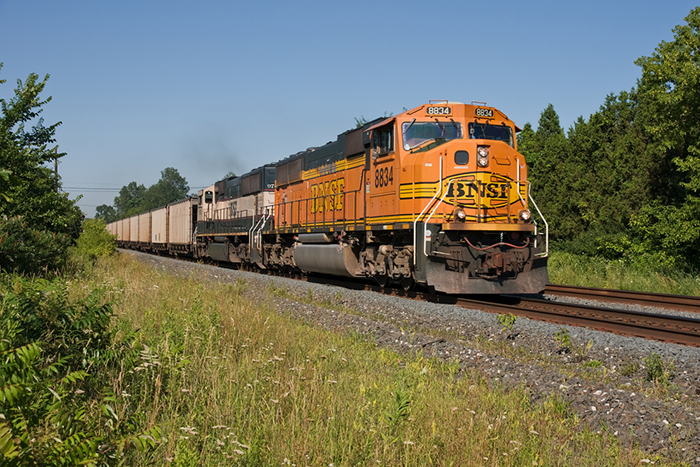 April 2014: Shippers complain of rail service
Shippers take complaints about ailing railway service to the U.S. Surface Transportation Board. Some of the concerns go past the weather issues seen earlier in the year. The average train speeds of the four largest U.S.-based Class I railroads — BNSF, CSX Transportation, Norfolk Southern Railway and Union Pacific Railway — in the fourth quarter fell 5.2 percent year-over-year, long before storms ravaged the country. The average dwell time of loads at the railyards of the top four also worsened, rising 4.7 percent year-over-year on average. Railroads promise fixes in the network in the coming weeks and months.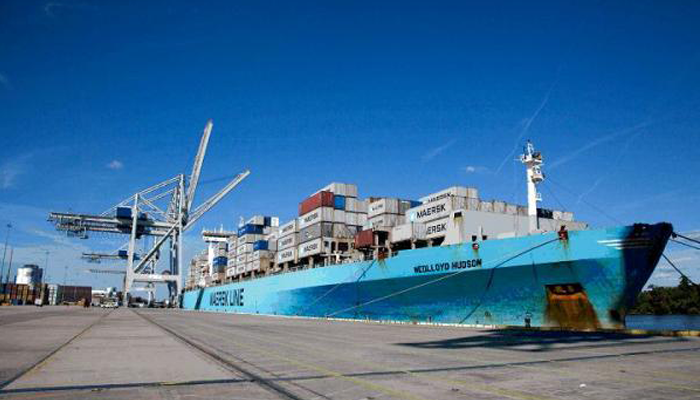 May 2014: Ports add cranes to handle growing ships
A slew of new announcements comes from ports investing in larger cranes to handle the mega-ships heading for the container trade market, and even the post-Panamax ships that are already servicing North America. Port of Seattle administrators give word of a large construction project to modernize its Terminal 5 with new cranes and new infrastructure. The Georgia Ports Authority authorizes $86.5 million in purchases associated with four ship-to-store cranes and 20 rubber gantry cranes to up its volume handling abilities at the Port of Savannah. After the purchase, GPA will have a total of 20 super-post-Panamax cranes and nine post-Panamax cranes. Even the much smaller Port of Freeport orders two cranes to service post-Panamax ships.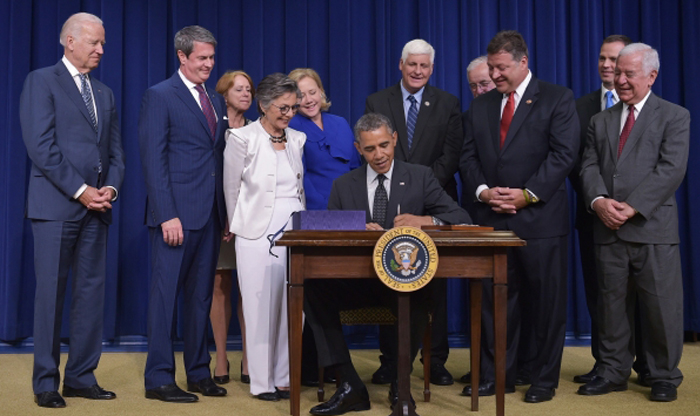 June 10, 2014: WRRDA signed
President Barack Obama signs the Water Resources Reform and Development Act into law, seven years after the last water resources bill was passed. The bill authorizes major port and inland waterway projects, accelerates harbor dredging by streamlining approvals, among other things. The Senate approved the bill 91-7 after the House had voted 412-4 for the legislation. Many of the port projects are needed to handle larger ships that will eventually be commonplace in carrier fleets.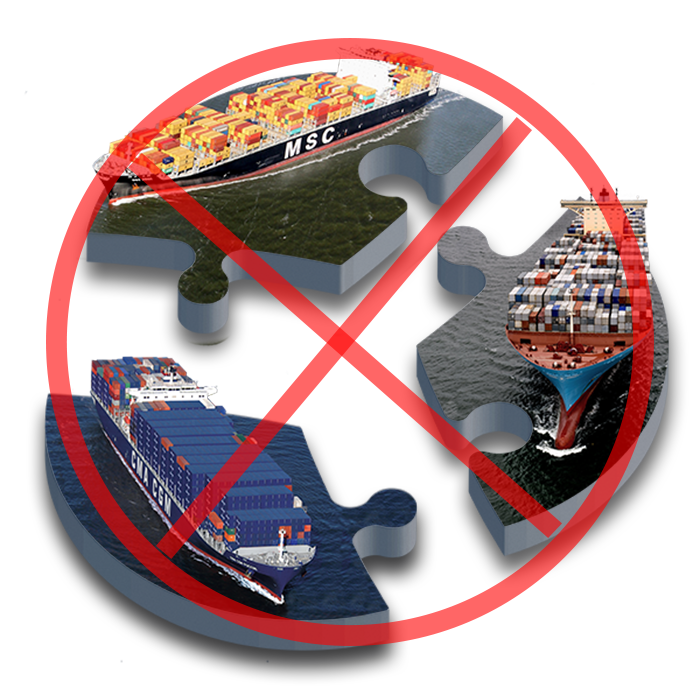 June 17, 2014: P3 nixed
China's Ministry of Commerce rejects the application of the P3 Network alliance between Maersk, Mediterranean Shipping Company and CMA CGM. The trio had spent nearly a year constructing a VSA and going through a variety of regulatory approvals. The U.S. Federal Maritime Commission and European Union regulators had approved the vessel-sharing agreement, but China's MOFCOM cited the P3's massive Asia network share, and worries about how the mega-alliance would impact the container-shipping market. The P3 Network would have controlled 42 percent of Asia-Europe capacity, 24 percent of trans-Pacific capacity and 40 to 42 percent on the trans-Atlantic.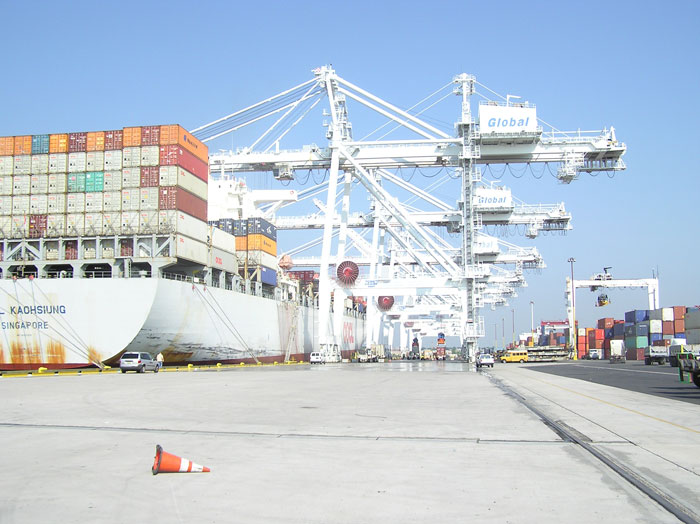 June 19, 2014: Global Terminal expansion opens
The first semi-automated terminal opens at the Port of NY-NJ. Global Terminals put on a show for anyone at the ceremony, showing how four rail-mounted gantry cranes could move cargo in synchronicity. Global's $325 million expansion adds 70 acres to the port's footprint. The automation issue is key for both the International Longshoreman Association in East Coast ports and the International Longshore and Warehouse Union on the West Coast. Global's terminal will be fully operational later this summer.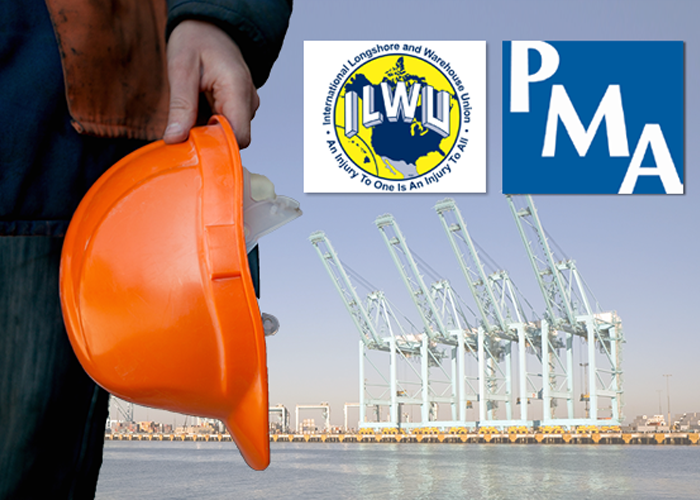 June 30, 2014: ILWU, PMA continue to talk
Though negotiations continued throughout the month of June, the International Longshore and Warehouse Union and the Pacific Maritime Association failed to reach an agreement on a new contract. The existing contract expired on July 1, but both parties pledged that cargo would keep moving. Negotiations continue, and the ILWU and PMA have been relatively quiet as to what is being discussed.
See all JOC's First Half in Review coverage
Contact Corianne Egan at cegan@joc.com and follow her on Twitter: @CEgan_JOC.