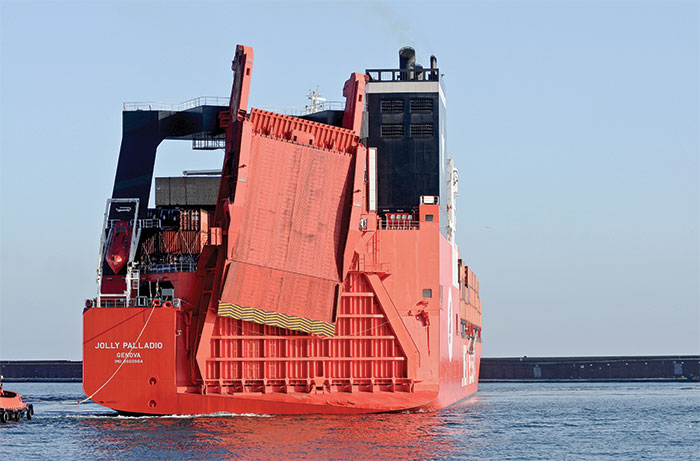 The roll-on, roll-off shipping market is relatively upbeat after emerging surprisingly unscathed from a year of tough economic and geopolitical challenges. The outlook for pure car carriers, however, is looking less optimistic against a backdrop of rising supply and subdued global demand for automobiles and shrinking shipments to previously fast-growing markets such as Russia, Nigeria and Brazil because of collapsing oil revenue and depreciating currencies.
These niche markets rarely make headlines in an industry dominated by container ships, tankers and bulk carriers. When they do, it's usually because of negative news such as last October's sinking of the El Faro off the Bahamas, with the loss of 33 lives and the antitrust fines imposed on large car carriers by regulators in several markets — including China, the U.S. and South Africa.
Car carriers have had to cope with market conditions that have been just as volatile as those for their bigger industry counterparts and are bracing for a new round of consolidation that likely will result in some big names joining forces and others shutting down.
From a wider ro-ro perspective, the introduction of the low-sulfur fuel regulation in the primary markets in the North Sea, the English Channel and the Baltic Sea in January 2015 was viewed as a game-changer that would "shake the sector in its foundations," according to ship broker and consultant Barry Rogliano Salles.
But it didn't, largely because low bunker fuel prices put a cap on operating costs, ruling out the need to raise freight rates significantly at the risk of losing business to rival modes, notably trucking.
"Overall, the industry showed good resilience and adapted well to the new market conditions riding on the wave of solid cargo flows in North Europe, the western Mediterranean and Turkey," Paris-based BRS said recently.
The industry's fears that the new emission regulations would lead to bankruptcies, route closures and the loss of cargo to trucking in the key North European market never materialized, though the recent modest rise in oil prices could still impact inefficient operators. For now, the outlook appears relatively optimistic, with the largest companies confident they can repeat 2015's healthy profits.
DFDS, one of Europe's largest ro-ro carriers, boosted operating profit 73 percent to 1.2 billion kroner ($223 million) in 2015 on an 8 percent increase in freight traffic across its extensive network, higher capacity utilization on the U.K.-France route and improved operational efficiency helped by the installation of so-called scrubbers on some vessels to meet the new low-sulfur limits.
The Danish group, which operates approximately 55 ships and shut down some routes ahead of the new emissions regime, expects traffic to grow further this year, while revenue, excluding bunker surcharges, is forecast to increase 6 percent.
The rebound in cargo was highlighted by a 10.1 percent surge in ro-ro volume at Rotterdam, Europe's largest port, to 22.1 million tons in 2015. Driving that increase was solid economic growth in the U.K. — Europe's major ro-ro market — and the diversion of traffic from Calais, France, because of strikes, breakdowns in the Channel Tunnel and disruptions caused by migrants seeking to enter Britain from the French port.
Rotterdam's container traffic, by contrast, dipped 0.5 percent, and conventional and breakbulk volume declined 5.5 percent.
This year got off to a mixed start, with traffic growth varying from market to market. The Port of Dublin posted a 7.1 percent increase in ro-ro traffic in the first quarter, reflecting strong traffic across Irish Sea routes. But Antwerp's ro-ro traffic crept up just 0.4 percent to 1.1 million metric tons after growing 4.1 percent in 2015.
The Mediterranean market is looking reasonably healthy, too. Routes linking Turkey, France and Italy are winning traffic from trucks, which face increasing disruption on routes through the Balkans because of the waves of Syrian migrants entering the European Union via Greece.
The scenario is different in other, more peripheral, markets in North Africa, the Middle East and the Black Sea because of political upheaval and slumping crude prices that have slashed the purchasing power of oil-producing nations. The previously vibrant Libyan ro-ro market, for example, nearly collapsed because of security concerns. Experienced operators such as Italy's Grimaldi Group and Ignazio Messina are still running services on a regular basis, however.
Ro-ro activity in the Black Sea, which took a hit from the Crimea crisis, suffered another major setback toward the end of 2015 when the Kremlin imposed import restrictions on Turkish products in retaliation to the shooting down of a Russian fighter jet by Turkish planes. This hit the fruit and vegetable trade between the two countries, the backbone of the Black Sea ro-ro market.
The Algerian market suffered a double blow from a restriction on vehicle imports and the plunge in the nation's oil and gas earnings, resulting in services to and from France and Italy being abandoned or downsized.
Traffic also is declining on the Europe-West Africa route because of falling demand linked to lower oil revenue and import restrictions in some markets. Just three lines currently operate ro-ro and ro-ro/container services to the region: Grimaldi, the dominant global market leader with about 100 vessels; Spain's Marguisa; and recent arrival MNM Shipping.
Grimaldi has enhanced its reputation as a ro-ro pioneer with its Atlantic Container Line subsidiary preparing to deploy the second of five fourth-generation container/ro-ro vessels. The Atlantic Sail was delivered eight months later than scheduled, partly because of last-minute design adjustments based on the operational experience of the first G4 vessel, the Atlantic Star, which began operations on the North Atlantic in December.
The 57,600-deadweight-ton vessels are the largest con/ro-ros afloat with a container capacity of 3,800 twenty-foot-equivalent units, compared with the 1,850 TEUs of the 30-year-old G3 vessels they are replacing, and a ro-ro capacity of 28,900 square meters, compared with 18,900 square meters.
ACL is expected to announce a revised rotation, including the addition of a southern Atlantic port, when all five of the Chinese-built vessels are delivered by the end of this year. For now, the company is chartering slots on five Hapag-Lloyd trans-Atlantic services and recently struck a deal to buy space on the Europe-New York leg of Mediterranean Shipping Co.'s Ecuador Express until the end of the year.
The ro-ro orderbook is growing only slightly, with just 13 vessels of a combined capacity of 54,500 lane meters delivered in 2015, up from 10 ships of 40,700 lane meters a year earlier. Again, the majority of the vessels were large deep-sea con/ro-ro units — four for Grimaldi, three for Messina, and one each for ACL, Hawaii-based shipping line Pasha and one for a charter owner, BRS noted.
Eleven vessels are scheduled for delivery this year, including four for ACL, two for Vancouver, British Columbia-based Seaspan, and one each for Nordana, Australia's Searoad and "K" Line of Japan.
Overall, the global ro-ro fleet is shrinking, with only eight vessels ordered in 2015 despite shipyards touting low prices.
The outlook, however, is mixed and varies between regions. "Although the ro-ro industry will remain highly Euro-centric and therefore somewhat sheltered from major shocks, we expect eventual spill-over effects to be felt across the board," BRS said. "We also remain extremely concerned about the detrimental effects of geopolitical instability in the Near East and North Africa on the demand side."
After several years of low charter rates and intense scrapping activity that allowed only the strongest companies to survive, the ro-ro sector is becoming a two-tier market, according to BRS. "A select number of owners/operators with strong balance sheets and financial power to invest in new tonnage will continue to dominate, leading to further consolidation," it said.
One of those operators, Antwerp-based Colbelfret, has ordered two vessels with capacities of about 7,700 lane meters, double the size of its current largest ships, and capable of running on liquefied natural gas. The company also is investing approximately $110 million to equip its terminals to handle the mega-ships.
Meanwhile, car carriers face more bearish times, according to BRS. "2015 will go down in history as the year in which the sector took two steps back, eroding most of the progress that had been achieved since the Lehman Brothers-induced global financial crisis," it said.
Carriers idled some 20 ships at the end of 2015, mainly in the Asia-Pacific region, because of weak demand that cut charter rates 30 percent year-over-year and began to impact the market for larger tonnage.
The outlook for the global light vehicle market this year is subdued as stalling or declining sales in emerging markets offset rising demand in developed economies. "As a result, we do not expect that demand for tonnage will rebound, and even less that it will be able to do so to the extent of employing all the idle capacity," BRS said. "We therefore fear that the sector's regression will continue into 2016."
Of the 50 ships ordered last year, 22 have not yet secured a charter. Added to earlier speculative orders, that rises to 26 ships, or 30 percent of the total order book.
The big car carrier operators, buttressed by long-term contracts with major manufacturers spanning global routes, are sanguine about the future. "The car and ro-ro markets are expected to remain challenging, with pressure on profitability," said Thomas Wilhelmsen, CEO of Norway's Wilh. Wilhelmsen Holding, one of the major car carriers, which now generates more than 50 percent of its profit from maritime services and logistics. "We are positioned to grow organically and through mergers and acquisitions. We are looking for new opportunities. We have a strong balance sheet. Our liquid funds combined with listed entities give us the financial flexibility to act on opportunities."
Øyvind Ervik, the COO of Short Sea and Logistics at Oslo-based Höegh Autoliners: "The year ahead is framed with uncertainty, but there are opportunities ahead for the well-positioned players."
Many shipping sectors, he said, face the need for increased scrapping of tonnage to reduce overcapacity. "The PCTC (pure car and truck carrier) industry is, however, in a better position than many other sectors," Ervik added. "With appropriate rearrangement of smaller tonnage for deep-sea to short-sea and recycling of old and less-efficient vessels, the industry will give way to the new, larger and smarter vessels without much implication to total deep-sea capacity."
Höegh, meanwhile, continues to expand its operations. It began monthly sailings to Cartagena, Colombia, from Europe, in February, to strengthen its foothold in the Caribbean and Latin American market. It also acquired SC Lines' Caribbean service to boost its short-sea network that links the Colombian port, Port Everglades, the Bahamas, Jamaica, the Dominican Republic, Haiti, Mexico and Panama.
Business continues on for both the ro-ro and car carrier markets, but change is on the way as consolidation becomes ever more pressing.
Contact Bruce Barnard at brucebarnard47@hotmail.com.