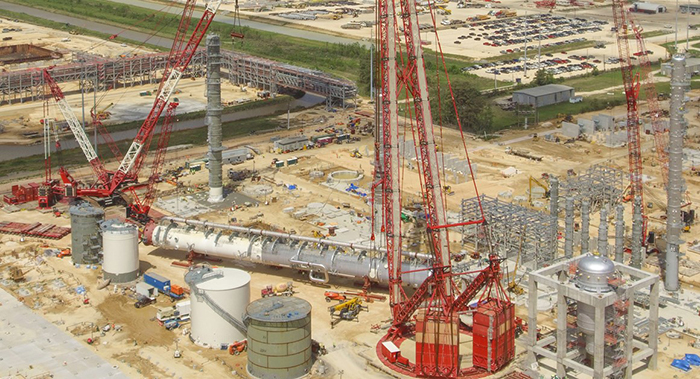 Heavy-lift specialist Mammoet has completed the lifting and positioning of the two largest units of an $8 billion Sasol ethane cracker and related plants that will add to exports of polyethylene resins from the US Gulf region.
The Sasol plants going up at Lake Charles, Louisiana, are among the largest in a wave of petrochemical plants in the region that, during the next several years, will increase annual containerized exports by more than 500,000 TEU.
The construction boom also has provided welcome business for heavy-lift vessel operators, heavy haulers, and engineering, procurement, and construction companies struggling with a weak global market for major projects.
Low-cost natural gas feedstocks have transformed the United States into the world's low-cost producer of ethane and derivatives such as polyethylene resins, which are pelletized, bagged, and exported in containers for production of plastic products.
Expected growth in resin exports produced a rush by packaging plants to add capacity. Sasol plans to ship out most of its polyethylene production from the new plants in bulk hopper cars for bagging and export through the ports of Houston and New Orleans.
Sasol signed a long-term lease with Kansas City Southern Railway last year for a storage-in-transit railcar yard to serve the manufacturing complex at Lake Charles.
Meanwhile, work is under way on Sasol's Lake Charles ethylene cracker and six related petrochemical plants that are scheduled to begin operation next year.
Netherlands-based Mammoet has completed the land movement and lifting of the project's heaviest vessel, an ethylene oxide ethylene glycol reactor weighing 1,523 tons (1,381.6 metric tons), and the project's tallest vessel, a 98-meter (321.5-foot) wash tower.
Last year, Mammoet coordinated the arrival of the reactor and wash tower by barge after they were shipped to the Port of Lake Charles on Jumbo Shipping's heavy-lift ship Jumbo Kinetic.
The reactor was transported to the construction site at night on 25-axle lines of self-propelled modular transporters in two hours. The reactor then was lifted and set using a 3,600-metric-ton capacity ring crane.
The wash tower also was moved at night, using 16-axle lines of self-propelled turntables with 783-ton turntables, and was lifted into place by Mammoet cranes.
The components are key parts of the ethylene cracker, which with annual production capacity of 1.5 million tons will be among the largest of several under construction along the Gulf Coast.
The cracker will break down molecules of ethane, which is found in natural gas and is used to make ethylene, a key ingredient in numerous petrochemical products. Sasol's Lake Charles cracker will feed six chemical manufacturing plants producing various products, including two that will produce polyethylene.
Contact Joseph Bonney at joseph.bonney@ihsmarkit.com and follow him on Twitter: @JosephBonney.