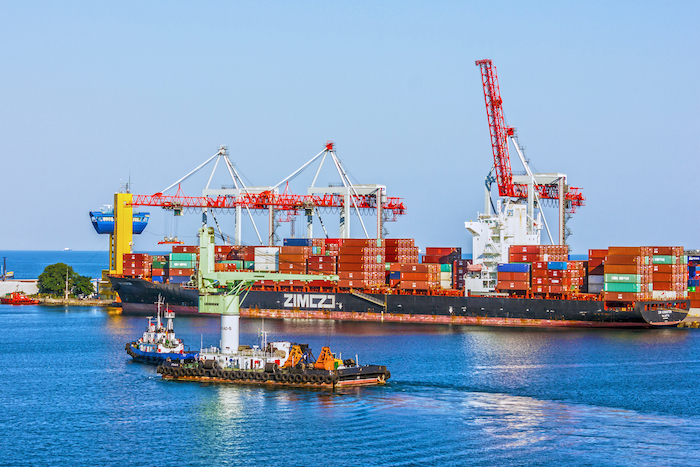 LONDON — "There will be a positive bottom line this year," says Rafi Danieli, CEO of Zim Integrated Shipping Services, the Israeli ocean carrier that is finally emerging from seven straight years of mounting losses and a multibillion-dollar restructuring that saved it from bankruptcy.
In an interview with JOC.com in London, the 37-year Zim veteran exudes confidence that the Haifa-based carrier will be among the most profitable in the industry within four years.
Zim's trajectory changed dramatically following a hard-fought $3.4 billion restructuring struck last July, including a $1.4 billion debt-for-equity swap that halved its interest payments and paved the way for a return to profitability.
The deal also left Zim in the control of its creditors of banks, bond holders and charter ship owners who now own 62 percent of the company, with the balance held by the former owner Israel Corp.
The company downsized dramatically during the drawn-out restructuring negotiations in a bid to cut losses that have ballooned to $1.5 billion in the past four years.
The slimmed-down, financially revamped "new" Zim can finally focus fully on operational targets of boosting efficiency, finessing customer service and relationships, sharpening its sales efforts and expanding the cargo base on core routes, according to Danieli.
The turnaround was evident in final quarter of 2014 when the net loss was pared to $4 million from $20 million a year earlier, and would have swung to a $17 million profit but for a one-off revaluation of derivatives.
This helped narrow the full-year net loss to $127 million, compared with $343 million in 2013, as revenue shrank by $300 million to $3.4 billion.
And the robust fourth-quarter performance continued into the first three months of 2015, Zim's Chief Financial Officer Guy Eldar said.
Traffic slumped 6 percent to 2.36 million 20-foot-equivalent units in 2014, while the global market grew by an estimated 4 to 5 percent, but this was almost entirely because of Zim's exit last June from the Asia-North Europe trade after it piled up losses of around $453 million in 2011-13. 
Danieli said the days of declining traffic are over as the carrier starts to pursue growth on its key routes. Volume hit bottom in the third quarter, with traffic slumping 13 percent year-over-year but increased by 20,000 TEUs in the final three months of the year and is set to grow going forward.
Zim has also benefited from a little bit of "luck," not least its decision to pull out of the Asia-North Europe trade where its bigger rivals are currently blanking sailings in response to swelling capacity, softening cargo demand and collapsing freight rates.
The Israeil carrier was also "lucky" that it uses Vancouver, British Columbia, as the North American gateway for its services out of Asia, thus avoiding the crippling congestion that plagued Los Angeles and Long Beach for several months.
Zim won kudos for helping shippers bypass the congested ports, after Vancouver reached its capacity limit, by laying on extra services from Asia to the U.S. East Coast via the Suez Canal. It deployed three "extra-loaders" to operate ad-hoc services in its Asia-Gulf Express service and will operate a fourth service next week. The service shortly will become permanent, Danieli said.
Zim is targeting growth in the Asia-North and Central America market, which already accounts for some 40 percent of its revenue, and in the fast-growing and profitable intra-Asia market. It has seen traffic fall on the Asia-East Med-Black Sea route because of the slide in the ruble and the negative impact of the Russia-Ukraine crisis, but it will ride out the storm, the Zim CEO insisted.
The fact that Zim is the only major carrier that hasn't joined an alliance and that there are no negotiations underway nine months after the restructuring doesn't faze Danieli. Zim is doing just fine with partnerships such as that with the G6 Alliance in the trans-Pacific trade and joint ventures with Mediterranean Shipping Co. 
Nor have the recently launched 2M and Ocean 3 alliances impacted Zim, because its market share in trades where it competes with their new services is much greater than its 1.7 percent global market share.
And the fact that Zim focuses on a select number of routes and is absent from the two of the three major east-west trades — Asia-North Europe and the North Atlantic — does not undermine its position with large multinationals. "Global customers don't need a one-stop shop," Eldar said.
With its finances under control, Zim is in a position to bolster its fleet with 12,000- to 13,000-TEU  vessels that can transit an enlarged Panama Canal and boost its key Asia-North-Central America business.
Zim canceled an order for nine 12,600-TEU vessels during its debt restructuring talks, but told creditors it intended to acquire similar-sized ships when the time was right. In another stroke of "luck," Zim would only pay around $110 million per vessel today, down from $170 million five or six years ago, Danieli said. And the ships come with improved engines and more efficient design, he added.
The company is considering an order for between seven and 10 ships, some owned directly, others on long-term charters. "We are not cutting capacity … we are growing the business," the Zim CEO said.
In another stroke of "luck," Zim isn't under pressure to place an order any time soon as the new Panama Canal locks won't be ready until late 2016, well behind schedule. "That gives us a little more time ... we don't have to be the first to use bigger ships through the canal," Danieli said. "2017 is our penetration year."  
And 2017 could also be the third profitable year in a row.
Contact Bruce Barnard at brucebarnard47@hotmail.com.