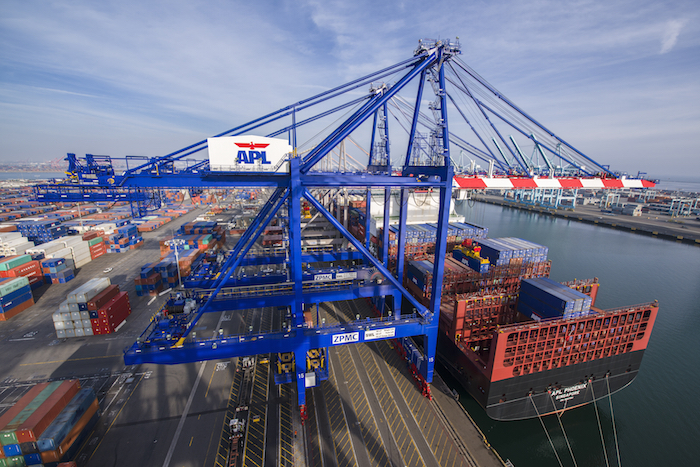 HONG KONG — Neptune Orient Line's container division APL recorded a before tax loss of $37 million in the fourth quarter as the U.S. West Coast port congestion saw volumes fall and forced the carrier to cut sailings on its most important trade.

The challenges on the trans-Pacific helped drive its parent NOL to a net loss of $260 million, despite a vigorous approach to cost management that the Singapore-listed carrier said saved $430 million during the year.

"In spite of challenging conditions, especially on the U.S. West Coast, our container shipping arm reduced its operating losses, delivering a year-on-year improvement in core earnings before tax and depreciation, reflecting the progress made in its cost and efficiency drive," said NOL Group CEO Ng Yat Chung.

"While we are seeing some benefits from the current trend of lower bunker prices, the longer term impact of the drop in fuel price on container freight rates is uncertain. More port congestion, resulting from further deterioration in the labour situation on the U.S. West Coast, is a potential risk factor."

APL cut back its fleet capacity and "enhanced cargo selection to improve its operating performance" during the year, the line said in a statement on its financial performance.

The capacity management efforts saw container volumes falling 8 percent in the last quarter compared to the same period in 2013 with fewer sailings in the trans-Pacific services calling at Southern California as U.S. port congestion continued. Fourth quarter revenue dropped 7 percent to $1.8 billion compared to the same period last year.

 APL president Kenneth Glenn gave an indication of the difficulties faced by the carrier. "Southern California port congestion arising from trucker shortage and chassis issues, among others, negatively impacted both our cost and service levels in the second and third quarters of 2014," he said.

"Congestion on the U.S. West Coast due to ongoing labour negotiation hampered our operational ability in the fourth quarter. Despite the difficulties, APL performed better year-on-year due to stringent cost management and operational efficiency. We will maintain our focus on reducing costs, leveraging network efficiencies, and concentrating on yield management in key trade routes. In addition, we have 19 chartered ships scheduled for expiry in 2015 — this will further enhance our cost structure."

In 2014, APL's headhaul utilisation went up to 94 percent from 91 percent in 2013. APL expanded its cooperation with G6 Alliance partners into the North America West Coast and trans-Atlantic trade lanes to reap economies of scale.

NOL's supply chain management business APL Logistics recorded 5 percent growth in fourth quarter revenue to $458 million with an EBIT of $20 million.

"APL Logistics maintained its positive performance due to a steady revenue growth across all markets," said APL Logistics president Beat Simon.

"We have completed our organisational transition in support of our growth strategy focusing on four verticals, namely automotive, consumer, industrials and retail in high growth markets. APL Logistics continues to ensure it delivers reliable services while making strategic investments to further strengthen its sales, operational and information technology capabilities."

No mention was made of reports last year that a shortlist has been drawn up for the sale of the logistics unit.
 
Contact Greg Knowler at gknowler@joc.com and follow him on Twitter: @greg_knowler.