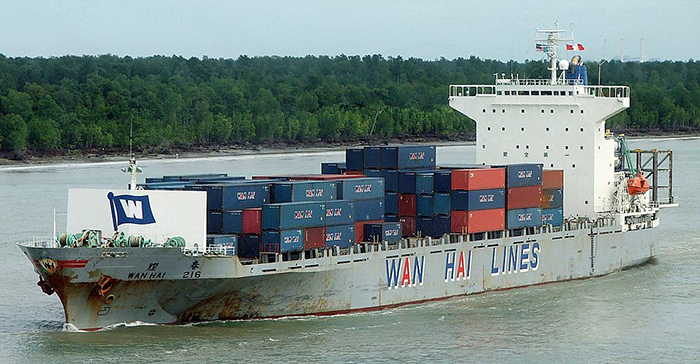 Wan Hai Lines surpassed Maersk Line as the world's most profitable container line in 2015, based on operating margins, according to Alphaliner.
The Taiwanese carrier earned $127 million before interest and tax, a 6.3 percent margin on its $2 billion revenue, just ahead of the 6 percent achieved by Maersk's $1.4 billion EBIT on revenue of $23.7 billion, the industry analyst said.
French carrier CMA CGM ranked third at 5.8 percent followed by Hong Kong-based OOCL at 5 percent, according to Alphaliner's survey of the 16 largest lines that have published full-year results for 2015.
These four carriers since 2010 have consistently posted core EBIT margins at around 6 percent above the industry average.
The disparity in the scale of operations between Maersk and Wan Hai "suggests that size alone does not explain the outperformance of these carriers," Alphaliner noted.
"At the other end of the spectrum, several Asian carriers have continued to post dismal results," Alphaliner noted. China Shipping Container Lines was the worst-performing line with a full-year loss of $335 million and a -6.5 percent EBIT margin. Cosco, its merger partner, lost $227 million for a -3.2 percent margin.
Mediterranean Shipping Co., the world's second-largest carrier by capacity after Maersk, is privately held and does not publish financial results.
The average operating margins of the 16 carriers surveyed were only slightly positive at 0.3 percent, with the majority sinking into the red in the final quarter after booking profits in the first half of the year.
Of the 14 carriers that published fourth-quarter results, only three posted core EBIT figures while the average margins slumped to -5.9 percent, the worst quarterly results since 2012.
Wan Hai remained the most profitable carrier in the quarter with a sharply reduced margin of 1.2 percent, followed by CMA CGM at 0.6 percent and Germany's Hapag-Lloyd at 0.1 percent.
Maersk slipped to fifth, behind Israeli carrier Zim Integrated Shipping Services, with a negative margin of 2.3 percent.
"While the fall in bunker prices initially boosted the carriers' financial performance, this effect was rapidly eroded when shipping lines forcibly passed all these cost savings on to shippers through lower freight rates."
In the second half of the year weak cargo growth and a muted peak season drove carriers to slash freight rates to non-compensatory levels.
The negative trend has continued into 2016 as freight rates have continued to sink, with the China Containerized Freight Index slumping to a new record low of 646 points on April 1.
Contact Bruce Barnard at brucebarnard47@hotmail.com.