Trans-Pacific capacity forecast to outstrip peak-season demand
Peter T. Leach, Editor-at-Large | Jul 31, 2015 8:09AM EDT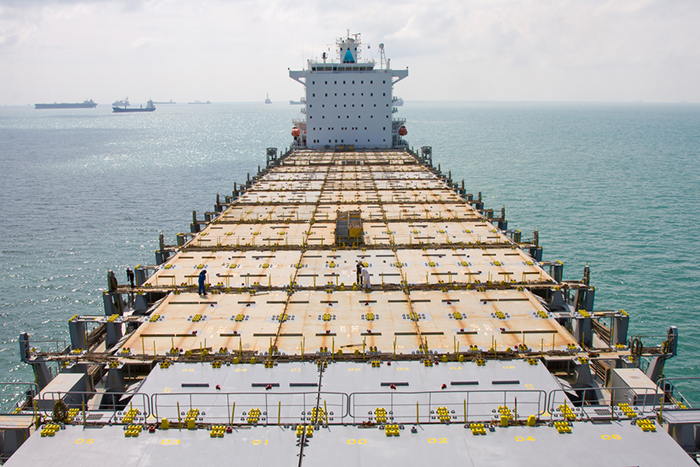 Although U.S. consumer spending is still lagging its potential this year, it is likely to pick up in the second half, but not enough to fill container vessels with the imports needed to support freight rate increases. That was the takeaway from Thursday's JOC webcast on the Peak Season Shipping Forecast.
"Consumers have it well within their wherewithal right now to spend more, but it's unclear why they haven't," said Jack Kleinhenz, chief economist of the National Retail Federation. "One of the key factors may be that they are waiting to see higher wages."
In view of the slow pickup in U.S. consumer spending, Kleinhenz has adjusted his forecast for 2015's growth in consumer spending to 3.5 percent from the original forecast of 4.1 percent. Nevertheless, he termed the outlook positive, saying there could be more surprises on the upside later in the year.
Despite this somewhat lackluster outlook for demand, container shipping lines have been deploying more capacity on the eastbound trans-Pacific to the U.S. East Coast and the westbound trans-Atlantic trades to the U.S., which seems likely to limit if not undermine their attempts to raise freight rates, said Alan Murphy, CEO and co-founder of SeaIntel Maritime Analysis. "They (capacity) are projected to grow by 20 percent in the third quarter, which is going to have an impact on those trades."
Murphy said the carriers have done a good job of managing capacity on the heavily oversupplied Asia-Europe trade by skipping some sailings. But even that has not been enough to stem the slide in spot rates on a trade that has a negative growth rate. Spot rates to ship a 20-foot container between Shanghai and North Europe in the week ending July 17 was down 66.7 percent year-over-year, at $400, according to rates pulled from the Shanghai Containerized Freight Index displayed on the JOC.com Market Data Hub. Rates were down 22.8 percent from the prior week. 
SeaIntel is forecasting a "quite positive" outlook for the eastbound trans-Pacific trade this year, based on the growth of demand through May, which was at a growth rate of almost 8 percent. By contrast, the westbound trade, which has been showing "negative" growth for the last five years, is not expected to improve.
Murphy is also forecasting positive growth of the westbound trans-Atlantic trade from Europe to the U.S., but a continuing negative outlook for growth on the eastbound leg.
Although demand on the trans-Pacific has grown faster than vessel capacity deployment on the trans-Pacific, SeaIntel is projecting that carriers will deploy more vessel capacity than demand growth. "The carriers have started reacting to this positive demand by bringing in a lot more capacity into the trans-Atlantic eastbound and westbound trade."
Although spot freight rates are at record lows on many trades, carriers are not in as bad shape as they were in 2011, when bunker costs were so much higher. "That can be interpreted as good or bad. It might mean carriers can weather the challenges they face at the moment. It might also mean they are willing and capable to take the fight longer."
Despite lackluster or even negative global demand, carriers continue to order mega-ships designed to lower their slot costs on the Asia-Europe trade. As those vessels are delivered and deployed, carriers are cascading smaller vessels onto the trans-Pacific, which continues to erode general rate increases, which Murphy called "the prisoners' dilemma."
"It all comes down to the gap between supply and demand. The carriers have simply not been able to keep capacity at the level where it could close the gap down with demand." he said.
As a result, SeaIntel forecasts a continuing gap between too much supply and too little demand for the next five years. "For many years the carriers have been giving away $100 for whatever container they are moving. That's not the definition of an industry; that's the definition of a charity," Murphy said.
Contact Peter Leach at peter.leach@ihs.com and follow him on Twitter: @petertleach.
User login