JOC Staff | Aug 25, 2017 11:41AM EDT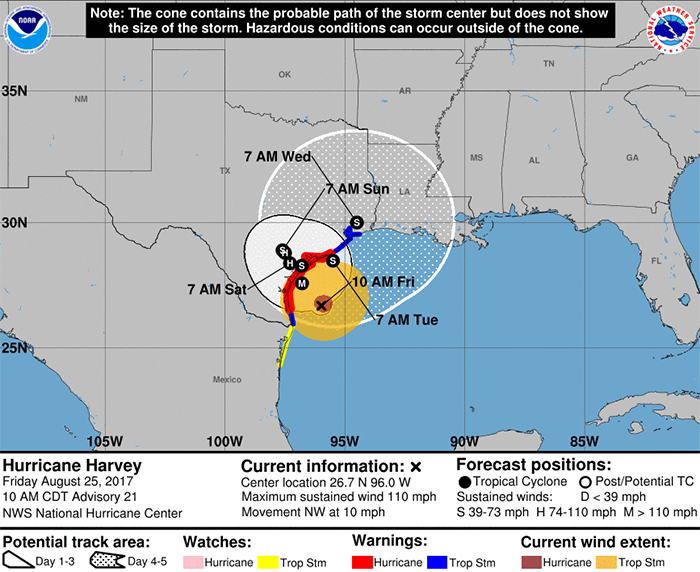 Cargo transportation providers along the Texas coast are preparing for major disruptions from Hurricane Harvey, which is expected to strengthen into a Category 3 storm before hitting land late Friday or early Saturday.
Vessel traffic has been halted into ports from Houston to Brownsville in advance of the storm, which the National Weather Service said may pack winds of at least 115 mph and produce coastal and inland flooding from heavy rain and storm surges.
The Port of Corpus Christi is the closest to the hurricane's expected landfall. Cargo handling and vessel traffic has been halted there and at the ports of Freeport, Galveston, and Brownsville.
Port Houston said its Bayport and Barbours Cut container terminals and all general cargo terminals would close at noon, with an 11 a.m. cutoff for inbound trucks. The port said it will evaluate conditions during the weekend and advise on plans for Monday.
Houston handles more than two-thirds of US Gulf container traffic, with more than 1 million TEU during the first half of this year, and is a major center for liquid and dry bulk, breakbulk, and project cargoes.
Gulf Winds, a large third-party logistics provider based in Houston, advised customers to expect vessel bookings to be pushed into next week,and said scheduling delays on trucking capaciity are likely during the next week or two as the area recovers from the storm and works around the Labor Day holiday weekend.
Some of the worst damage and disruption from Hurricane Harvey may come from heavy rains that are expected to disrupt surface transportation and prevent workers from getting to their jobs. The City of Houston advised residents to stockpile five to seven days of supplies, and issued a list of 41 locations where streets are especially flood-prone.
Jetco Delivery, a drayage and trucking company in Houston, is busy getting dry goods from distribution centers to grocery stores and fuel to filling stations. "This isn't work we would usually do, but right now we've got the capacity," Brian Fielkow, CEO, said Friday.
"Customers are closing, all the major ports are closing," Fielkow said. "We're dealing with a highly uncertain forecast. They're talking about unprecedented flooding." He repositioned some Jetco equipment as Harvey approached the Texas coast, but kept most trucks in place.
"Our business is so Houston-centric that if we reposition too much of our equipment, move it out of Houston, we won't be here for the customer in the rebound," Fielkow said. "When things open up again, it's going to be absolutely insane." Houston may face days of heavy rain, he said.
"There's a high pressure system on both sides of the storm, so Harvey will be like a houseguest who overstays their welcome," Fielkow said. "It wouldn't surprise me if Saturday of Labor Day weekend winds up being a full work day. There will be so much stuff that has to move."
National Weather Service forecasters are predicting rain accumulations of 15 to 25 inches and isolated maximum amounts of 35 inches over the middle and upper Texas coast through next Wednesday.
Forecasters said the storm could linger for days and could spin back ashore to regenerate as it heads toward Louisiana. Harvey is expected to produce rains through Wednesday of 7 to 15 inches in far south Texas and the Texas Hill Country and up to 7 inches through central and southwest Louisiana.
Storm surges of 6 to 12 feet are forecast from South Padre in South Texas to Sargent, just south of Freeport; 5 to 8 feet from Sargent to a point just south of Galveston, and 2 to 4 feet around Galveston Bay.
Union Pacific Railroad, BNSF Railway, and Kansas City Southern Railway began making preparations for the storm in the days preceding its expected landfall and warning customers to expect shipment delays up to three days.
As of Aug. 24, UP had curtailed trains operating through coastal areas expected to be impacted most, from Brownsville, Texas to New Orleans. The railroad has also instituted a hurricane hotline at (800) 365-6963 should customers need to report damage to facilities that would impact UP's ability to respond once service is back online. This information should include damage or out tracks and estimated facility repair time, UP said in a statement.
BNSF said it had planned a similar strategy. "In advance of the storm, all inbound and outbound traffic from Galveston Island will cease later today [Friday]. Trains destined for Galveston will be held and/or staged at various locations until further notice. Railcars are also being moved away from low-lying areas of the Texas Gulf Coast," the railway said in a statement.
BNSF said it will be taking steps to maintain operations in the Houston area, including the Pearland intermodal and auto facilities, through the weekend — though, the railway added, some dray carriers in the port area may choose to cease their operations in response to any adverse conditions.
KCS has also temporarily suspended rail service between Kendleton, Texas, and Laredo. "Heavy rains prior to and after Harvey are expected. As such, we anticipate a delay of 48 to 72 hours as we evaluate the network prior to resuming shipments," the railway told customers in a service alert released Thursday.