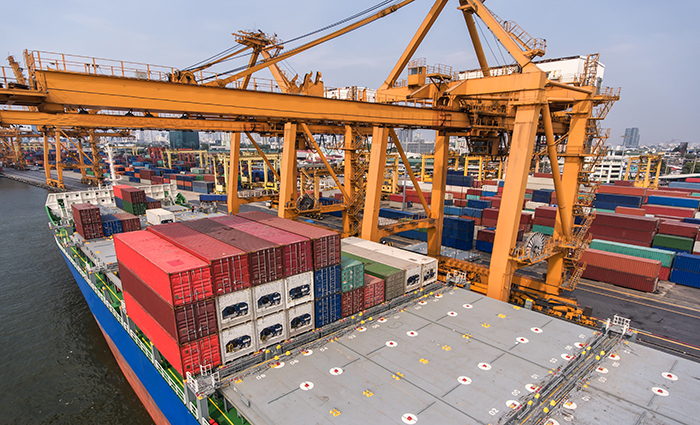 It is clear that logisticians are increasingly hungry for granular, real-time information about their cargo, and that technology is nearing the point where it can accommodate that need on a potentially widespread scale, attendees of the JOC's recent 17th Annual TPM Conference heard. The question isn't whether sensors will become available widely to provide real-time information on the whereabouts of goods — potentially revolutionizing the industry — but how soon and who will end up paying the bill.
"We're at a true inflection point," said Jack Oney, former head of global logistics for Procter & Gamble who now heads a consulting business with a specific focus on advancing visibility.
Simply put, sensors attached to containers for the straightforward purpose of identifying the whereabouts of goods at any given moment revolutionize how logistics is conducted. Customers have the ability to hold their carriers and other vendors accountable in a way they can't today. Sensors aren't in widespread use because of cost, despite the basic elements of the technology having long ago reached a stage of maturity. But that could soon change, speakers told TPM.
"We're looking at this very seriously; the ability to put a sensor inside a box or chassis, that has tremendous value for all of us," NYK Line CEO Jeremy Nixon said. "The problem today is the technology is accelerating, but we're not quite there at a low enough cost to be able to deploy sensors in 1 million containers. We're not that far away in terms of being able to do that. When we do that, it will be a revolution in our industry."
"The price of sensors has come down considerably," said Otto Schact, executive vice president of Kuehne + Nagel. "We hope in the next three to four years there is a possibility that all containers can be equipped. If the price comes down to less than $50, and it has a lifespan of two years, it would be a very good investment."
With leading sensor technology providers such as Savi saying that such cost levels are achievable today, the industry may well be nearing a turning point. "We are at that cost threshold that he's talking about [referring to Schacht]," Jim Hayden, executive vice president of product at Savi Technologies, told JOC.com.
The revolution is the customer having direct access to location data, without having to wait for the carrier to communicate via legacy EDI systems that an event has occurred, such as a ship arriving at a port or a container out-gated from a terminal. The data gets transmitted directly and immediately to the customer, resulting in information — such as a container being diverted to rail or a ship making an unscheduled stop — that wouldn't in the normal course of business be communicated today. "Knowing where the container is, is terribly enlightening," Oney said.
The quest for visibility in an industry that still largely lacks it, but where huge value could be created as a result of it, is driving new business models from the CMA CGM-Mediterranean Shipping Co.-backed container tracking company Traxens to the recently unveiled smart chassis lessor American Intermodal Management, led by former APL CEO Ron Widdows.
It's also an increasing focus of forwarders, including Panalpina, and others who see visibility as an opportunity for differentiation.
During his TPM keynote address, XPO Logistics CEO Bradley Jacobs said visibility in today's world is all but a necessity. "At a bare minimum, every container should be visible, should be transparent, should be locatable. That's not the case right now. If you look at other parts of the supply chain, you can answer, 'Where's my freight?' With the ocean carriers, you can't answer that question. That's the first thing that has to be solved."
What remains unresolved is the question — a perpetual one in transportation — of who pays. Will container lines on their own be able to justify an investment in widespread use of sensors for the customers' benefit, without the assurance that the rate structure will support it? Doubtful. Will forwarders, including ones affiliated with container lines, be willing to make the investment as a way to differentiate their services? More likely.
Will customers themselves make the investment, seeing direct benefit for their supply chains? Most likely, but only in the case of organizations with a level of supply chain sophistication and talent to create value out of real-time information. Many organizations still operate with excessive levels of buffer stock and haven't yet drilled down into the day-to-day inner-workings of container movements to be able to leverage real-time visibility even if they had it.
The information sensors provide "is not day-to-day, it's hour-to-hour. Some companies can't react to real-time information, but some are ready and itching for this," Hayden said. Because visibility in ocean containers is new, there are huge untapped opportunities. It's worlds and years away from tracking a shipment as on UPS, which consumers take for granted today. Maybe one day visibility in ocean containers will be as widely available as that, where it's not a point of differentiation among providers, but that's a long way down the road.
Contact Peter Tirschwell at peter.tirschwell@ihsmarkit.com and follow him on Twitter: @petertirschwell.