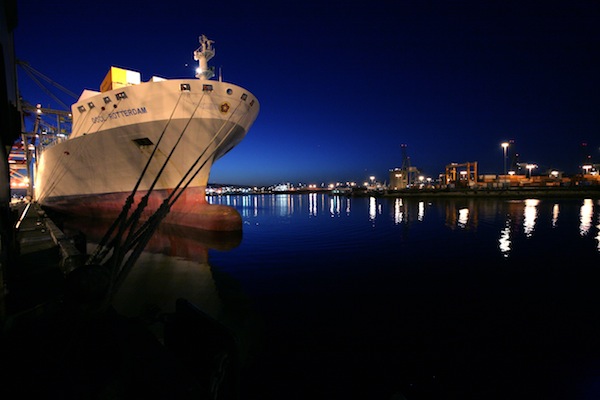 The container shipping industry is at a crossroads where cargo interests must choose between paying higher rates for value-added service, or contending with another round of consolidation as carriers merge to survive, according to an industry executive.
"We have hit a moment of truth in this industry," said David Arsenault, vice president in Southern California for Hyundai Merchant Marine, in an address last week to the California Maritime Leadership Symposium in Sacramento.
The shipping industry has been on a roller-coaster ride since the recession of 2008-09, but in the final analysis, carriers have registered a net loss over the last five years. Capacity in the liner industry is increasing 7 to 9 percent a year, but growth in demand is in the 3 to 5 percent range.
Carriers are using various strategies to match capacity with demand and prevent a ruinous rate war. Slow-steaming of vessels is working to a degree, but the impact on the trade is mixed.
For example, the typical trans-Pacific service to the West Coast now has a string of six vessels, versus the traditional five. Slow-steaming helps to reduce overcapacity and mitigate downward pressure on rates, but it lengthens the time that containers are in motion, Arsenault said. At busy times of the year, that can lead to equipment shortages in some locations.
Vessels with a capacity of 8,000 to 10,000 20-foot-equivalent units are common in the Asia-to-West Coast trades, and some 13,000-TEU ships are being deployed to Long Beach. As ships get bigger and more costly, time in port becomes a major factor, Arsenault said. In this era of slow-steaming, therefore, carriers on some routes cannot call at as many ports as they used to, he said.
Slow-steaming is apparently here to stay. Edward Zaninelli, vice president of trans-Pacific westbound at Orient Overseas Container Line, said a large vessel steaming at 23 knots burns about $500,000 a day in fuel; the same vessel operating at 10 to 17 knots consumes $350,000 a day of fuel. Fuel is now the biggest cost factor for a vessel, he said.
Large, new vessels not only reduce the per-unit cost of carrying a container, but they are much more fuel-efficient than previous generation vessels, Zaninelli said. That is one of the reasons carriers have ordered so many big ships, but the residual impact of reducing costs over the long term has been to create overcapacity in the short term.
The capacity of new vessels scheduled for delivery this year is near an all-time high, but deliveries will taper off noticeably next year and in 2015. Carrier executives feel confident that if the industry prices for survival and profit rather than market share over the next two years, and customers pay rates commensurate with the service they are receiving, consolidation of shipping lines can be avoided and a healthy balance between supply and demand will be achieved.
Contact Bill Mongelluzzo at bmongelluzzo@joc.com and follow him at twitter.com/billmongelluzzo.