Claudio Bozzo, President and CEO | Feb 04, 2013 3:39PM EST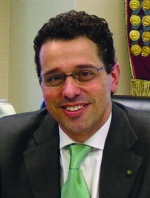 The key to a recovering world economy and the health of our industry lies more than ever in the hands of the U.S. this year.
I am referring to the pivotal role the United States will play in three areas.
The first is restarting the world engine. This can only be accomplished by the U.S. and its huge consumer market. Now that the election year is over, the U.S. is poised once again for growth. I am confident that we will see this process begin early on in 2013, even if it will be slow.
At the same time, there are two circumstances capable of producing significant ripple effects that could further depress an already struggling shipping industry:
First, the unresolved contract negotiations between the ILA and United States Maritime Exchange, which, if not concluded in a positive way, could potentially have very damaging effects for the shipping Industry and the U.S. economy. At stake there is not only the flow of cargo via U.S. ports but also the proper balance between East and West coasts.
Next is to find a peaceful resolution to the escalating turmoil and unrest in the Middle East and northern Africa. If this does not happen, not only will there be a reduction in cargo volumes to and from those areas, but also the likelihood of increased bunker prices — and we all know that bunker prices today can spell the difference between making a profit or not.
True, these are formidable challenges, but I am cautiously optimistic that they can be resolved favorably for all parties concerned. If so, we will see marked improvements this year, both in our industry and in the world economy.