In ranking the ocean carriers serving the U.S. trade, perhaps Yogi Berra said it best: "It's déjà vu, all over again."
Through the first nine months of 2012, Mediterranean Shipping Co. took the lead in U.S. exports and total trade. Standing in its way from sweeping the top spot in imports was Maersk Line, and a mere 145,279 20-foot-equivalent units of U.S. inbound cargo.
Maersk, the world's largest container shipping company, retained its top spot in that lane, increasing import volume by 14.2 percent year-over-year, while MSC's import volume grew 5.4 percent. Maersk's 60-40 mix in favor of imports contrasted with MSC's more closely split 53-47 ratio.
Click Image to Enlarge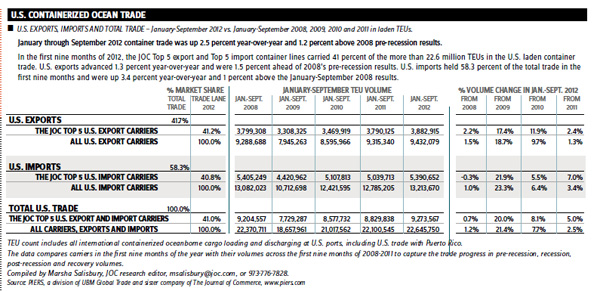 The two carriers have dueled at the top of the rankings for the last several years. Maersk has held the top import spot and MSC has led in exports and total trade since 2010.
MSC easily topped the U.S. export trade with a 226,157-TEU margin, although its 2.8 percent decline in year-over-year volume and second-ranked Maersk's 10.4 percent jump narrowed the gap.
Only 80,879 TEUs in total trade separated the two largest carriers. Top-ranked MSC claimed a 10.9 percent market share, and Maersk held 10.6 percent of the 22.6 million-TEU market. Maersk led the pair's year-over-year growth through September, with volume up 12.7 percent vs. an increase of 1.4 percent at MSC.
Overall U.S. trade in the first three quarters grew 2.5 percent year-over-year. Compared to pre-recession 2008, however, overall trade inched ahead just 1.2 percent, another sign of the slow U.S. recovery. Although overall imports increased 3.4 percent year-over-year, they ran just 1 percent ahead of 2008. Imports represented 58.3 percent of total U.S. trade in the period, but volume declined at 11 of the JOC Top 40 import carriers year-over-year and 17 lagged their pre-recession 2008 results.
The Obama administration's aim to double exports in the five years through 2014 has lost much of the momentum of 2011. Containerized export volume in the first nine months of the year, although 18.7 percent ahead of the same period in 2009, was just 1.5 percent higher than in 2008. Although overall containerized exports through September advanced 1.3 percent year-over-year, volume declined at 13 carriers on the Top 40 rankings, and 23 carriers were still running below their pre-recession 2008 results.
  Data (PDF): The JOC Top 40 Container Carriers Imports & Exports .
Four carriers entered the U.S. trade since 2010: two start-up carriers, The Containership Company and Hainan PO Shipping, and two carriers that expanded their services, Grand China Logistics and T.S. Lines. All four have since withdrawn from the U.S. trade — most recently, Hainan PO expired its FMC tariffs effective Nov. 29, after ranking 30th among import carriers through September.
As of Dec. 7, Alphaliner calculated active global liner trade capacity at 16,802,302 TEUs aboard 5,968 ships, including 16,326,566 TEUs of capacity on 4,966 fully cellular active ships. That represents a
0.8 percent increase in active capacity since early September, with five fewer ships in the fleet. The top 10 fleet operators control 62.4 percent of the market and have 198 ships on order totaling 2,024,077 TEUs, representing 19.3 percent of their existing fleet capacity. 
Top-ranked operator A.P. Moller-Maersk — which includes Maersk Line, Safmarine, MCC-Transport, Seago Line and Mercosul — held a 15.4 percent market share of the global container ship fleet with nearly 2.6 million TEUs of capacity. Second-ranked MSC has a 13.1 percent share with 2.2 million TEUs. Maersk has nearly 450,000 TEUs of capacity on order, representing 17.3 percent of its existing fleet. MSC has nearly 255,000 TEUs on order, or 11.5 percent of its current fleet.
  Data (PDF): Alphaliner's Top 50 Global Container Fleet Operators. 
Global operators had 288 ships idle, totaling 820,000 TEUs of capacity, as of Dec. 3, according to Alphaliner. Maersk had 82,000 TEUs of capacity aboard a dozen idle ships, or 10 percent of the overall idle global fleet. MSC had one ship idle.  
Contact Marsha Salisbury at msalisbury@joc.com and follow her at twitter.com/marshsalisbury.