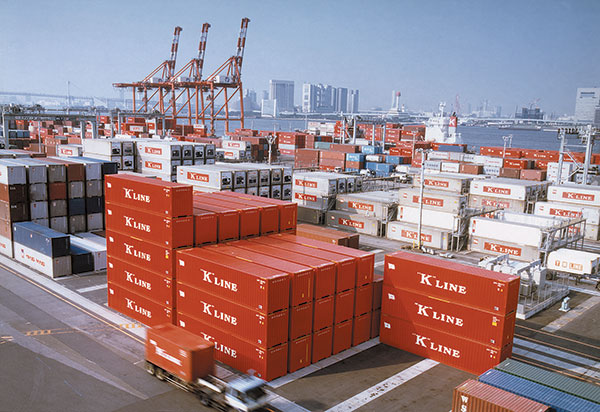 As "K" Line's container shipping business hovers at break-even, the company says it will focus on growing other shipping segments while cost-cutting to keep its container business viable.
"K" Line made $161.7 million in profit in its fiscal year through March 2014, but the company noted in its annual report, released today, that its container business barely broke even in 2013-14. Just under half of the company's revenues — about 47.6 percent — is from container shipping.  
But while containers still represent the largest segment of "K" Line's business, its focus will be in other sectors like LNG transport, bulk  and car transport that it considers more stable.
"In terms of businesses that contribute to a more stable earnings structure, 'K' Line has particular strength in dry bulk carriers, car carriers and LNG carriers. We hope to make these particular areas even stronger," CEO Jiro Asakura said in the report.
"Stable earnings are generated by businesses in which we can expect a certain level of earnings for a certain period," he said.
"K" Line operates 74 container ships with a total fleet capacity of 352,000 TEUs, but said it was helped tremendously by joining the CKYHE Alliance. The vessel sharing agreement with COSCO, Yang Ming, Hanjin and Evergreen on east-west trades deploys a combined capacity of 3.2 million TEUs. According to Alphaliner, the companies currently represent 16.7 percent of the world's deployed capacity. The fiscal year earnings do not include any time when Evergreen was part of the alliance, as they officially joined in April.
"K" Line's container business posted substantial losses in both 2009, due to the worldwide economic crisis, and in 2011 after a massive earthquake struck Japan. Though the carrier didn't break out container profits, Asakura said the containership business maintained profitability at a "break-even level."
"In fiscal 2013, although market conditions in the containership business took a sharp turn for the worse, we implemented further measures to reduce costs, streamline and improve profitability," Asakura said.
To keep its container line on track while other mid-sized carriers like MOL suffer losses, Asakura said the carrier plans to enhance slow steaming to reduce fuel costs. "K" Line also plans to reduce its costs per TEU by introducing five 14,000 TEU ships into its fleet in 2015.  Another five are planned to be on the water by 2018. The company will also focus additional effort on reefer container transport and other profitable container commodity segments to improve profitability.
In 2013-14 its container cargo volumes grew by 4 percent on North American and European routes, the report added.
Full-fledged market recovery for the container business is expected to take more time, CFO Toshiyuki Suzuki said. Suzuki called the plan for fiscal year 2014 "cautious," and noted it focused on minimizing the risk of losses.
Contact Corianne Egan at cegan@joc.com and follow her on Twitter: @CEgan_JOC.